A Cure-all for diehard fans
Eleven shows, eight cities, four States: what it's really like to follow your favourite band on tour around the US.
It started as quite the promise: "Thirty seven years of Cure songs, mixing hits, rarities, favourites and as yet unreleased tracks in a brand new stage production that promises to be the 'must see' show of the year!"
When tickets were released for the first US show, a network of friends committed to crossing continents and oceans to see our favourite band in action.
It seems a lot of people think that such an undertaking is a little crazy. Following a band around the US? Brilliant, I get to go to the US. Seeing the "same" show again and again? The Cure never play the same show.
Decisions needed to be made. How many shows? Which cities to go to? How many black shirts should be packed?
I decided to head over for the first dates in New Orleans, and follow the tour through to Los Angeles. Together with my travel companions from Melbourne and Los Angeles, I spent the next few months dissecting every permutation of flights, road trips and hotels.
This was not the first time I had travelled to see the Cure but it would certainly be the most extensive tour I'd followed — a total of 11 shows across eight cities and four States.
I bought good-value return fares from Perth to the US — they cost about $1200. Our flights in the US were booked with Southwest Airlines. For shorter legs — Austin to Houston (two-and-a-half hour) and Houston to Dallas (four hours), for example — a large van was rented, with costs shared between six of us.
I arrived in New Orleans a few days ahead of the start of the tour. It was my first time in the city and my hotel, on Royal Street near Canal Street, was only one block over from the famous Bourbon Street (the inspiration for the Cure song Fascination Street).
I explored Bourbon Street on arrival but the reality didn't meet my expectations. It wasn't until I explored further away from this area that I started to "get" New Orleans. A visit to Lafayette Cemetery and the Garden District was a highlight.
The first two shows were at Lakefront Arena. The Cure played for three hours each night and amassed a total of 51 songs, with only six repeated across the two nights. These included two new, never-before-heard tracks. The production was phenomenal: five large screens, countless lights and a sound system to die for. A bonus was spending the first two nights "on the rail" in "Gallup Gold Class" — front row, in front of bass player Simon Gallup. The tour was off to an awesome start.
After a travel day from New Orleans and three consecutive nights playing large arenas in Austin, Houston and Dallas, with road trips in-between, the real impacts of a whirlwind tour such as this started to become apparent.
There were times when we had only an hour or so to explore a new city (Houston has a lovely park, Dallas has the site where JFK was assassinated and is quieter in the evening than Perth on a Sunday night), and you start to understand why bands on tour really do start to have little sense of time or place.
After a flight and brief stop for the show in El Paso, it was time to fly to Las Vegas.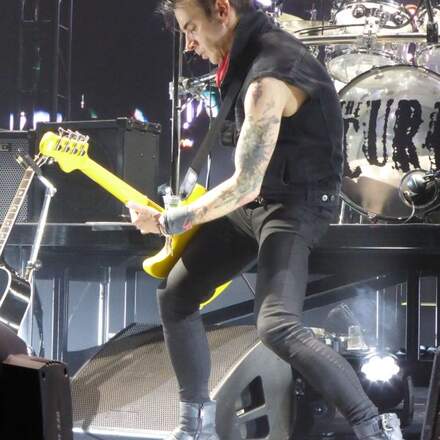 Fortunately, this was not a show night, so there was time to check in to the Planet Hollywood Resort and explore the Strip. The excitement and craziness of Vegas was palpable, and we all found ourselves wishing for an extra night to soak it up. Unfortunately for the band, and for us, this was not to be. The next night was show night — this time at a more intimate venue, The Chelsea at The Cosmopolitan hotel.
By this point of the tour, we were still excited by each show and the range of new songs we were hearing. Rumour was the band had rehearsed more than 120 songs for the tour — we'd heard more than 70 already — and there was great anticipation among the fans for rarities and B-sides.
We flew to San Diego for the first outdoor show of the tour at Chula Vista before a three- hour train trip to Los Angeles on the Pacific Surfliner — a great opportunity to enjoy the views of the coast and switch off for a while.
Accommodation was at the swanky W Hollywood and the venue was the iconic Hollywood Bowl, with private boxes with waiters for each show. The final show was spent in the box adjacent to Lol Tolhurst, an original member of the Cure, and his wife.
These shows marked the end of my US Cure adventure but, as it turned out, weren't the end of my Cure adventures for this year. A subsequent announcement would add six dates across New Zealand and Australia in July, bringing the grand total to 17 marathon three- hour shows.
After whirlwind trips to the US, New Zealand and around Australia to see the band I'd absolutely do it all again, given the chance. In fact, they're currently touring Europe ... you only live once, right?
Categories