A hike on the bright side through east London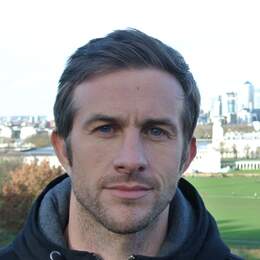 From street art and a 1000-year piece of music to a house boat with a difference, a free guided walk through a rapidly changing slice of London shines a different light on a city that always surprises.
"London is a great walking city when you know where to walk." So says Londoner Brian, who with his wife Angela is addressing 100 or so people gathered outside Pudding Mill Docklands light railway station.
Close to the Queen Elizabeth II Olympic Park and edged by an old industrial area currently being transformed, this is not an obvious place to start a scenic Sunday stroll. But it's the meeting point for our amble beside the River Lea through east London to flow into the River Thames.
"Over the next few hours, you'll see lots of regeneration, sites that we'll call gritty (OK, heavily industrialised) and stuff you probably wouldn't expect to find in London," Angela says.
This walk is one of the dozens of free guided tours held three times a year and funded by Transport for London. Usually concerned with running London's trains and buses, TFL also likes to get people walking, with these guided rambles helping which promote the city's seven "strategic" walking routes, which thread and loop around Greater London, passing historical sites, parks and waterways, as well as heaps of super places to eat, drink and give your feet a rest.

Today's walk touches on both the Capital Ring — a 126km route divided into 15 sections — but mostly the Lea Valley Walk, a 24.8km trail split into six bits. The scenery is at times bleak and post-industrial yet also serene in parts (ducks gliding past heritage-listed Georgian mills and birds soaring and singing, drowning out the distant construction din).
The frequent sight of towering cranes and new riverside flats hint at the area's rejuvenation, as does the proliferation of street art, whether it's colourful murals daubing former industrial buildings or the sculptures that fringe the River Lea as part of The Line (the capital's first dedicated modern and contemporary art trail).
Several of my fellow walkers — who are mostly Londoners, aged 30-60 — enjoy taking selfies beside a giant sculpture of a man on a mobile phone, while a kaleidoscopic offering by Damien Hirst, the famously left-field British artist, leaves many scratching their heads.
We encounter Hirst's sculpture by Cody Dock. Built in 1870, and once part of a sprawling gas and chemical works, it is being revived by a community project aiming to turn it into gardens, woodland and meadows. One of Cody Dock's most striking sights is Corlea (pictured at top), a raised tug boat that hauled coal up the river which is now a home.
Brian and Angela tell us that once the Cody Dock regeneration is complete, you'll be able to walk the length of River Lea from Hertfordshire to the Thames. For now, we cut inland a tad skirting, scrap metal yards, printers and plastics firms, before returning Lea-side further downstream near an old ironworks and shipbuilding site whose employees formed a football club that would become West Ham United.

It's not long before we reach Leamouth, where the Lea meets the Thames opposite the O2 arena. By the waterfront here is Trinity Buoy Wharf, a creative quarter with cafes, studios, galleries and a wooden hut dedicated to Michael Faraday, the scientist who worked here on electromagnetic induction.
Beside it is London's only lighthouse, which now shelters the Longplayer, a 1000-year-long piece of music which will run until midnight on December 31, 2999. I had no idea this existed, but as I listen to the Longplayer's haunting Brian Eno-esque tunes and glance out over the Thames from the lighthouse's upper level, I'm glad I signed up for the walk. It's shone a different light on a city that always surprises.