A walk back in York history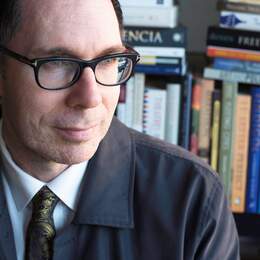 WILLIAM YEOMAN takes a stroll through Blandstown, York's oldest privately settled area. He also meets William Duperouzel, whose research digs up an unexpected family link.
As you enter York from the south, from Beverley, the Great Southern Highway becomes Avon Terrace. Marking this end of the town site are Bygrave House (1884) and the old cobbler workshop (1880).
By no means the oldest buildings in York (properly established in 1835 and therefore WA's earliest inland town), they are nevertheless of some historical interest, not least because they are a part of York's oldest privately settled area, Blandstown.
Today Blandstown — which takes its name from Revett Henry Bland, a wealthy landowner and among the first to arrive in York in 1831 — is an important heritage precinct, and a self-guided walk reveals many architectural treasures, such as the heritage-listed Bridge House (1860) and Balladong House (1890), both on Balladong Farm (1831), around which Blandstown sprang.
I came to know Balladong House and the farm intimately as a child, my family having rented the house for a short period when we first arrived in York in the early 1970s.
I recall the small but splendid ballroom and the dark cellar which for a small child harboured all manner of monsters!
Perhaps of more architectural interest are Eliza Cottage (1840/70), architect George Temple Poole's York Hospital (1852/94/96), the Albion Hotel (1859) and the former Convict Hiring Depot (1852/55), which is today the Residency Museum.
There is an excellent free Blandstown Village Heritage Precinct map available from the York Visitor Centre, which gives a brief history of Blandstown and clearly locates the more than 30 surviving buildings from around 1840 to 1890.
Standing on the corner of Suburban Road and Poole Street, the Church of the Holy Trinity in York can also be reached via the footbridge crossing the Avon River.
Built in 1854 by Richard Roach Jewell, its present stained-glass windows are by Robert Juniper. Walking around the building, you can still see damage from the 1968 Meckering earthquake.
Between 1863 and 1869, the church's chaplain was the Rev. Edward Millett. On the couple's return to England, his wife, Janet, wrote a famous account of their years in York: An Australian Parsonage or, the Settler and the Savage in Western Australia. Published in 1872, a facsimile edition was published in 1980 by UWA Publishing. It is out of print.
Subiaco-born, UK-based author William Duperouzel has written a fascinating account of the later life of Janet and her husband. They spent some five years in York, from 1863, when Edward was the colonial chaplain of the Church of the Holy Trinity. Janet wrote her book, based on journals, diaries and notebooks she kept in York, on her return to England. It was published in 1872.
In his copiously illustrated and painstakingly researched book, Sunset over Mount Douraking, Duperouzel follows the path of the Milletts from England to York and back. It also reprints, in full and for the first time since their publication in a missionary magazine in 1872 and 1873, two further articles by Janet: West Australian Natives and School Life in Western Australia.
The book is somewhat of a departure for Duperouzel. And yet not. His previous two books, Petrosellum and Somewhere in France, are family histories.
Petrosellum traces the family name back to 1580 Normandy. It also features his great- grandfather Aimable Ciril Duperouzel, who was transported from Guernsey to WA in 1858. He was sent to York, where in 1861 he received his conditional pardon.
As Duperouzel writes in Petrosellum, "in 1865 Aimable is recorded as farming a plot of land about 25 miles (40km) south-west of York called Kokendin, later known as Wootaling. He had money to employ Ticket-of- Leave men to work on his land."
Somewhere in France tells the story of Aimable's grandson, Pte James Ross Duperouzel, killed in action in 1916 but reported missing and buried "somewhere in France". His name is honoured on many memorials, including in his home town of York.
"It's ironic that Uncle Jim ended his days in France, in the land of his grandfather," Duperouzel says.
Duperouzel believes the "French Convict" who Janet mentions in her book was Aimable. "I thought that was very discreet of her, to describe him that way," he says chatting in the church grounds. "And I like that. She didn't gossip. She also has a lovely turn of phrase. And she got to know the Aboriginal people. To me, her book is an Australian classic."
Categories