A whale of a time in Albany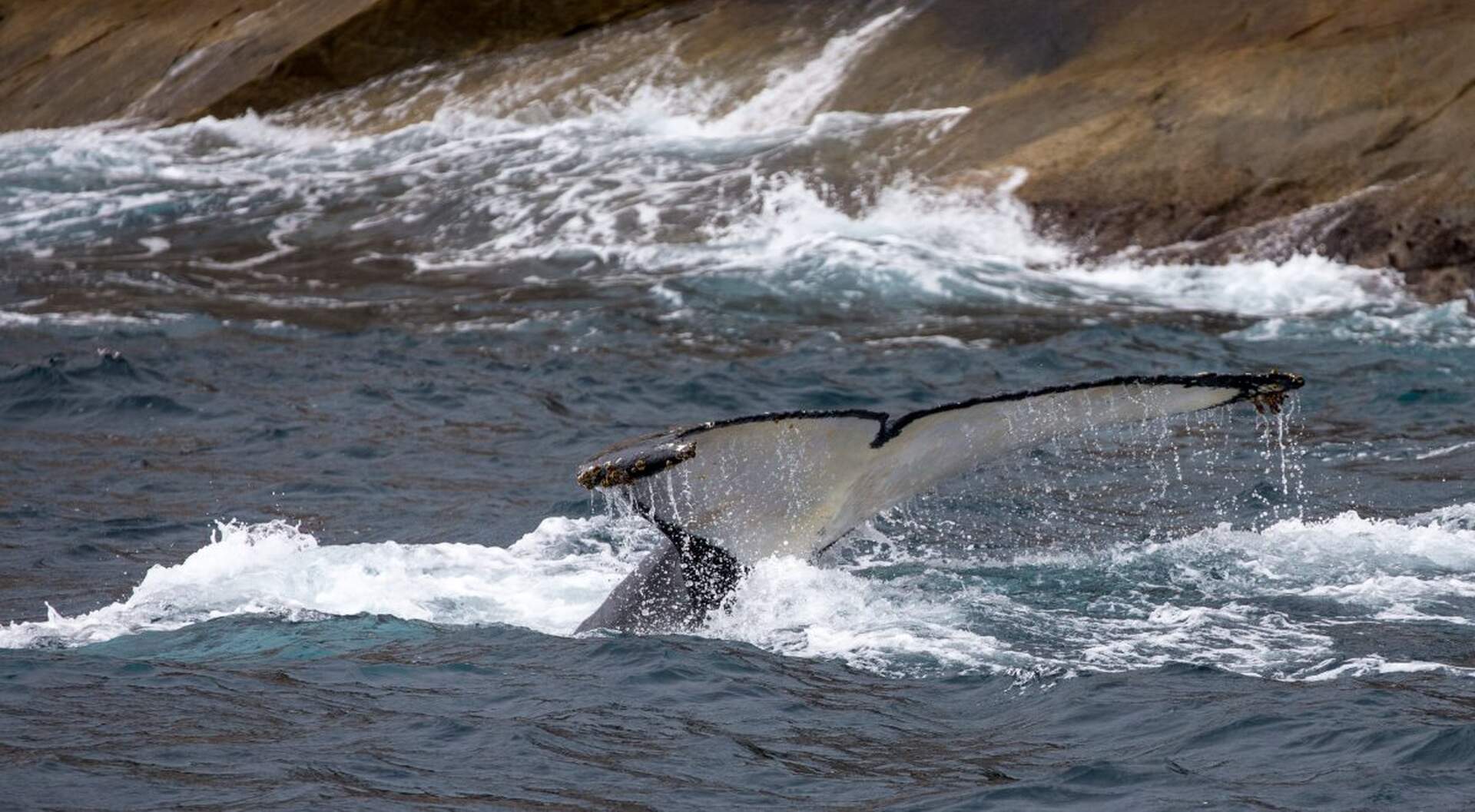 We head to Western Australia's south coast in search of humpback whales, and also find whisky, natural wonders and more.
The giant creature surfaces silently from the deep, a distinctive but relatively small dorsal fin visible as it arches its back. The large tail is next to surface, water streaming off it as it momentarily points skywards before it disappears below the surface again in a slow, powerful movement.
The giant is a humpback whale and we spot it minutes after leaving Albany's Princess Royal Harbour. These gentle giants cruise up WA's coast for their summer holidays after gorging themselves on krill near Antarctica. Along the way they stop into our sheltered bays for a bit of rest, relaxation, mating and calving — and Albany is one of the first stops.
It's an overcast day and there is a bit of rain around but there's a sense of excitement aboard Albany Whale Tours' catamaran Sail A Way as we head into King George Sound, a rainbow to our starboard side forming a perfect arch over Frenchman Bay.
Not long after, we see the first "blows" in the distance. Soon we get our first glimpse of a pair of humpbacks near Limestone Head. They are surprisingly close to the shore and don't seem bothered by our presence. We follow at a respectful distance as they make their way towards Bald Head, surfacing regularly to exhale noisily and blow spouts of water into the air. The pair mostly porpoise along, only showing their dorsal fins, but flip their giant tail fins into the air before diving into deeper water and disappearing.

We head to another sighting near Breaksea Island, but we are exposed to a 4-6m swell as we cross South Channel, so skipper Tony Harrison decides to return to the more sheltered waters of King George Sound. Soon we see a young mother and her newborn calf. The calf is only about a week old and the size of a dolphin, and it pops its head up to look at us.
Tony tells me it's rare to see calves this young here but he's seen an increase in humpbacks born around Albany over the last six years. Usually they give birth further north in warmer waters but he speculates that global warming and warming oceans have contributed to more of them giving birth earlier down in Albany.
The next day I'm heading out into King George Sound again, this time on Albany Ocean Adventures' comfortable catamaran. Our skipper is owner-operator Paul Guest, who tells us spotters have seen whales in Frenchman Bay near Mistaken Island. Sure enough, we spot three whales basking in the bay. Paul turns off the engine and we watch them as they come quite close to the boat.
Albany hasn't always been such a choice destination for whales. Until 1978 they were hunted by whalers, but when the Cheynes II, III and IV berthed in Albany harbour after their last whale hunts and Australia's last whaling station in Discovery Bay closed, 178 years of whaling in these waters came to an end.
The history of whaling is faithfully and truthfully laid bare at Discovery Bay. I explore the historic whaling station, which is much improved since my last visit. The Discovery Bay area also has new attractions in the form of a botanic garden and an Australian wildlife park.
More than whales
There is, of course, much more to Albany than whale watching. The region's diverse coastline is dotted with spectacular beaches and I visit two of the most famous and notorious natural wonders, The Gap and the Natural Bridge. Looking down into the churning waters from the platform at The Gap has always brought butterflies to my stomach.
And now, thanks to a new, bigger cantilevered viewing platform, those memories come flooding back. I feel safer on the new platform and the view down into The Gap is even better than before. Big swells roll in and turn the water into what resembles a giant washing machine 25m below. When a particularly big set of waves roll in, the spray shoots high into the air — higher than the platform — before showering the rocks and the cars in the nearby carpark with salt water.
Right next door, The Natural Bridge is still standing — despite the constant pounding by the powerful Southern Ocean waves — as impressive as ever as it spans the ocean below.
I finish a long, action-packed day with a visit to the Limeburners Distillery where, after a tour of the distillery, I warm up with a taste test of its award-winning whisky. After a little deliberation, I just have to buy to a bottle of the excellent Tiger Snake whisky.
Wartime history
Albany has undergone quite a transformation thanks, in no small part, to the National Anzac Centre, which opened in 2014, in time for the centenary celebrations of the first convoy of World War I soldiers heading to the battlefields in Europe.
The centre is in a prime position on Mt Clarence in the Albany Heritage Park, with uninterrupted views over King George Sound, where the ships in the first convoy left from in 1914.
The 260ha Heritage Park also has historic barracks and gun emplacements, walking and mountain-bike trials, picnic areas and the Padre White Lookout.
Many of the 19th century facades in York Street and Stirling Terrace have been spruced up and new cafes and fine-dining restaurants have sprung up.
Mogens Johansen was a guest of the City of Albany.