An indigenous childhood in the Kimberley's Bungle Bungle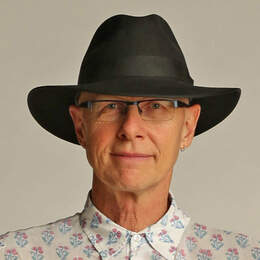 Bonnie Edwards was born in the bush and spent her childhood living in caves in the Bungle Bungle Range of the Kimberley's Purnululu National Park.
Bonnie says she spent her childhood running around the Bungle Bungles as what she describes as "a wild little blackfella".
Her mother, Topsy Dangai, was a full-blood Aboriginal, and her father, Les Banks, was "white Australian with a bit of Italian".
"In 1954 he married my mum because he didn't want me taken away." It was the time when half-caste children were being taken from their families, but Bonnie didn't become part of the Stolen Generation. "I asked my dad if I could learn all about my people and I learned everything I could — the trees, even their constitution."
She learned about the skin group marriages that kept communities healthy, and about traditional totems. (Unsurprisingly for the strong woman she is, hers is the eagle.) She has more recently recorded her Karjanarna Jaru tribe's land boundaries and its population's traditional responsibilities.
"In 1955 and 1956 when the kids were taken away, I lived on the land and I spoke my traditional language fluently," she says.
That land was the Bungle Bungle — in and around the beehive-shaped range which dominates Purnululu National Park in the Kimberley. The Department of Parks and Wildlife, which runs the national park, recognises and acknowledges the Jaru and Gidga people as the traditional custodians of the land.
Bonnie did well at primary school, jumping years, but her family didn't have the money to further her education. At 13, she went to work on Nicholson Station, owned by Lord Vestey. She started at 5am and worked until late. She washed and ironed and she remembers polishing a lot of silver spoons, all to earn $8 a month.
She saved her money until she had enough to go to Brisbane, which is where she learned "the white man's world" before returning to the Kimberley. To her country.
She married Malcolm Edwards, who has been in the Kimberley since 1966, when he came as a jackaroo. In 1972, she says, she went back into the Bungle Bungle, walking the line of what is now pretty much the 70km track in, with a vehicle following. "She made that road," says daughter Virginia O'Neil. "Everyone followed her after that."
Bonnie showed people where she lived as a child. "We even found all my toys in a cave" — tobacco tins that her father had made into toy cars.
She has since taken visitors in on rock art tours.
"I flow between white and black, even though I am the brown spot in the middle," she says. "And I haven't got a chip on my shoulder. I don't have that animosity."
When we meet at Russian Jack's Restaurant in Hall's Creek, she is with daughter Virginia O'Neil, deputy president of the Shire of Halls Creek, and then we are joined by Virginia's father Malcolm Edwards, the shire president, just back from the track in to Purnululu National Park.
Bonnie is recognised as a spokesperson for the Karjanarna Jaru people and in 2014 became the first woman to be elected deputy chair of the Kimberley Land Council.
Bonnie says of the Bungle Bungle: "It is my museum. It's a museum of culture. I like to show it as a beautiful place that we should preserve. You wouldn't believe how many sites are in there. The Bungle Bungle means so much to me that I would like to preserve it. I wouldn't like to see it damaged."
Categories