AQWA at 30: Still making a splash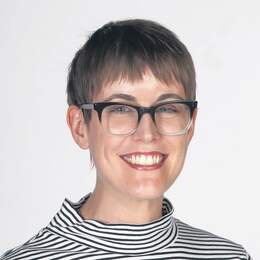 As the Aquarium of WA marks three decades since it's opening, we take a nostalgic journey through its history and exhibits. 
"We are more psychologists than scientists," Oren La Paz says. We're standing in a place I haven't visited in decades: the underwater tunnel that curves through the huge Shipwreck Coast aquarium at AQWA, where Mr La Paz is head curator. Sharks, sea turtles and stingrays glide through the three million litre tank above us, so close it seems we could touch them.
Such animals might seem unlikely charges for psychological care but understanding their behaviour is central to Mr La Paz's role. Take the leafy sea dragons we'd seen floating serenely just a few minutes before. They are, he tells me, "one of the most problematic animals to breed because they have to find their match — there's love involved".
Then there's the octopus tucked into a coral nook in another tank nearby — interacting with it is "like playing with your kid". Meanwhile, a venerable sea turtle in the Shipwreck Coast aquarium is spoken of as an elder, with respect. "Eddie's been here since the start," AQWA's general manager, Catherine Buckley, adds.
Like so many West Australian kids, I grew up going to AQWA, then called Underwater World. And coming back feels like a reunion of sorts — all the more so because AQWA celebrates a milestone this month, marking 30 years and more than seven million visitors since it opened on April 13, 1988.
Back then, it was described by The West Australian as a "revolutionary new style of aquarium" that would provide a "flounder's-eye view" of the underwater world, allowing visitors to "literally take a journey under the sea".
That's not far from how it felt to visit as a kid, when we'd bravely dip a hand in the plunge pool and stand on crates on the underwater tunnel's conveyor belt to get a better view. And though some things have changed since those days — the aquarium no longer keeps marine mammals such as dolphins and seals, for example — it seems that sense of wonder remains, if the faces of the children visiting today are any indication.
Originally partly funded by the State Government, the Sorrento Quay aquarium was sold in 1991 to private company Coral World International, which continues to operate it today alongside aquariums in Hawaii, Spain and Israel.
"The big mission here and in each aquarium is to build an ecosystem," says Mr La Paz, who has been at AQWA since 2000. "Our mission all the time is to keep the balance right."
Central to this holistic approach is a focus on growing coral, an area in which Mr La Paz and his team have considerable expertise. "Corals make the environment," he says, pointing to their important role in sheltering fish and other marine life, and in releasing and processing various chemicals.
Indeed, he likens the living coral in AQWA's exhibits to "a bank of seeds, a bank of nature" set aside for preservation and study at a time when many of the world's coral reefs are under considerable stress.
Another part of the aquarium's role is also to contribute to what Ms Buckley describes as West Australians' "inherent love of the ocean". "I've never been in a place where people love the ocean so much," she says.
And indeed AQWA aims to provide an overview of our 12,000km coastline, from the Great Southern to the far north, supplying a chance not just to see underwater life that you may not have previously encountered but also to see the familiar in new ways.
I'm struck, for example, by an ethereal display of Swan River jellyfish, beautifully illuminated in a curved tank and looking quite unlike the creatures I've seen bobbing around in the brown river water.
It's not surprising to hear that visitors often sit here, taking in the sight, for some time — and, in fact, this is very much part of the plan. "We want to show the science but it's more important to show this resonance the ocean gives us," Mr La Paz says. "For us, it's 10 times better if people leave with that feeling rather than a head full of facts."
This is also the intention behind the aquarium's underwater gallery, which I hear one visitor liken to "a big living room", with comfortable seating facing a large aquarium. Ms Buckley describes it as a "therapeutic room", and a reprieve from the pace of life outside: "Sit here for 15 minutes and you'll feel better," she says.
Fact File
To celebrate its birthday, AQWA is hosting a week of school holiday activities from April 13-20, with free face painting, children's activities, performances and more from 11.30am to 2.30pm daily. On April 19, there'll be a Shark Sleepover in the aquarium for kids aged seven to 12. 
The celebrations also include a number of events for adults, including a Matso's progressive beer tasting on April 18 and an evening with guest speaker Charlie Vernon, known as the "godfather of coral", on April 19. 
AQWA is open daily from 10am to 5pm. Entry is $30 for adults, with child, concession and family discounts available. aqwa.com.au or 9447 7500
Categories