Art & alien beauty: A Mojave Desert road trip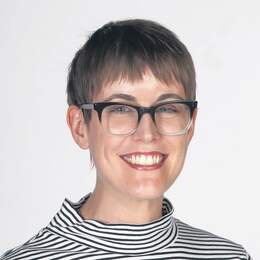 A drive from Las Vegas to Joshua Tree is filled with interest and oddness. 
About 40km south of Las Vegas by the Interstate 15 you might notice something strange in the distance: seven pillars of stacked boulders standing more than 9m high and painted in shimmering fluorescent shades. Get a little closer and things might take another unexpected turn.
On the day we visit, the sound of mariachi-type music floats beneath the midday sun. Five guys in sequinned gold blazers, leather pants and black cowboy boots are trooping towards the pillars, breaking at regular intervals into song. A few of their friends mill around, snapping photos and chatting in Spanish and English. A girl runs over to ask for a picture. Further on, three 20-somethings are kicking a football.
This is Seven Magic Mountains, a public art installation by Swiss artist Ugo Rondinone. Designed to punctuate the Mojave Desert "with a poetic burst of form and colour", it appears almost outrageously incongruous against the dusty greens and browns of the landscape. And yet, in another way, it fits right into the Mojave, an extremely arid region stretching mainly across south-eastern California and southern Nevada. Encompassing everything from Death Valley to the Hoover Dam to the bright lights and architectural curiosities of the Las Vegas Strip, it's an area filled with oddness and interest.
Take today's drive, for example. From Seven Magic Mountains, we continue south through the small town of Primm, named not for the virtue but its original developer and dominated by three large casinos. Then we're over the California border, past the shimmering silvery panels of the Ivanpah Solar Power Facility — said to be the world's largest solar thermal power plant — and off the highway into the sprawling Mojave National Preserve.
We're now less than an hour south of the Strip but we might as well be on another planet as we follow the dead-straight road through a wilderness so beautifully desolate my travelling companion briefly wonders whether we've taken a wrong turn.
Here and there the desert sand has drifted on to the road and the scrub is dotted with the prickly, pleasingly alien Joshua trees characteristic of the Mojave. It's extraordinary to find such a wilderness here — one made even more vast by the adjoining Mojave Trails National Monument (whose 647,000 hectares came under threat in 2017 during a Trump administration review of dozens of such public lands) — and even more so to come across the oasis-like visitor centre housed in the Kelso Depot, an immaculate 1920s former Union Pacific railway station surrounded by the scattered ruins of a ghost town.
The twisted shapes of the Joshua trees — apparently named by Mormon settlers for the Old Testament prophet — wave us on towards the little town of Joshua Tree, just north of the national park. This area, known locally as the High Desert, feels remote in a way that's both romantic and unsettling and only heightened by the human incursions into the landscape: the abandoned service station and motel at the old Route 66 town of Amboy and the curious salt evaporation ponds nearby; the railway crossings and the decaying shacks we spot as we approach Joshua Tree. Outside one dwelling — clearly occupied — a homemade Trump billboard has been heavily graffitied. At another, a rusted 44-gallon drum declares in white paint "Jesus is coming".
The area's particular mystique, coupled with the minimalist splendour of the landscape, has drawn artists and other creative types to settle locally, perhaps accounting for the occasional galleries and organic coffee shops along the highway. Nature lovers, rock climbers and floppy-hat-wearing Instagrammers come for the national park, where we spend the next day clambering over tumbles of boulders at Hidden Valley, a popular spot for climbers and casual visitors alike, and said to have once been a cattle rustlers' hideout.
All are welcome, as far as I can tell, at Pappy and Harriet's Pioneertown Palace, a final Mojave surprise about 20 minutes north-east. Looking every bit the quintessential Wild West saloon, it sits alongside Pioneertown, a series of buildings constructed as a frontier-town movie set by Hollywood investors including Roy Rogers in the 1940s.
The building was later an outlaw biker burrito bar called the Cantina, but these days Pappy and Harriet's is known for having a clientele as eclectic as its menu — which encompasses everything from kale salads to bison burgers to "Nachos Von Rabbit" — and has seen everyone from Lucinda Williams to Lorde to Paul McCartney take to its stage.
Fact File
WHERE
Joshua Tree is a 2.5-hour drive east of Los Angeles. The drive from Joshua Tree to Las Vegas through the Mojave National Preserve typically takes a little over three hours.
WHY
Whether you've been enjoying the shopping, celebrity spotting and theme parks of LA or the nightlife of Vegas, the serenity of Joshua Tree is a welcome antidote. The loop taking in Los Angeles, Palm Springs, Joshua Tree and Las Vegas is classic road-trip material.
WHO
For music lovers, Pappy and Harriet's is open from Thursday-Sunday from 11am-2pm, and from 5pm on Mondays. To see its live music calendar, go to pappyandharriets.com.
Art lovers should note that Seven Magic Mountains' two-year run ends on May 11. sevenmagicmountains.com

WHAT
Besides camping, there's no accommodation within Joshua Tree National Park. The town itself has a few motels, otherwise Airbnb is a good option. The holiday town of Palm Springs, less than an hour to the south, has a wide selection of hotels and resorts.
WHEN
Summer temperatures can be extreme and winter nights chilly, with snowfalls in the park very rare. Spring and autumn tend to be the most comfortable times to visit, temperature wise. For information on the national park, go to nps.gov/jotr.
Categories