Australia's wartime secret — right here in WA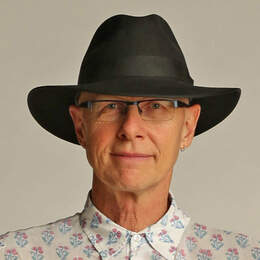 Walk in the footsteps of our World War II airmen at a place that was so heavily camouflaged and carefully hidden that the Japanese failed to find it.
Camouflaged against the Pilbara landscape, the whole point of the Corunna Downs World War II bomber air base was that it was hard to find.
But today, at the edge of the airfield, there's a sign.
It shows where the secret base's hospital and workshops were, their concrete foundations still there.
The air crew quarters, kitchen mess, canteen, post office and store, and the picture garden, are less obvious.
But the taxiway and runways — one 2300m long, one 1650m, and both 50m wide — are cleared strips in the spinifex landscape, alongside a dramatic ironstone ridge which looks like the back of a thylacine, with its vertical chocolate-coloured stripes.
Long-range B24 Liberator bombers thundered down these strips, their four 1200hp engines roaring, before climbing into the clear blue Pilbara sky.
Heavily loaded with bombs, they were on their way to Japanese bases on Java, Borneo, Celebes, Singapore and other island targets in South-East Asia, and hammering enemy shipping.
The combined 30th bomber group of the US Air Force and No. 25 Squadron of the RAAF were here from 1942-47, with missions peaking between 1943 and 1945.
About 300 people lived at Corunna Downs, most in four-man tents, obviously without air-conditioning or refrigeration, and tormented by heat, flies, snakes and scorpions. The temperature can reach 50C.
They were here even through the heavy rain season, ate mainly bully beef and tinned vegetables, and the brackish artesian water was so hot that it often only cooled enough to shower after 9pm.
But it is reported that there was strong morale and huge pride in the role they were playing in protecting Australia, and in the maintenance of their secret but tough location.
Marble Bar Tourist Association has thoroughly researched the site and produced a brochure and map.
The area has also been excised from the Corunna Downs station pastoral lease, so visitors can visit freely.
It's signposted and easy to find, down the Corunna Downs Station Road and Salgash Road.
Just think that Japanese reconnaissance aircraft scoured this part of the Pilbara for a base which they knew must be here, but never found the earth-formed aircraft bunkers, then covered with camouflage netting and spinifex.
The Corunna base, which was officially closed on January 14, 1946, was never mentioned during the war in press or radio reports.
And even since then, it has received little in the way of publicity.
It's a secret still, in its way. Except, of course, to visitors who walk in the airmen's footsteps.
Fact File
See the site on Google Earth: S 21°25'53.79", E 119°46'56.73". 
Marble Bar visitor information, 9176 1008. 
More at the Comet Gold Mine and Tourist Centre, near Marble Bar, 9176 1015. 
Categories