Back to the word, spoken and read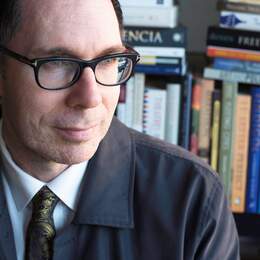 William Yeoman reports New Norcia will again be the backdrop for words, writing, music and more.
St Gertrude's and St Ildephonsus' colleges. In the distance I can see the Abbey Church and, beyond that, the monastery, over which the sun rises. (Incidentally, it sets over the cemetery.)
A Benedictine monk is telling me some of the history of Australia's only monastic town, established just north of Perth in 1847 and today a popular tourist destination.
"Bishop Fulgentius Torres was no shrinking violet of a Spaniard," he says, speaking of the successor of one of New Norcia's founders, Bishop Rosendo Salvado.
"Salvado laid the town out according to a cruciform plan; Torres then built on it with spectacular results. Read together, these (two colleges) are real statement buildings."
Reading together. At first glance, a writers' festival seems the very antithesis of the double act of reading and writing. Where one is public and performative, the other is private and personal. Where one asks us to go forth into the world, the other asks us to retreat from it and reach inside ourselves.
Yet communal worship and private devotion have always been two sides of the same coin.
And so it is that in this numinous place haunted by history yet pregnant with promise, we shall again find ourselves — readers, writers and performers all — at the fifth New Norcia Writers' Festival, which this year takes place on Saturday, August 24.
There will be writer and spoken word artist Stephen Scourfield and percussionist Steve Richter performing the deeply powerful Elsewhere. Steve Hawke will talk about his eagerly awaited new novel, Out of Time.
Amanda Curtin will discuss her highly personal take on the life and art of artist Kate O'Connor. Bindy Pritchard will talk about her debut short story collection, Fabulous Lives.
There will also be operatic baritone Robert Hofmann and pianist Tommaso Pollio presenting German art song in the original and in English translation.
And the irrepressible Jon Doust with a reissue of his classic memoir, Boy On a Wire. Poet and essayist Annamaria Weldon performing and speaking about her poetry and the world that gave birth to it.
And last but not least, Dr Michael Levitt in conversation with Dr Michelle Johnston about Levitt's popular guide to gut health, The Happy Bowel.
So we'll share words and music across eight sessions running as two concurrent groups of four in the atmospheric chapels, halls and other spaces. But we'll also break bread together...
Fact File
Will Yeoman is not only one our senior Travel staff members, but also Director of the New Norcia Writers Festival.
He was there at the conception and has been Director of the festival for each of its five years, in an unpaid role.
We don't just write about our community, we're involved in our community.
Will recently wrote about Strings Attached, the new Margaret River Guitar Festival – another grassroots project, which we also support.
Stephen Scourfield
The New Norcia Writers' Festival is on Saturday, August 24. An $80 ticket includes any four sessions, morning and afternoon teas (lunch optional extra) and entry into the museum and art gallery. For bookings and more information see the New Norcia website.
Categories