Beethoven, Beer, Bratwurst... & Bjork!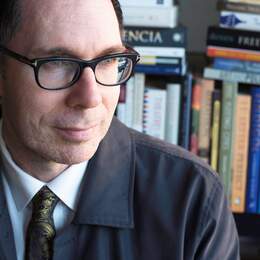 Conductor Jessica Gethin talks to arts writer Will Yeoman about Perth Chamber Orchestra's latest musical and culinary feast at Fremantle's B-Shed. 
On October 22, the Perth Chamber Orchestra returns to Fremantle's B-Shed for another Beethoven, Beer & Bratwurst, following the inaugural event in 2013. This time there's a twist, with some Boccherini and arrangements of Bjork's songs for orchestra and voice.
In the video above, I talk at length with PCO conductor Jessica Gethin about the performers and the program. We also touch on other matters, such as the important role of the arts in WA's culture.
But to whet your appetite even further, here's an excerpt from my review of that first concert, just to give you an idea of what you can expect:
Performing classical music in an old shed is like displaying a urinal in an art gallery.
Take last Monday night for instance. Here we were, packed into Victoria Quay's B Shed, enjoying bratwurst, tartiflette (potatoes, reblochon cheese, lardons and onions) and lebkuchen (gingerbread-like German Christmas biscuits) with a variety of boutique beers and wines. The sun was setting over the water behind us. The Perth Chamber Orchestra was barely a few feet in front of us.
Who could have predicted that in such a congenial setting so many pretensions and preconceptions about the nature of art and performance would be so easily overturned?
And yet they were.
This was one of the most exciting and moving performances of Beethoven's Seventh Symphony I've had the pleasure of hearing: swift, crisp and shapely, with plenty of colour and nuance, the vivid sound image aided by minimal vibrato and by splitting first and second violins to the left and right of the podium, as was common in Beethoven's day.
In the famous second movement especially, conductor Jessica Gethin controlled the ebb and flow of tension with goosebump-inducing artistry, while in the bacchanalian last movement leader Paul Wright brought a sophisticated rusticity to the bowing that was a marvel to behold.
But such a performance would have been just as satisfying anywhere else — perhaps even more so in the superior acoustic of somewhere like the Perth Concert Hall.
What made it provocative was the proximity of the orchestra to the audience, the occasional intermingling of ambient noise from road and sea traffic and birds, the shed's creaky remonstrations as the wind blew about it and indeed being able to look at the exposed posts and beams and corrugated iron roof and find in them a visual analogue of Beethoven's earthy, workmanlike musical genius. The standing ovation which followed was more than deserved.
Fact File
Tickets to Beethoven, Beer, Bratwurst... and Bjork include concert entry, beer and food. See Perth Chamber Orchestra.
Categories