Hiking Western Australia's Bibbulmun Track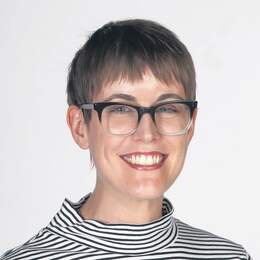 "We're not so remote here but the track already feels like a private little world. My world has narrowed in a way that feels refreshing and, for the time being, all that matters is walking, eating and sleeping."
The night is darkest just before dawn, or so the saying goes. But for me, the darkest moment of our Bibbulmun Track walk comes at dawn on day three. We've overnighted at the Giants campsite and have more than 17km of walking ahead, including some tough hills and stretches on sand. My muscles ache and my hips, ribs and collarbones are sore from the straps of my pack. I've been tossing and turning all night in search of a tolerable sleeping position atop my camping mat.

I expected our four-day trek from Walpole to Peaceful Bay to be challenging. I worried it would rain, that I'd struggle to carry my pack, that my level of fitness would prove insufficient. I even worried that one of our group of six would get bitten by a snake. I worried about nearly everything except the one thing that's really troubling me now: the blisters on my toes and heels and feet. They make putting on socks, let alone my hiking shoes — let alone walking — pretty uncomfortable.
And so, lying there on one side, sleeping bag pulled up to my chin, I'm wondering if I can make it. I hear one of the other hikers quietly getting up — making breakfast, packing her gear, readying herself for the day ahead. I'll need to do the same soon. And the thought of it makes me want to cry.
Day One: Walpole
First, though, let's return to our hike's rather more cheerful beginnings.
Arriving in Walpole after a night staying in Denmark with family, we pass a few confused moments trying to find the track. But soon we're off, following the yellow markers with the figure of the Wagyl (a Noongar Dreamtime serpent).
I spend the next few hours refining the fit of my pack as we walk by the inlet before winding up into the forest for the first of many long, steep climbs. We've set a cracking pace and I'm soon struggling to keep up. The rest of the group waits when I fall too far behind, only to set off again once I catch up. Their intentions are good but the effect is demoralising: I never quite catch my breath and always feel I'm holding the others up. I had worried I'd be the weak link in the group and my fears are being realised.
"This is not fun, " I complain as we trudge up or down some hill. The reply is matter of fact: "What did you expect?"
The last hour of walking is particularly tough. In my efforts to keep up, I am pushing through discomfort rather than stopping to apply strapping and pads to "hot spots" (where my socks and boots are rubbing) before they become worse. There's a severe pinching around my toes — later revealed to be a juicy blister — and an ache in the balls of both feet that sends a shooting pain into my big toe every time my shoe strikes the ground.
I'm not too proud to admit that it all ends in tears — all of them mine, of course
Frankland River
That night's camp site at Frankland River, regarded as one of the track's most beautiful, soon restores my spirits. The hut is partly open on two sides, with a veranda and views through the trees to the river, where we soak our feet in cold water the colour of strong tea. Like all three of our camp sites, the hut is clean and well maintained, with tables, a toilet and a water tank.
Later, we cook dinner on our Trangias: pasta with tomato sauce, garlic, dried peas and spicy chorizo. It would be nothing special at home but out here it's the most delicious thing I've ever tasted. I'm realising the importance of food in this endeavour: to keep us going physically but also to boost morale. Cooking together each evening quickly becomes my favourite part of our days.
We're joined at Frankland River by Liz, a Queenslander in her late 50s who is walking end-to-end solo — the whole 1000-or-so kilometres from Kalamunda to Albany on her own. She has about 10 days to go. I'm impressed by how self- contained she seems: friendly, but also happy in her own company as she cooks her dinner. Later, she sits reading in her sleeping bag, surrounded by her neatly arranged gear. "Stay up as late as you like, " she tells us, but we're all asleep by 7.30.
The Bibbulmates
At each hut, we sign into the logbook as "the Bibbulmates" and flick through the entries. Everyone who has passed through has recorded their name, age, home town and other details, including short comments about their walk.
Reading the logbooks reminds me how far people come to experience the Bibbulmun. There are entries from Switzerland and Germany, the UK and Ireland, the US and Canada, China, Singapore, Hong Kong and New Zealand. People praise the landscape and the facilities, and report on the weather. They provide information for other walkers about potential problems (boggy sections, flies) and tips about good places to eat in towns. On this section of the track, the fish and chip shop in Peaceful Bay gets a consistently good rap and the promise of lunch there on our final day beckons as a reward.
At each hut, I notice entries from someone who gives his name as "Pack Animal" and his home mostly as "Bibbulmun Track". Without fail, his comments are some variation on: "All good. Nice sunny day." Pack Animal's reputation precedes him: I'd heard rumours of a bloke who'd been walking the track more or less nonstop for years. Later, I find an online forum where hikers offer eccentric titbits about him: that he walks in shorts and gaiters no matter the weather, that he carries an umbrella, that he holds the record for the most end-to- ends, that he's so fit he walks 5.5-6km an hour in all terrain (our daily average never gets much above 3km/hour).
But what really catches my eye is a forlorn entry from a solo hiker, who writes that he set out in a group about the size of ours. The others have all dropped out due to blisters and, he writes, "now I'm alone".
Day Two
Our second morning is a good one: the pace has slowed and I walk near the front of the group. I get into a rhythm, and the chat and camaraderie help to take my mind off my feet. We're in tall-timber country and walk through the forest all day, spotting fungi and the occasional snake retreating into the undergrowth. The palette of green, grey and brown is enlivened by the wildflowers: yellow wattle, purple native wisteria, fuchsia and bright orange coral vine, and yellow and red eutaxia, or bacon-and-egg plant.
The challenges of the previous day in my mind, I ask one of my friends — a keen runner — about the rewards of pushing yourself physically. I've never understood people who relish feats of endurance, but she talks about satisfying her competitive nature, of the sense of achievement that comes with completing a challenge. It's interesting to her to see how far she can push her body.
I get a chance to do just that after lunch. My feet are worse after a break, more so towards the end of the day. And now, each step brings some new and subtly different agony. By the time we reach the Treetop Walk, I'm hobbling. From here, it's less than 2km to the Giants camp site but the spotter's cry of "hut!" can't come soon enough.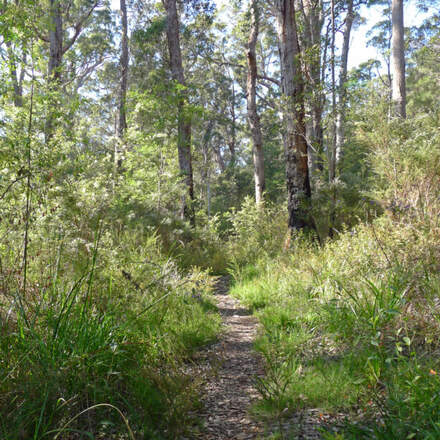 Giants
I could have spared myself all of this bother with the help of a few plastic bags — that's the verdict of Trish, a hiker staying with us at the Giants camp site that night. Aged in her early 60s, Trish is walking from Albany to Pemberton, completing a sectional end-to-end begun some years ago, and swears by the plastic bag trick. You put them under your socks and it stops the rubbing, she says. She gives me a couple to try — a small act of kindness typical among walkers on the track — but I suspect it's too little, too late.
"How much training have you done?" Trish asks. She is rightly unimpressed by our response — "not much" — and tells she's been tramping around the suburbs at home with her pack on to prepare. Still, she's had problems: her boots fell overboard during the canoe crossing of the Irwin Inlet and, seemingly unfazed, she's been walking in socks and Teva sandals ever since.
We'd been warned this section of the track can be busy in spring and brought tents in case we find a hut that's full. We don't need them tonight, but Giants is at capacity: us and Trish, a solo end-to-ender and a father-and-daughter duo. Trish and the end-to-ender have met Liz and we share news of her progress.
We're not so remote here but the track already feels like a private little world. My phone is switched off and stowed in my pack — I wouldn't get a signal, anyway — and I find I'm far more interested in hearing about snake sightings or who the other hikers have met on the trail that day than reports of what I'm coming to think of in vaguely threatening terms as "the outside world". In just two days, my world has narrowed in a way that feels refreshing. For the time being, all that matters is walking, eating and sleeping.
Day Three
Our third day is set to be our toughest. But, despite my tears before breakfast time, in the end it's our best: the day we really pull together as a group.
It's also the most diverse in terms of terrain. We begin in karri and tingle forest, walking single file on narrow paths past huge fallen tree trunks furry with moss. Then we cross South West Highway and the bush becomes lower and scrubbier as we near the coast. I spot grass trees, some of them towering, and evidence of past fires — blackened branches, stark against the blue sky.
There are new wildflowers, too: orchids, pink pom-pom pixie mops, white clematis, kangaroo paws, waxflowers and low-growing bull banksias. Spotting a variety that's new to us feels like a small milestone, marking our passage through the ever-changing landscape.
The hardest section comes after lunch: along the beach below Conspicuous Cliffs then through the dunes, climbing until we reach the camp site at Rame Head. It's difficult but I'm no longer struggling, spurred on by my friends and the spectacular scenery and the knowledge the end of the day isn't far away. I finally feel as though I've found my feet — blistered though they are.
Our last night, at Rame Head, is memorable. The camp site, which we're sharing with a big group, is spectacular, with views east along the rugged coast. We take photos of the kangaroos hanging around the hut and, later, the sunset as it lights the sky purple and pink. After dinner, we sit eating chocolate, swatting mosquitoes and playing cards by the light of our head torches.
Day Four
On the advice of the logbook, we wake for the dawn. There's too much cloud for it to be truly spectacular but, still, spirits are high. Today's our final day: just over 11km over dunes and along beaches to Peaceful Bay. A big part of me is glad to have the end in sight but a smaller voice is wondering whether it's a shame to stop when I'm just getting the hang of it.
But for now, as I deflate my mat, roll it up and stuff it into its cover for the last time for a little while at least, I'm thinking of the comments I've read in the Rame Head logbook.
Pack Animal is in there, of course: "All good. Nice sunny day." The idea of someone walking the track over and over — of becoming immersed in it — remains exotic. Still, I'm beginning to appreciate what might motivate someone to do it: the peace, the simplicity, the natural beauty, the camaraderie, even the straightforward satisfaction of feeling completely knackered at the end of each day.
I'd been told that the track gets under your skin — which sounds like a cliche until you find it becoming true. And so, despite the challenges, I'm confident this won't be my last Bibbulmun Track hike. With some forward planning, the track can make a thoroughly refreshing short break: pick a section with road access at either end and get a taste of it over a few nights. I'd recommend it to anyone, while offering my own experience as a cautionary tale about the importance of thoroughly breaking in your hiking shoes.
I'll look back on our hike as the hardest thing I've ever done, physically. But maybe I'm starting to understand the rewards of that kind of challenge, too.
For what really caught my eye in the Rame Head logbook was a comment left by a hiker who gives his name as David. It's elegant and resonant in its simplicity: "Epic place. Thought about pulling out. Glad I stuck with it."
Fact File
The Bibbulmun Track Foundation is an invaluable resource if you're planning a hike on the track. I hired a pack from them, we navigated using their maps and guidebooks, and our group received trip planning advice from the foundation's volunteers, including help choosing which section of the track to walk. The foundation also runs day walks and longer guided tours if you'd prefer expert guidance. You can visit them at Level 1, 862 Hay Street, Perth from 9am-4pm, Monday-Friday. bibbulmuntrack.org.au or 9481 0551.