Beavers are better at the world's biggest service station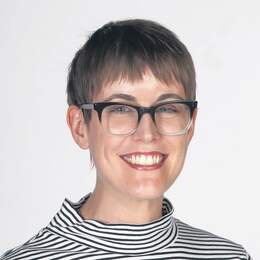 With 60 petrol pumps, 83 toilets and 80 soft drink dispensers, Buc-ee's in New Braunfels, Texas, is akin to an offbeat "adult amusement park".
All we want is a loaf of bread. We're driving back to Austin from the little Texas town of Gruene late at night after watching a show at its historic timber music hall — said to be the oldest in the country and just about the most atmospheric place I've ever seen a band play.
We have an early start planned the next day for the nearly 700km drive through the desert to Marfa, so we need to buy breakfast supplies.
And though there are plenty of places along the highway where we could pick up a burger and a couple of litres of soft drink — or maybe some tacos or Texas barbecue — late-night grocery stores seem to be in short supply. And then we spot the grinning face of a cartoon beaver, its red cap set at a jaunty angle, the image brightly illuminated and seeming to hover in mid-air beside the highway. It draws us in like a beacon.
As we drive up, cars come and go from the parade of fuel pumps stretching in long, uniform rows towards the dark horizon. Overhead lights cast an otherworldly glow. Across the concrete stands a large, low building, its automatic doors beckoning in the night.
All we wanted was a loaf of bread. But quite by accident, we have found Buc-ee's.
This place, it turns out, is essentially the biggest service station in the world, with 60 petrol pumps, 83 toilets, 31 cash registers and 80 soft drink dispensers. It's part of a Texan chain of 25 petrol stations with a remarkably loyal following. "Buc-ee's is like an adult amusement park!" enthuses one fan online. Another quips: "What's not great about Buc-ee's? Nothing!!!" The name and mascot, by the way, were dreamt up by the chain's co-founder Arch "Beaver" Aplin, who combined his nickname with the name of his pet labrador Buck.
Inside, the store is enormous and seems to sell just about everything: homewares, souvenirs, clothes, sports gear and food — all kinds of food. The public toilets are similarly capacious, with stall after stall to choose from, and are regularly commended for their reliable cleanliness. "Possibly cleaner than home," observes one online review. And indeed they are a past winner of an America's Best Restroom competition run by a bathroom cleaning and supplies company.
But the real genius of Buc-ee's is the merchandise. It's an oddity of American commerce that every place with any kind of following — every bar, restaurant, burger stand or record shop that lays a claim to the ubiquitous title of "world famous" — sells branded T-shirts and maybe caps and key rings, too.
At Buc-ee's, this phenomenon is taken to an extreme that seems only natural in bigger-is-better Texas. The grinning be-hatted beaver's image adorns everything from cooler boxes and frisbees to bandanas and tie-dyed T-shirts to lip balms and bottles of nail polish. There's an exhaustive range of Buc-ee's branded foods: peach preserve, pickled asparagus, wasabi peanuts, ready-made chipotle pimento spread, chicken fajita sausages, even vacuum-packed pork tenderloin wrapped in bacon and stuffed with cream cheese and jalapenos. You can buy plush Buc-ee's slippers and stuffed Buc-ee toys, and choose from a comprehensive range of drinking vessels including paper cups, children's sippy cups and not one but three different designs of mug. There's even, for $US5.99, a "Buc-ee's Buc-ket".
Of course, I immediately want it all. I begin to fill a shopping basket with a Buc-ee's baseball cap and a fridge magnet and a romper for a friend's baby and a few other things that I covet but do not need. It's not until I'm well into this frenzy of consumerism that I realise I can't actually find any bread alongside the extraordinary selections of jerky and fudge and jars of jalapeno pepper jelly and bags of Beaver Nuggets corn puff snacks. In fact, it's not until I'm beginning to wonder why I'd even want boring old bread when I could have a Buc-ee's cobb salad or some Beaver Bites biscuits that we finally track it down thanks to a helpful member of staff and a late showing by our sense of self-control.
Buc-ee's might be oversized and over-the-top, but what else would you expect — or want — in Texas?
Fact File
Buc-ee's New Braunfels can be found by the Interstate 35 about halfway between Austin and San Antonio. It's open 24 hours a day, 365 days a year. buc-ees.com. 
By day, New Braunfels is a popular spot for tubing on the Comal and Guadalupe rivers. tubeinnewbraunfels.com. 
Categories