Building trust with readers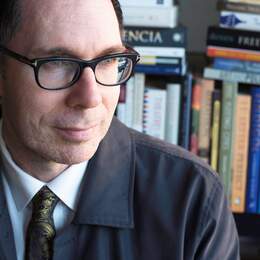 Travel Editor Stephen Scourfield talks to Books Editor Will Yeoman about his latest literary venture, Don't Forget to Write.
For The West's Travel Editor, novelist, photographer and spoken-word artist Stephen Scourfield, "sights seen, moments witnessed, things understood" are "plucked notes" published as travel stories. But these notes sustain, and over time form chords in the shape of fiction. "This," Scourfield continues in the foreword to his latest book Don't Forget to Write, "is me moving from the moment to a deeper resonance".
It is common for writers to work across different forms and genres such as fiction, essay, poetry and criticism; it is also common to see such diversity published together as "the collected writings of such-and-such". It is less common for a writer to offer up such unity in diversity as Scourfield does here, where the lines between travel writing, performance and fiction are not so much blurred as forming porous borders or magical portals between the public and the personal, the journalist and the artist, the cosmos and the individual.
"I've been so used to the fiction presented as one thing, the travel writing presented as another and the performance as something else again," Scourfield says. "Then you think you're just a chap wandering around, living your life and doing this stuff, and there's really only one writer at the end of it. So why wouldn't you want to present that all together?"
The travel stories range from Australia and the Americas through Europe and the Middle East to South Africa and Antarctica, remarkably even in a single chapter such as Around and Over the Rim: "Europe is over the horizon, but clear to my view. Well known; a treasure trove. The Caucasus is there, and Central Asia, all in focus, too."
Focus. Those plucked notes. They're there in every encounter, whether it's with a landscape, a tradition or an individual. And when prose alone seems inadequate, Scourfield breaks into song, with poetic passages that feel like reflective arias in an opera otherwise filled with grand choruses: "The face of Myanmar has been ravaged/so many times/but now again, it is finding/a beautiful smile."
They are a foretaste, too, of the script for Beautiful Witness, a lasing record in print of a collaboration between Scourfield and dancer Floeur Alder which the two presented earlier this year as part of the Fringe World festival. "The script is a poetic bridge between the travel writing and the novella, Bird: the Life & Work of John Bird Walker, photographer, " Scourfield says.
Described by Scourfield as an "espresso novel", Bird is "a treatise on photography, an appreciation of nature, an observation of agriculture, a journey through the world (and) an allegory of love" — perhaps the author's most personal artistic statement to date. It is nothing less than Scourfield's ars poetica.
"I wanted to write a big story in a short book," Scourfield admits. "I lived through and was interested in this transition of photography from film to digital. I absolutely experienced this loss of the creative moment. For more than a couple of years my pictures were awful, it was traumatic."
Then there is the world, and the contrasting rural landscapes of the west of England and WA, the harmonies and dissonances against which the intertwining melodies of Bird and Grace, the love of his life, are heard and felt: "As the notes (of the piano) dance around them like myriad stars, he realises they're not leaving their memory only with him — this is shared; his life has a witness."
It's a relationship that in some ways echoes the one between Scourfield and the reader. "I've always been focused on the relationship between the reader and the writer, " he says. "It's intimate. If you think about that moment when someone reads your words, there's only the two of you there. For me that boils down to trust from the reader and honesty from the writer. And that's were the alchemy happens."
Fact File
Don't Forget to Write is initially available exclusively through Seven West Travel Club, for Gold Members.