Burano: Venice's colourful island jewel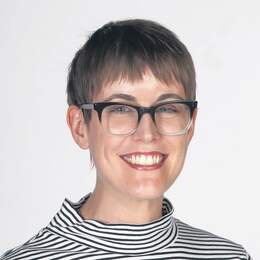 Set in the lagoon surrounding Venice, photogenic Burano is blessed with exceptional charm and a reputation as something of an undiscovered gem.
It's washing day on Burano and the island's colourful houses are festooned with sheets and T-shirts and underpants, all gently ruffled by a light breeze. Outside some front doors, shirts and tea towels are pegged to plastic clothes horses, like strange creatures stranded at the edges of an otherwise empty street. The sun's shining overhead but the umbrellas hanging from the wooden window shutters are proof that only this morning the blue skies were low and grey.
The dozens of islands within the lagoon that shelters Venice from the Adriatic Sea are an intriguing bunch, home to everything from Europe's first beach resort (the Lido) to the final resting place of Igor Stravinsky and Ezra Pound (Isola di San Michele). Then there's the secret nazi base from World War II (San Giorgio in Alga), the former mental asylums (on San Servolo and Povelgia, the latter said to be haunted), the old quarantine stations with mass graves of plague victims (Lazzaretto Vecchio and Nuovo, and — again — Povelgia), and one of Venice's most luxurious hotels (the Cipriani, on Giudecca).
In contrast, a large part of Burano's reputation rests not on a storied or grisly history but the exceptional charm and photogenic quality of its rows of houses, which run the rainbow from bright yellow and hot pink to mauve, apple green and a deep, rusty red. Lining the narrow canals and streets, these buildings are a striking contrast to the more subdued, earthy tones of the historic centre of Venice, about 45 minutes away by water bus.
Not to be confused with the island of Murano, which is known for traditional glassmaking, Burano is frequently described as something of an undiscovered gem. And while this may not be entirely true — everyone from Leonardo da Vinci to Henri Matisse to Keith Richards to Jamie Oliver has stopped by over the centuries — only a fraction of the tourists who visit Venice make it to this relatively isolated spot. And so, in spite of the chattering teenagers on school trips and the stalls selling the ubiquitous Carnevale masks and gondola-shaped fridge magnets, the pace is slower, the atmosphere unhurried. Day trippers wander, stopping into shops. On a backstreet, a cat stalks in the long shadows. Locals sit in the sunshine, children play in a park and a fisherman putters up a canal in his boat.
Fishing has traditionally been the economic backbone of this community and these days the island's 450-odd fishermen work in a co-operative. We settle in for a lengthy lunch of local seafood specialties at a trattoria, where dishes include a fish puree served with bread (much better than it sounds), seafood lasagne, fried calamari, fillets of fish and risotto with — what else — seafood. Here we're introduced to Signora Emma, a petite but impeccably coiffured 101-year-old who founded the island's lace museum, a few minutes' walk from the restaurant.
Lace making is Burano's other claim to fame. As the story goes, the tradition began when a local fisherman, who was engaged to be married, came across a mermaid outside the lagoon. He resisted her siren song and the mermaid, charmed by the fisherman's fidelity to his fiancee, flicked her tail to create a gift: a spray of foam that transformed into a delicate bridal veil. So admired was this garment among the women of the island that they set about recreating it in lace.
Few locals still practise this time-consuming art form but the tradition of the brightly coloured houses shows no sign of waning. Permissible colours are said to be strictly controlled by local authorities. Their origins are unclear but one story suggests the colours helped the fishermen to distinguish their houses from a distance when returning from the sea in foggy conditions.

People of a more macabre outlook recall that the colour of each house was matched to the boat of the fisherman who lived there, so his family could be notified quickly in case of an accident at sea. Others have said — more plausibly — that the colours help to delineate the narrow houses and the use of the space in front of them.
Whatever the story, the colours certainly don't keep me from getting lost as I wander around the island. Eventually, I manage to make it back to the pier to meet my group — thanks, Google Maps — and it's late afternoon by the time we board our boat back to Venice. But the skies are still blue, and the sun still shining, and I can't say I really want to leave.
Fact File
An optional excursion to Burano is available on a number of Trafalgar's itineraries visiting Venice, including the 11-day Wonders of Italy. It's from $3475 per person, valid for departures from July 29 to August 19. And until Thursday (Nov 2), 2018 departures up to November 30 are available with return flights for $699. trafalgar.com or 1800 002 007
Disclaimer
Gemma Nisbet was a guest of Trafalgar.
Categories