Canada's call of the wild: "I've never stayed anywhere quite like this"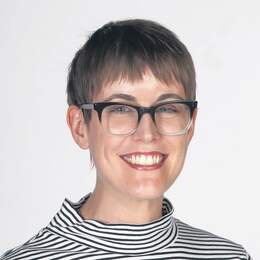 Abundant wildlife and a glimpse of the Northern Lights make for a memorable stay in Jasper, in the Canadian Rockies. 
When I arrive at the Fairmont Jasper Park Lodge, I'm tired and grouchier than any travel writer has a right to be. It's been a long, albeit magnificent, day and I've got a headache. Like the young(ish) fogey I've always been, I'm looking forward to a cup of tea and a lie down.
And then I walk into the historic hotel's immaculate Great Hall, all stone floors and timber panelling, vaulted ceilings and First Nations artworks, with big windows overlooking Lac Beauvert. Smiling staff members are on hand with glasses of champagne, and the hotel's general manager, Ken Hall, is waiting to greet us. "Welcome to the wilderness of Canada," he says. Already things are looking up.
Twenty minutes later, I'm on the property's lakeside walking trail. Only a few metres away, a squirrel is perched in a tree, nibbling on some kind of snack, its luxuriantly bushy tail held aloft. I'm only a couple of hundred metres from the hotel, but I might as well be the only person for miles. My headache, needless to say, is long gone.
Further along the trail, I sit by the lake on a bench, still smiling from my encounter with the squirrel. The scene couldn't be more perfect if the hotel's public relations manager were standing in the wings directing it all: the low-lying hotel buildings among the trees, the dusting of snow on the mountains, the bluebird sky and the scattered autumnal foliage, all reflected in the clear, glassy water in the soft late-afternoon light.
Then another, smaller squirrel emerges, tiny and darting, from the undergrowth by the lake. It has no sooner scurried back into the brush when another appears at my other side, just as a flock of Canada geese land on the lake. Perhaps I'm overtired, or overly sentimental, but I feel just a little like Snow White singing to a forest filled with friendly creatures. Perhaps that champagne was stronger than I thought.
Safe to say that the Jasper Park Lodge has quickly won me over. And it's not just the landscape and the wildlife, spectacular though they both are. I've stayed in fancier hotels and plusher resorts, in accommodation that's more glamorous and luxurious and renowned. But I've never stayed anywhere quite like this.
There's the property's layout for starters. Its nearly 450 rooms are set in 280ha, arranged like a village of cedar cabins and chalets clustered around the main lodge, which houses the pool, spa and a number of restaurants and bars.
The latter include the cosy Moose's Nook Chophouse, where I find bacon-wrapped bison tenderloin and Alberta elk carpaccio on the menu, and the laidback Emerald Lounge patio, which serves Canada's curious national cocktail, the Caesar, a bloody mary-style concoction incorporating tomato juice and clam broth.
Elsewhere there's a boathouse renting canoes, kayaks, mountain bikes and the like, plus tennis courts, horse-riding stables and an 18-hole golf course voted among the best public courses in Canada.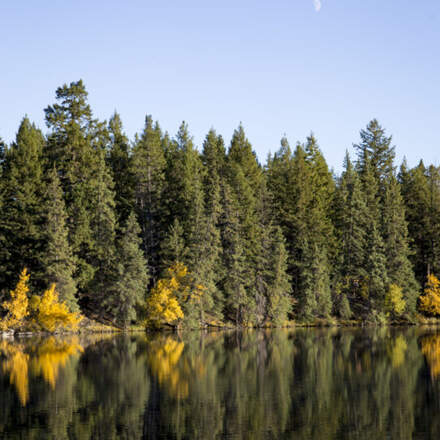 Just as important, though, is the atmosphere, which I'd liken to a particularly lovely up-market holiday camp. It's certainly not lacking in comforts — the hotel recently completed a $CA16 million ($16.3 million) renovation to its rooms, and the personalised Le Labo Rose 31 toiletries are so gorgeous I immediately plot to steal extras.
But it also feels relaxed and natural, the kind of place where you might emerge from your room, dressed up on your way to dinner, to find a staff member shooing away a rather annoyed rutting male elk. It's enough to make me think that general manager Ken's assertion that "there's no other lodge like it in Canada" might be more than good-natured hyperbole.
Indicative of this is the fact that, like most Fairmont properties, the Jasper Park Lodge is pet friendly, providing amenities such as water bowls, treats and dog beds for animal guests. Pets are welcome in most areas of the hotel, and I spot a very tired golden labrador puppy snoozing on the stone floor in the Great Hall.
The lodge even has its own canine ambassador, a black labrador named Stanley that greets guests in the lobby and can accompany them on walks — although, to my great disappointment, he's away on holiday during my stay.
Along with various room and suite types in the chalets and main building, the lodge also has eight "luxury signature cabins" with up to eight bedrooms apiece.
One, known as the Royal Retreat, has accommodated both King George VI and Queen Elizabeth (in 1939) and Queen Elizabeth II and Prince Philip (in 2005). Another housed Marilyn Monroe when she was filming locally in the 1950s.
We get a chance to get a look inside one of these cabins later that evening when staff arrange a dark sky experience for us at the very charming four-bedroom Gardener's Cottage. Jasper and its eponymous national park are in the midst of an 1100sqkm dark sky preserve — the second largest in the world — that's committed to reducing light pollution. And this chilly, clear night is ideal for stargazing around a camp fire, our chatter interrupted only by the return of the annoyed elk and the more welcome appearance of the northern lights.
Dancing green and relatively faint in the sky over the Jasper townsite, the lights are not likely to go down as the world's most spectacular occurrence of the aurora borealis. But, like most of our group, it's my first time seeing them and I'm genuinely delighted. I am, in fact, so excited that I stay up until nearly 3am with some other diehards, telling stories around the fire and hoping for an encore.
It never comes, but I sleep soundly that night, the sounds of the Canadian wilderness outside my door.
Loonie tunes
In some countries, a sign advertising the presence of an "artificial loon nest" would likely be considered a practical joke.
But in Canada, it's part of the serious business of conserving an oddly named bird that's considered an unofficial national symbol.
Some 95 per cent of the world's common loons breed in Canada. They can be found in almost all of its provinces and territories, and even on the country's $1 coin, nicknamed the Loonie.
Known for their eerie, wailing call, common loons aren't considered endangered but have lost some of their nesting areas from human disturbance. Artificial nests help to redress this, and provide a safe spot away from predators.
I spot the artificial nest in question while walking around Lac Beauvert.
Built by students from a local high school with Parks Canada staff in 2015, it doesn't look like much: basically a small tufted square of grass in the midst of the lake.
But the following year, the nest saw two loon chicks hatch, said to be the first successful hatchings on the lake in decades.
Fact File
WHERE
The Fairmont Jasper Park Lodge is a 10-minute drive from the centre of Jasper in Jasper National Park, near the Alberta-British Columbia border in the Canadian Rockies. Getting there is half the fun: Jasper is at the end of the Icefields Parkway, the popular scenic touring route that begins in Lake Louise. 
WHAT
Room rates at the Fairmont Jasper Park Lodge are from $CA239 per night. fairmont.com/jasper
The hotel offers Dark Sky Astronomer Experiences for guests. Jasper also hosts a Dark Sky Festival with speakers, events and activities from October 12-21. jasperdarksky.travel
WHY
My visit to Jasper was part of a Rocky Mountaineer package incorporating hotel accommodation, a luxury train journey and more. For information on the various options, see rockymountaineer.com or phone 1800 821 531.
WHEN
Spring and autumn are quieter than summer in Jasper, with cheaper accommodation and fewer crowds — I visited in late September, and had perfect weather. But if you're thinking of visiting during the shoulder seasons, make sure your preferred activities will be running. The winter season, with skiing at Jasper's Marmot Basin, is approximately December to March. 
Disclaimer
Gemma Nisbet was a guest of Fairmont and Rocky Mountaineer.
Categories