Desert dreaming begs to be shared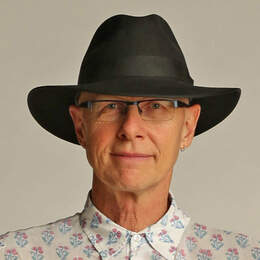 Our Travel Club Editor loves the desert. And the adventure, sense of silence and the space to think never fail to inspire him to write about the wide open world in our outback.
This was a story I wasn't going to write. It was just going away with friends on a trip, furthering and completing an idea we had been pursuing together, and it was just going to be that.

And then three things happened...
First, a few weeks ago when I was in Kununurra, a nice chap asked me: "When are you heading out to the desert again? That's my favourite story of the year." It is a story that started three years ago, when I drove to Uluru and back through the Goldfields and then along the Great Central Road through the Great Victoria Desert with artist and wife Virginia Ward and friends Grady Brand and Lesley Hammersley. Grady is senior curator at Kings Park and Botanic Gardens and Lesley is director of horticulture and conservation there.
The next year we returned to the Great Victoria Desert for a desert trip based more on the Anne Beadell Highway — a rather over-named unsealed outback track which was surveyed by Len Beadell, the full length of which runs from Laverton in our northern Goldfields to Coober Pedy in South Australia and which was completed in 1962.
Last year we returned for a trip based on the Connie Sue Highway — even more over-named, as this is a slim outback track from Warburton on the Great Central Road, through Neale Junction, where the Anne Beadell crosses it and on southward to Rawlinna on the Trans Australian Railway track. Len Beadell also surveyed this, naming the east- west track for his wife Anne and the north-south one for his daughter Connie Sue.
The last trip was in May but the others in July and August. It is a good time to be in the West Australian inland, usually with sunny days and cold nights which might dip below freezing point and frost the vehicles, plates and cups, and a slim chance of rain.
On each of these three trips, it seemed, we had dug deeper into desert thinking and activities, and this year, we decided to slow it down — having longer camps (rather than driving most days) and pursuing our desert interests more.
Grady and Lesley are plant collectors and interpreters of the landscape. Virginia draws and pastels. I write a little and make photographs, of course.
But there's also bread making in the camp ovens, metal forge work in the fire on previous trips and, this year, a lot of woodwork to be considered — we have a box of old hammer and tomahawk heads that need new handles, and we plan to do that, and a bit of whittling, using dead and naturally seasoned desert hardwoods. We also handsaw some cheeseboards from a long dead desert bloodwood (Corymbia) and two from a mulga stump.
Second, a chap pulls up outside my house as I'm preparing my old LandCruiser for the trip (three spare wheels, then full tyre-repair kit including Tyrepliers, air compressor and back-up pump, fuel for 1400km, 150 litres of water, Tirfor hand winch, plenty of tools) and asks if we were camped on the track in the Great Victoria Desert last year? "I recognised the vehicle. Are you going again?"
We are indeed — following the old track out the back of Laverton, to Lake Rason, and then continue on towards Neale Junction, and back to Laverton down a familiar bit of the Anne Beadell Highway.
A shorter run, with more time in its different environments, from mulga country to gibber plains, spinifex and marble gum country to red sand dunes.
This was a story I wasn't going to write but now the third thing just happened. We have walked over the big red sand dune which we are camped by, sheltered from the chill desert wind, and down into the swale beyond. Fire came through here perhaps two years ago and the marble gums are "furry", sprouting all up their limbs — Eucalyptus gongylocarpa in an explosion of life.
Marble gums, even alive, are often hollow, their hardwood centres eaten out by termites. Then, branches often "self- prune", simply dropping off, leaving hollows. These bird- nesting holes and the abundant grasses make this a perfect environment for budgerigars.
It is one of my greatest joys hearing the distinctive, grating chatter of budgerigars and catching a glimpse of them, green and gold against a blue sky, or rising in a small flock from backlit grasses.
I think it's because the sound of a budgie chirruping is more associated with the corner of an aunt's lounge room, and a small cage, a bell and mirror and an elasticated seed-catching nappy like an upside down mop cap. The budgie is one of the world's most-kept pets and have been bred to all sorts of colours. But to see them in their natural green and gold, with their fierce, lion-like, tiger-striped head, is to remind me that they are a stunning little parrot — the only species in the Australian genus Melopsittacus.
I hear some in a marble gum, spot them clambering round the hole in the end of a limb, and then four fly out, fast and straight as arrows, like jets in an aerial speed display, breaking into a fan, past me.
It is so completely thrilling, here in remote red sand dunes, in the Great Victoria Desert, in warm sun and cool wind, feeling completely comfortable, and seeing nature at its most normal and spectacular, and being buzzed by budgies, that I want to share it.
And so, this story I wasn't going to write is being written, so that I can share all this with you...
HOW IT UNFOLDED
Saturday was the easy and familiar 830km drive from home in the metro area to the Grand Hotel Kookynie, north of Kalgoorlie, to stay with Margaret and Kevin Pusey.
After a comfortable night, the next day we are on the road and in two-and-a-half hours we are fuelling up in Laverton. One of the things I like most about the Great Victoria, Australia's biggest desert, is that we are so quickly in it.
A short drive south-east and we are on the old townsite of Burtville, and tip-toeing around its old cemetery. Young men died out here. There are old bully beef cans, big shards of Aromatic Schnapps bottles and fragments of old blue glass bottles.
There's a deserted homestead, and old stuff lying around, from old Land Rover shells to a Lightburn washing machine. The carcass of a house still has remnants of the flesh of life — grass between two pieces of chicken wire, used to make walls, pressed tin, a big tray of rusted bolts in the outhouse.
From there, we pick up the track heading east to Lake Rason. Hector Rason became Premier of the WA Government in 1905, just after the start of the Goldfields rush and when it was in its first boom. Lake Rason is big, covering some 16,000ha.
Grady and Lesley are on holiday but Grady has already collected Eucalyptus nigrifunda on a breakaway on the track between Burtville and here, and now also finds Eucalyptus hypolaena. The collection is an important one, as it is for the Global Trees Project, and for which Kings Park will receive funds. His collection will be stored in England as one of the significant trees of the world. "It is the first time this tree has been sent over to this project," he says. The Global Trees Project, which involves the Millennium Seed Bank of the Royal Botanic Gardens in the UK, aims to have a global collection of more than 1200 tree species.
North of here, Grady will collect Eremophila abietina on the track to the Anne Beadell Highway west of Neale Junction ... which is precisely where we end up, camped here by a red dune with budgerigars flying overhead, fast. We stay a few days, finish off our various projects, and enjoy just living at camp, walking out each day, exploring, absorbing, just being part of this place. And then, we join the Anne Beadell Highway again to head back to Laverton through light rain, and home through heavier rain.
I feel saturated by the desert. I feel replete. I get out a map and start planning next year, and the next chapter of a story I may not write.
Categories