Our World

Elsewhere: a personal journey through a life of travel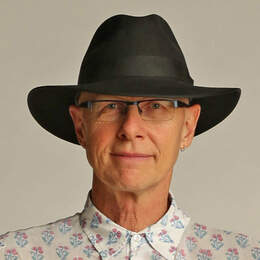 Stephen Scourfield explores the concept of home in his new and very personal book, Elsewhere.
When I returned to my mother's house for the last time, it occurred to me that you can't be elsewhere if you don't have a home. One doesn't work without the other.
My mother had reluctantly moved into care and, as I started the brutal business of sorting through her life and emptying the family home, I started to write.
I wrote about the home of my childhood, the home I have helped to create, and the home that exists within me wherever I am. It is furnished with all I've learnt and believe and try to be — much of which has come from travelling.
I wrote about how I travelled out into the world, and around the world, as I have been doing for all my writing life. As I do today.
The result is a book called Elsewhere, which is published today. Editor Niall McIlroy calls the book a "tardis" — a rather delicate thing of 90 pages designed by Rory Tyson (who also made its beautiful cover) which links many places and thoughts, and that bigger theme of being home and being elsewhere.
For the flow of words quickly led me into my journeys of the last few years, since my last book. There are countries in Europe, from France to the Netherlands and, of course, England. In Africa, there are extraordinary days in Tanzania and Ethiopia, on the Serengeti and with my friend Mnzava.
There's the animist belief of Madagascar, and animated days in India. There are polar bears in the Arctic and penguins in the Antarctic. There are bears in Russia and the elegance of Rhode Island and big city experiences of New York in the US. And there are journeys on roads and tracks to just about all parts of Western Australia.
And of course, my faithful suitcase, Casey, is alongside all the way.
But throughout the book, I return to the task before me — clearing out my mother's home, and that leads me to think about the boy I was, the person I have become, and the effect travel has upon me.
It's a small book with, I hope, a big heart.
I think of it as a "gift" from me to you, and hopefully from you to others. It may just solve lots of your Christmas gifts in one go.
It is a small print run and the small, personal nature of the book has led us to make it available in a small, personal way.
You won't get Elsewhere in bookstores. We didn't want to do it that way.
We want to deal with you personally, human to human. Elsewhere is more like that.
Fact File
You can email us at info@westtravelclub.com.au with your contact information, including a daytime contact number.  We will call you back during business hours to organise postage of the books to you for $12 each (as there is no P&H charge).
You can phone us on 1800 429 000 during business hours, 9am-5pm Monday to Friday, and we will send you copies by mail, for $12 each.
You can come and see us at Seven West Media, in Newspaper House, at 50 Hasler Road, Osborne Park, between 9am and 5pm, Monday to Friday, and buy copies for $12 each.