EPISODE 5: The strange but true adventures of Traily McTrailerface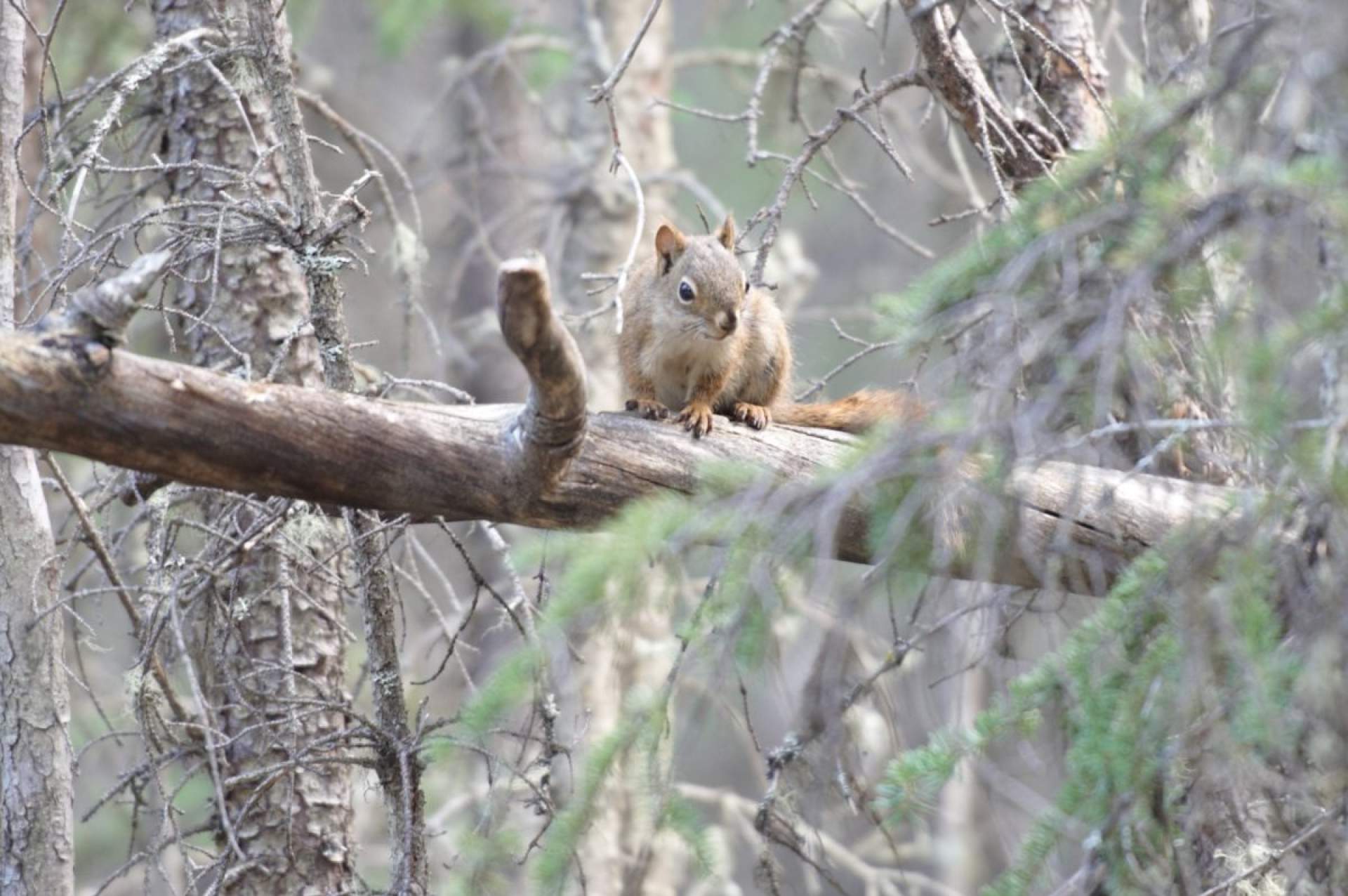 After a close call, Mark Thornton heads back on the road to take in the vastness of Denali National Park.
An icy wind blew down the Byron Glacier and found its way through the mixed deciduous and spruce trees of Williwaw campsite to rattle Traily. After three delightful days there, one of our favourite camps, we packed up and hurried out to the highway back up to Anchorage.

Ellie's partner Bill was due back at work in Whistler in southern British Columbia and we had to drop him at the airport. That wasn't due for a few hours so, as the lowering clouds somehow refused to rain we decided to stop for a late breakfast at an autumn fair on the way. The fair was held in the grounds of the Alyeska Resort in Girdwood, the biggest ski area in the state about 50km south of Anchorage.
It's a charming resort set in a beautiful valley. Americans and Canadians celebrate their native timbers in their architecture, and the buildings stand proud in the landscape. It helps that they have the variety of evergreen and deciduous trees in abundance and that every tree felled is replaced with two more. One of the outstanding features about this part of the world is the lush, seemingly inexhaustible forest.
Apart from the surroundings, the fair was similar to those we have all grown up with where there's been a strong folk history. Home-made foods ranging from cakes and biscuits to lollies, local arts and crafts, people in funny clothes and bells dancing, children's face painting (five-year-old Elke made a beeline for this stall), assorted home-made and commercial styles of clothing, and local bands, of course. Too soon, replete with good food, we boarded our vehicles and set off for Anchorage.
With Bill airborne our crew was back to seven and we missed him. Yet, in talking about his absence we also found we as a family were being drawn very close by our Alaskan experience. Of necessity we travelled in two vehicles, Ellie's Ford towing Traily and Luci and Tim in their GMC Black Thunder, and we took it in turns to ride in both. In Black Thunder Luci and Tim introduced me to music I had not heard, such as Frank Oceans and Icelander Asgeir Trausti, but during meal times we were all together. Traily's dining area only had room for four adults and Elke to be seated at a time. Ellie did most of the cooking with an assistant handing out food, topping up glasses and the like. As soon as one of us finished eating we changed places with the assistant.
Ellie is an excellent cook and liked being in charge as owner of Traily and planner of the whole trip, and we accepted without demur. She had spent several months organising everything; from the route we took, the food we ate, where we camped. She had brought card games and field guides to the plants and animals. She even knew, from the country we were travelling through, where to pick wild berries and edible mushrooms. We all contributed to the group budget. It worked very well and there were no arguments and no friction—except rarely when I was travelling up front with her and insisted we stop to photograph some animal or breathtaking view and she, as driver, decided it was too dangerous. But I didn't sulk for long, there was invariably another opportunity not far along the trail.
With Ellie's planning and guidance the trip ran smoothly. But one incident rattled us badly. It occurred not long after we had packed up camp at Williwaw and threw into the back of Ellie's ute a stack of cut pine logs. Among the logs were some that had partly burned the day before but had gone out overnight. Tim and I checked them over, handled them and found them cold. Nonetheless, as we drove the rush of air in the open back of the ute rekindled several logs that burst into flame when we stopped at road works. A woman traffic controller ran after the truck screaming "Fire! Fire". We ripped the logs out and doused them with our water can. Only then did we realise the logs were just 50cm away from a 20 litre Jerrycan of spare fuel. Tim and I especially were shaken. It was a close thing.
A few hours further north rain set in. The forest seemed endless. Occasionally the line of trees was interrupted by an abandoned shack, broken windows like empty eye sockets. Later, two hours from nowhere, there appeared a seedy motel fronted by five identical doors, the paint on its weatherboard flaking. A single low wattage light burned on a pole out front. One car was parked in front of the first door. On the outskirts of Wasilla, a forgettable place but with a population of 6700 making it the sixth largest "city" in Alaska, a red London double decker bus stood on its own like a forgotten film set prop. Indeed, just when I thought matters couldn't get weirder, just north of Wasilla there was a village consisting of half a dozen large warehouses that all sold nothing but fireworks. We kept on going, headlamps from the occasional oncoming vehicle reflecting off the wet highway.
The highway turned north and on our left the Susitna River appeared out of the gloom. It's the 15th largest river in the US and rises in the Alaska Range, home of Denali National Park. We were getting close to what we all believed would be the most exciting part of our trip. We had to camp one more time on the way there and unfortunately it was Trapper Creek, the worst site of our trip. Its only redeeming quality was that it had just been taken over by two Texans, Leroy and Billie Jean, who were in the process of bringing it into the 21st Century. When we wished them good luck Leroy said in the slowest yet most charming drawl I've ever heard: "Wyh, thank yoo verih murch".
Only two hours to Denali. More drenching rain, more fundamentalist churches, but the forest on either side had turned to birch, mixed with spruce and alder. We slowly gained altitude as we entered the foothills of the Alaska Range. The forest trees grew shorter and gaps appeared in the greenery, overtaken by moose bog. In the west low clouds obscured what should have been spectacular views of the range. The Susitna River flowed thick and brown. As we neared Denali the trees mostly disappeared thanks to permafrost and shallow soils, to be replaced by hardy dwarf birch and willow.
The rain eased as we pulled in to Denali's Riley Creek campsite. It proved the best yet, set in a valley where a mix of birches, cottonwoods and spruce were able to thrive and provide well protected, secluded sites; there were 147 sites but you'd never know it. We unhitched Traily and drove the cars out to view the range in the evening light. Still cloudy. Yet the very space, the big sky, the air itself—the silence—was spellbinding.
Harry Karstens, not only the first superintendent of Denali National Park but the guide and lead climber of the 1913 first ascent of Denali, then still known as Mount McKinley, understood the vastness of silence and the great joy of sharing it. He wrote: "There is much to offer those who understand the language of the great silent places."
Describing Denali demands superlatives, not just in terms of space, but its occupants. All the big animals are there: brown and black bears, caribou, moose, Dall sheep and wolves. Despite the protection of the park, wolves are still shot or trapped if hunters find them outside the park boundaries. Rangers believe there are just 51 wolves left in the park. There are 350 grizzlies, that's 27 per 1,000 square kms, but just one per cent of the 30,000 that live in Alaska, which surprised us. This, and other park statistics, reminded us that while the park covers 24,280 square kms, Alaska's area is 1.7 million square kms so the park is just 1.4 per cent of the state. With the state population being just 737,000, there's still a lot of wilderness outside parks for the animals to roam.
Park Ranger John Leonard told a team from National Geographic magazine earlier this year: "A lot of things about this park are confusing to people. It's wilderness, but then people are landing planes in some places and hunting and trapping in others."
The problem with Denali is when it was declared as Mt McKinley National Park, and later as Denali, property rights were retained, as were hunting and trapping rights in some sections. Ranger Leonard: "That's the difference with Denali—it's not locked up. And that's what makes it so challenging to manage."
Denali, the icon of Alaska's wilderness, symbolises the tension between preservation and use in US national parks though my family, (and presumably the half million other tourists who visit the park annually in the four summer months), was unaware of this during our visit.
Instead, we gasped and gaped as from our tour bus we saw a succession of big iconic animals and breathtaking landscapes. Apart from permits issued for wilderness hikers, the only way into the park is on a bus complete with a well-informed and enthusiastic driver.
Meanwhile, to reinforce the effect of the park on breathless visitors, here's Aldo Leopold: "Our ability to perceive quality in nature begins, as in art, with the pretty. It expands through successive stages of the beautiful to values as yet uncaptured by language."
Join Traily back on the road for tomorrow's final episode ...
Categories