Etched into an ancient landscape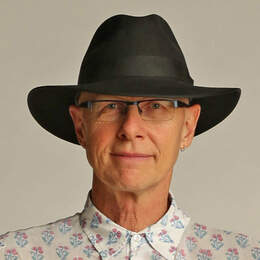 Burrup Peninsula is home to sacred heritage-listed rock art.
At first they look like the usual sort of discolouring or lichen marks you might get on old rocks. And then I see that the curved line with four tentacles dangling from it is a jellyfish.
It is etched into the rock — a petroglyph among the oldest on the planet, here on the Burrup Peninsula.
Murujuga National Park, 20 minutes' drive from Karratha in the Pilbara, has one of the most important art sites of the human species.
They record marine life, animals now extinct, including the Tasmanian tiger, birds and human figures and faces. The oldest are estimated to have been engraved 37,000 years ago.
Sophisticated measuring of the rocks' levels of beryllium 10 has revealed that some of the art predates the last ice age, about 22,000 years ago. The newest may be from the 1860s.
It is now estimated that people arrived in this part of Australia between 35,000 and 42,000 years ago, and it is also widely accepted that mass extinctions of megafauna followed quite quickly after Aboriginals arrived in Australia.
But the petroglyphs are not just records of the environment. Some clearly have artistic intent.
Visitors are shown mainly towards Deep Gorge. A sign points the way, and I park and walk up the track, through a valley rimmed by great, red rock dumps.
A kangaroo suddenly breaks from its statue-like freeze among the rocks, and takes off, from top to top over the rocks.
It is the oddest thing — at every corner of its zigzag flight, a new petroglyph is revealed to me. It is like the oddest, most beautiful guided tour.
This is, indeed, a place to reflect on human history and development.
But there is a rub.
The petroglyphs are just before Hearson's Cove on Burrup Road, off the Dampier Highway, and also near the Yara fertiliser works. This morning it is pumping a white plume into the air upwind and there is the steady throb of industry ... a solid, pulsing sound from the manufacturing works as I ponder what may be the highest concentration of rock engravings of any known site. The heritage-listed rock art is sacred for Aboriginal people and its traditional custodians, people of the Ngarluma-Yindjibarndi, Yaburara- Mardudhunera and Woon-goo-tt-oo groups.
Visitors are asked to mostly keep to pathways and, if moving up closer, not step on to the petroglyphs. It's best to visit before October, when it starts to get very hot. My advice is for visitors to go early in the morning and give themselves plenty of time. It's not a place to duck into for a quick look but to spend time.
Karratha Visitor Centre has a leaflet with directions to, and a map of, Deep Gorge. It says: "Visitors are encouraged to enjoy, appreciate and learn from the country and its people."
KARRATHA
Karratha has a whole new heart — colourful and high-rise. If you haven't been for some years, prepare to be surprised.
Red Earth Arts Precinct opened in May, and has a theatre, cinema, rooftop deck cinema and library. Look out for events if you're heading that way.
Karratha Recreation Centre has great swimming pools. Someone passes through a turnstile half a million times a year.
Stay at The Ranges, Karratha, with its lush gardens and big, fully fitted apartment-style rooms, not Karratha International Hotel.
Breakfast at Soul cafe, Karratha. Nice menu, good food, nice staff.
It's worth spending time when on a long road trip, heading north. If you're just going to Karratha and the Burrup, the 1400km is straightforward over two days with an overnight stay around Kalbarri. If flying, expect to pay more than $400 each way with Virgin Australia or Qantas.
DAMPIER
Dampier is a completely different kettle of fish, with an old-port feel and nice to fossick around.
Stop off to see the Red Dog statue, sculpted by Meri Forrest. The 1970s kelpie-cattle dog cross made famous by the movie called Dampier home and was known to travel round the town by bus.
Discovery Cruises has sunset and fishing trips in the Dampier Archipelago on the 12m boat Blue Marlin. There are 42 islands and 150 beaches. Longtime Pilbara resident Brad Beaumont, who owns and runs it, will even drop guests off to camp on their own island, and pick them up the next day. His offshoot Dampier Trailer Boat Hire has two 4.5m Plaka boats for hire. More information at discoverycruising.com.au, and contact them on info@discoverycruising.com.au or 0408 801 040.
Park set to grow...
Murujuga National Park became WA's 100 national park when it was announced in 2013, and it was revealed last month that it is set to expand.
The current park covers 4900ha, but a site at the northern end of the Burrup Peninsula which is zoned for industrial is poised to be redesignated for conservation.
"Site L", between the northern end of Withnell Bay and Conzinc Bay, was in an area by a planned deep-water port off Legendre Island. But the current State Government says there is already a port at the Burrup and it is not planning to build another. The Government is also seeking to have the Burrup Peninsula World Heritage listed.
Senate split...
A Senate committee set up to look at the effects of industrial emissions on the rock art reported in March. The environment and communications reference committee inquiry and report into the status of protection for the millions of petroglyphs arose from claims that science used to support the CSIRO's acid deposition limit for the peninsula was flawed, as it relied on the effect on ecosystems not rock. Everyone on the committee agreed on the site's importance, but failed to agree on a set of recommendations.