Family fun in Singapore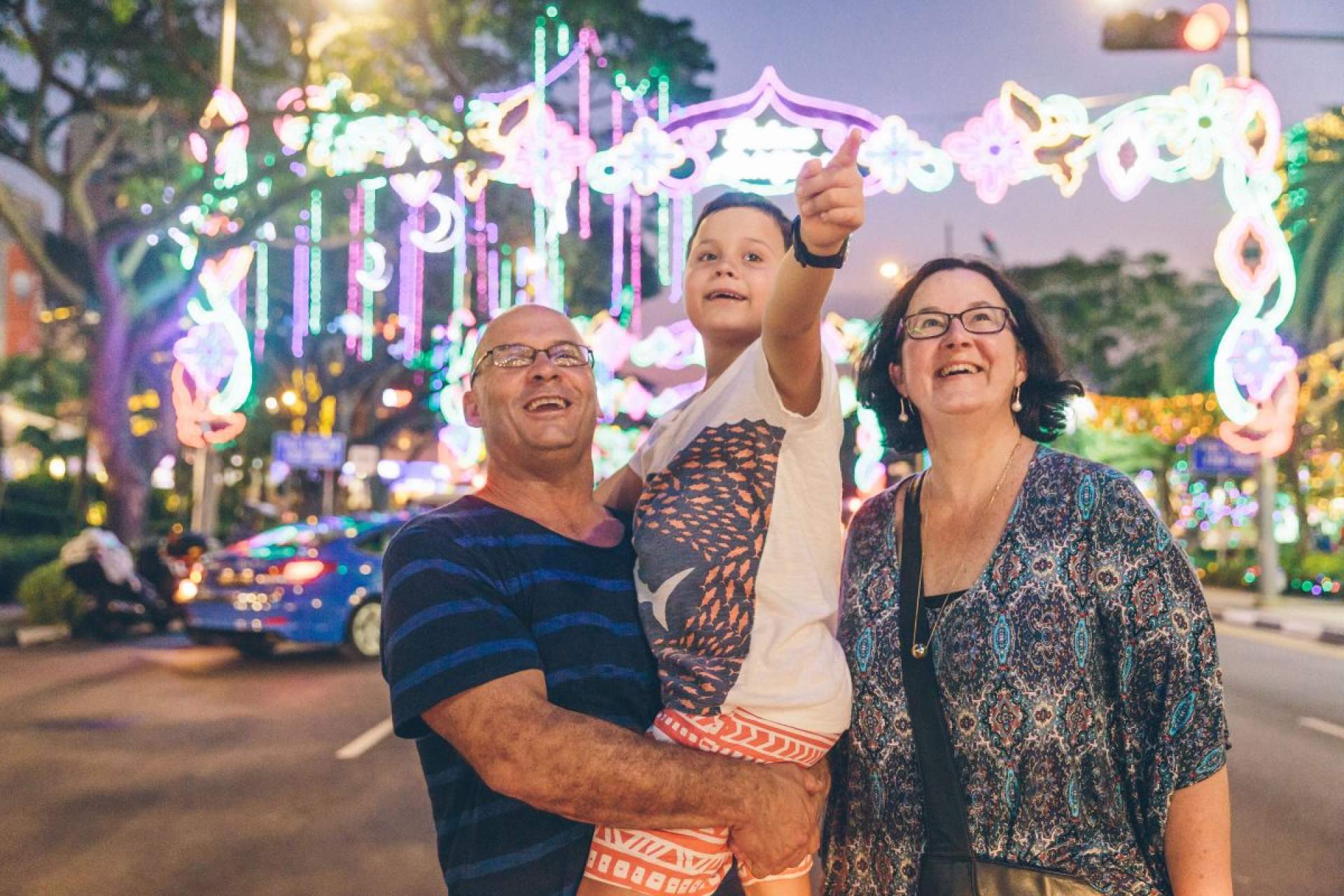 Unforgettable experiences all ages will enjoy combine with fantastic food to fill warm and happy days in the Lion City, just five hour's flight north of Perth.
Sumatran orang-utan Hong Bao gnaws vigorously on her breakfast of sugar cane and sunflower seeds but keeps one eye on me as I devour waffles, chicken sausages, fruit and hash browns less than 3m away.
It's just after 9am and we're getting our fill of fauna and fare at Singapore Zoo's Jungle Breakfast.
The Ah Meng Restaurant, named after the late "poster girl" who ruled over the zoo's clan of 20 orang-utans for nearly four decades, is the setting for this unique experience.
Steve Irwin and Michael Jackson were among the hundreds of celebrities to visit Ah Meng over the years and when she died in in 2008, aged 48, more than 4000 people attended her funeral.
Our breakfast with Hong Bao and her hirsute chums Satria and Sayang is accompanied by a fun commentary about this critically endangered breed.
And while there's nothing cuter than watching these adorable primates from behind the rim of a latte, we're told Hong Bao has the strength of six fully grown men and can crush a coconut husk in seconds with her front teeth.
Determined to make the most of this family holiday, we are not deterred and accept an invitation from the zoo handlers to have a photograph taken with the trio.
Sayang plays with my hair and tickles my ear lobe, bringing new meaning to "up close and personal".
The breakfast is one of several experiences that show off the zoo's attributes as one of the world's most beautiful attractions and make it a must-see on our family break in Singapore.
Animals roam freely in this 26ha rainforest habitat and there are more than 40 animal-feeding sessions every day.
Some of these, such as the giraffes and elephants, offer audience involvement for just $SG5 (about $4.86).
But be quick to queue because these are popular.
Nine-year-old son Alex was in awe of Inuka, the first polar bear to be born in the tropics.
Watching her play and dive for fish in her replicated frozen tundra lit up every face pressed against the ice cave's glass.
But in an "open learning zoo" home to more than 2800 animals from 300 species (26 per cent of which are threatened), there is no shortage of wow-factor for every member of the family.
Wandering among the lush staghorns, pinwheels and bamboo we spy a young leopard sleeping on a branch above us, seemingly balancing on his belly as his four legs dangle lifelessly below.
We see a pygmy hippo, white tigers, Hamadryas baboons, wart-hogs, wolverines and the not-so-cute naked mole-rat.
The zoo is a 30-minute, $SG25 taxi ride (or an hour by train and bus) from the city centre and sits beside two other award-winning attractions; River Safari and Night Safari.
But don't be fooled into thinking you could adequately see all of these in a day.
The Singapore heat, with an average humidity of 80 per cent, means careful planning is required.
There are so many amazing experiences to be had in Singapore these days that working out a family itinerary in the Lion City can have you reaching for a Singapore Sling quicker than you can say hello in Singlish.
After our own five-day getaway I believe the way to go is visiting one main attraction a day, some afternoon chill time in the hotel pool, a twilight market or cultural experience and dinner at one of the city's numerous hawker centres.
And spend the extra on an express pass. Queuing with kids in the equatorial heat and a husband who has a mental breakdown every time he enters the Ikea carpark meant express entry to all attractions and rides was a must for my clan.
What surprised me most about Singapore was the number of free activities for families.
Many certainly lacked the Hollywood pizzazz of the big-ticket attractions but their dynamism and colour kept Alex amused at every turn.
He was wide-eyed during a walk around the vibrant Malay-Arab district of Kampong Glam and the gold domes of the 1824-built Sultan Mosque. In Haji Lane he wandered confidently into a pop-up box shop, sampled oatmeal cookies (with WA-grown oats) and laughed at #Selfie Coffee customers waiting to get their photograph placed on their cappuccino froth.

Down the road the Hari Raya Light Up festival and Ramadan Bazaar were in full swing on Geylang Serai.
We meandered this cultural confluence, feasting on prawn noodles, pipoan (a kind of Chinese burrito) and Ramly burgers, ogled the giant bananas and watched the stallholders skilfully slice kebab meat with a 1m-long machete.
From the moment we woke, we looked forward to our evening meal, knowing that another hawkers' market lay in waiting.
Overlooking the $S8-$S12 cost of a pint of Tiger beer, substantial meals at the hawker centres were only about $S4.50. We all came back for more of the carrot cake, a subtle local dish of omelette consistency made with softened Chinese radish.
Alex took a shine to the barbecued chicken satay and sampled oodles of noodles.
My spice-obsessed husband indulged in the chilli stingray roasted in banana leaves. And our street food was often washed down by a glass of freshly crushed sugar cane juice.
Alex loved the whole Chinatown experience too, with markets full of calligraphy artists, durian stalls, oriental pastries and medicine halls.
Within a 100m radius is the impressive Buddha Tooth Relic Temple and Museum, the Tamil Muslim's Masjid Jamae Mosque and Singapore's oldest Hindu temple, Sri Mariamman.
We were lucky to arrive at this 1927-built place of worship in time for afternoon prayers.
We wandered through the courtyard admiring the beautifully embellished saris and the startling sculptures of deities and mythological beasts.
The undercover Chinatown food market runs the length of Smith Street.
We ate the barbecued meat speciality, bak kwa, and ended with dessert from Ice Cream Uncle. Alex's rainbow-coloured icy treat was topped with sweet corn!
No family trip to Singapore is complete without a few hours at Gardens By The Bay.
Arriving late in the afternoon we explored the Flower Dome and all the fun of its current Lilytopia display.
Moving to the Cloud Forest, Alex was immediately drawn to the plant life incorporating Lego. He skipped most of the way up the misty ramp and giggled excitedly as the 35m waterfall splashed us all during the journey.
If you have more time there are loads of great kids' activities in the Children's Garden. But for us it was a quick bowl of chicken rice at Satay by the Bay, another hawker centre, but this time inside the 101ha paradise of 500,000 plants, modern greenhouses, waterfront parks and spectacular 16-storey supertrees lined with solar cells.

There was time for a twilight walk between the fronds of the majestic supertrees before we found some grass space in preparation for Garden Rhapsody, a twice-nightly light dance to music.
There's a hop-on, hop-off bus ticket for $39 a day ($29 for children and half price for Singapore Airlines passengers) that covers all the city's main attractions, but a taxi (there are 29,000 on the road in Singapore) may prove a less expensive option for a family.
While decent accommodation can be a little pricey compared to some Asian destinations, a little research will reward you with great packages or alternatives such as boutique neighbourhood gems, budget glampacker and Airbnb.
There are more than 400 hotels in Singapore and the average cost of a room is $250.
We stayed on Sentosa island in one of Genting's Resorts World hotels. If you want all the big-ticket attractions at your fingertips, then this will suit.
But if you fancy Sentosa but don't like the sound of something quite so commercial, try the other side of the island along Palawan Beach. There's a free shuttle bus that covers the entire island and even a monorail that links you to the beach and the city.
Singapore ticks so many boxes for Australian families. We drank the water, ate on the street, walked confidently around after dark, conversed in English (but quickly learnt Singlish, thanks Uncle Lah), revelled in what seemed a harmonious blending of diverse religions, didn't need a visa, and with the Aussie dollar a smidgeon below parity with the Singapore dollar, spending our hard-earned was a doddle.
Kids' paradise with Transformers and otters
Any hotel that has a Lego shop and play area in its foyer has to be good, says son Alex on our arrival at Resorts World's Festive Hotel.
But it was the nature-based activities that really captured the imagination of my nine-year-old during our family's five-day break in Singapore.
Top of his list were the otters at the River Safari, a river-themed wildlife park viewed on foot and by boat.
There are more than 6000 aquatic and terrestrial animals at this attraction, but the spectacularly cute, amphibious giant river otters from the Amazon were the highlight for Alex.
"I just loved the way their velvety fur moved in the water and the way they followed my hand along the glass wall of their aquarium was awesome," he said. "They even followed me to the next level so I could watch them dry off and sleep in the sun."
It was also hard not to be drawn to the giant panda forest to meet China's Kai Kai and Jia Jia.
Alex celebrated panda cuteness with a Panda Bao — a steamed chinese bun filled with chocolate and decorated with a panda face.
After exploring the six river systems — Mississippi, Congo, Nile, Ganges, Mekong and Yangtze — we bypassed the river safari cruise, opting instead for the Amazon River Quest.
We boarded the eight-seater boat and entered a wild river ride through the jungle world of jaguars, Brazilian tapir and giant anteaters.
Back at the 49ha Resorts World, it was the maze pool and the wet maze at the Adventure Cove water park that stole the show for Alex. Speeding down a high-speed waterslide one minute, defying gravity in the riptide rocket, then snorkelling over a colourful reef among the rays and fish would be exhilarating for any age.
The adjoining SEA Aquarium — home to more than 100,000 marine creatures — was also a children's paradise.
Alex sat in the three-tiered viewing hall in silence for what seemed like hours as the rays, sharks, eels and reef fish created a panoramic feast.
Transformers The Ride and the Jurassic Park Rapids Adventure were given an overwhelming thumbs up when we visited Universal Studios.
"Both were better than anything at Euro Disney," he said after our battle against evil amid an epic 3D thrill ride with Optimus Prime.
On the other side of Sentosa sits Singapore's first kids' beach club, the Port of Lost Wonder.

Many of the attractions were for younger kids, but Alex played in the Pirate Ship water park for hours, firing the water cannon at his dad and dodging the giant bucket.
FACT FILE
Jungle Breakfast, Singapore Zoo $SG35 adults, $SG25 children plus zoo entry: zoo.com.sg.
Parkhopper Plus, four parks for the price of two: wrs.com.sg.
Getting around, accommodation, attractions: yoursingapore.com.
SIA Hop-On Bus: siahopon.com.
Singapore Attractions Express bus: saex.com.sg.
Resorts World, Sentosa: rwsentosa.com.
Disclaimer
Jenni Storey and her family were guests of the Singapore Tourism Board