Field of Light to illuminate Albany in Anzac tribute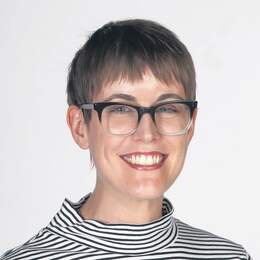 UK artist Bruce Munro is bringing his highly successful concept, which has drawn hundreds of thousands of visitors at Uluru, to WA's Great Southern.
In 1992, while travelling through Central Australia to Uluru, British artist Bruce Munro had an idea for "an illuminated field of stems that, like the dormant seed in a dry desert, would burst into bloom at dusk with gentle rhythms of light under a blazing blanket of stars".
More than a decade later, in 2004, he realised the concept in a field behind his family home in Wiltshire, going on to reproduce Field of Light as a series of ephemeral site-specific installations in locations from Cornwall to Colorado.
And in 2016, Munro brought the idea full circle with Field of Light Uluru — his biggest work to date and his first to be lit entirely with solar power, incorporating more than 50,000 stems topped with frosted-glass spheres that change colour and are connected by illuminated optical fibre, with one of Australia's most recognisable natural landmarks as its backdrop.
Named Tili Wiru Tjuta Nyakutjaku or "looking at lots of beautiful lights" in the local Pitjantjatjara language, the work has been likened to everything from "a vast, bright coral reef" to "a living dot painting".
Munro, meanwhile, has called the immersive installation "a personal symbol for the good things in life". It has also become a major attraction at the Aboriginal-owned Voyages Ayers Rock Resort, where the artwork is based. Having attracted more than 200,000 people, it's been described by Tourism Australia's managing director John O'Sullivan as "a remarkable success".
"It's proven to be a real drawcard for domestic and international visitors," he said.
The concept's next iteration, however, will have a rather more sombre significance. Field of Light: Avenue of Honour is set to light up Albany's Mt Clarence from October 4 as part of commemorations marking 100 years since the end of World War I.
Comprising more than 16,000 illuminated spheres and 1800km of fibre-optic cable, it will be in place for Remembrance Day on November 11 and will form part of Albany's commemorations of the centenary of the Armistice, paying tribute to the tens of thousands of Anzac troops who departed for the war from Albany.
"To be given an opportunity to create a work in remembrance of the Anzacs is a wonderful honour and a privilege," Munro said when the project was announced. "Albany would have been the last sight of home for many and this is a poignant thought."
Albany has played a significant role in commemorations of the Anzac centenary, in particular with the opening of the National Anzac Centre — also atop Mt Clarence — in 2014. In addition to Munro's installation, this year's Remembrance Day will see a troop march along York Street and a memorial service in Anzac Peace Park, along with a community program including special exhibitions, performances, Armistice Day celebrations and a lecture series.
Field of Light: Avenue of Honour has been commissioned by cultural non-profit group FORM and the City of Albany.
Unlike the Uluru installation (where entry fees start at $42), it will be free to view. It's hoped that, like its Territorian cousin, the installation will attract visitors: some 28,500 people, including 8500 from outside the Great Southern, are expected to see it by the time it finishes on Anzac Day next year. FORM's executive director Lynda Dorrington has predicted it will "draw locals and tourists to see Albany and Western Australia quite literally in a different light".
Art as a visitor draw is nothing new, of course: it has been intimately tied up with tourism since at least the days of the Grand Tour, when wealthy young Brits would make the pilgrimage to see Europe's cultural treasures.
But experiencing works such as Field of Light offers a modern version of cultural tourism that's both highly immersive (in keeping with the dominant travel trend for "experiences") and social-media friendly (#fieldoflight has been tagged on well over 10,000 Instagram shots ranging from gorgeous panoramic pictures to cheery family selfies snapped amid the installation).
Other examples might include everything from Hobart's self-consciously subversive Museum of Old and New Art to the Japanese "art island" of Naoshima, known for sculptures such as the photogenic Yayoi Kusama spotted pumpkin that stands at its port.
Particularly relevant to Field of Light: Avenue of Honour is the example of Blood Swept Lands and Seas of Red, the 2014 installation of nearly 900,000 handmade ceramic poppies in the moat at the Tower of London, each representing a British and Commonwealth military death during the war.
Part artwork, part temporary memorial to mark 100 years since the outbreak of World War I, it became an international sensation, attracting an estimated five million people and garnering a mention in the Queen's Christmas Message. And though it seems crass to mention it, given the subject matter, the installation also measurably boosted the tower's visitor figures for the year.
Not dissimilarly, street art is a widely recognised tourist draw from London to Los Angeles, and has been part of the story of the recovery of Christchurch, on New Zealand's South Island, by helping to bring visitor dollars back to the city following the devastating earthquakes of 2011.
In Australia, street art is a well-established part of Melbourne's tourism brand, while destinations large and small have followed suit, with local councils and visitors centres from Townsville to Port Hedland developing street art walking trails.
Other regions with a wealth of local creative talent have put together artists' studio and gallery trails. The Margaret River Region Open Studios event, for example, runs each year in autumn and in 2018 reportedly attracted record visitor numbers, including a significant proportion of people from outside the region.
Also in WA, Antony Gormley's Inside Australia sculptures at Lake Ballard, in the Goldfields, have drawn visitors since they were unveiled in 2003, and more recently FORM has brought local and international artists to towns including Northam, Ravensthorpe and Merredin to create large-scale murals, mainly on grain silos, as part of its PUBLIC Silo Trail.
The touring route, Ms Dorrington has said, "invites people to explore their State by putting art in unexpected places".
It seems that the key to the success of such endeavours may be, at least in part, its ability to forge a connection with people.

The late A.A. Gill memorably derided Blood Swept Lands and Seas of Red as "a bloodbath of fake flowers" but acknowledged the remarkable public response to it.
Its popularity sparked widespread calls for it to remain in place beyond its planned season, and the sale of the poppies ultimately raised £15 million for military charities. Parts of the installation later toured the UK and are set to join the collection of the Imperial War Museums in London and Manchester.
Similarly, Field of Light Uluru has had its run extended twice since it opened. It will continue until December 31, 2020. Munro has said he's been "greatly moved and humbled by the enormous response. It's obvious the combination of the exhibition and a canvas as visceral as this — flourishing from red dirt and tufts of spinifex, in the shadows of nature's biggest shapeshifter, Uluru — is immensely powerful to people."
Fact File
Field of Light: Avenue of Honour will be free to view but packages incorporating extras such as transfers, entry to the National Anzac Centre and dinner are also available. fieldoflightalbany.com.au
For more on the Anzac centenary commemorations in Albany, see anzacalbany.com.au. 
For details on seeing Field of Light Uluru, see ayersrockresort.com.au.
Categories