From Malvern Hills to the end of the world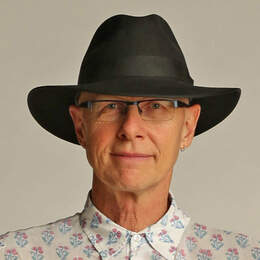 The heroes of my childhood were real and imagined, known and unmet; family and authors, friends and composers.
My grandparents' cottage was the highest on the gentle slopes of the Malvern Hills in rural England, overlooking the Welsh range upon which Bruce Chatwin based his book On the Black Hill.

Their cottage was near that of the grandmother of author Nicholas Shakespeare. Among his other works, Shakespeare wrote a biography of Chatwin.
Chatwin also wrote In Patagonia, which I bought soon after it was published in 1977, and read it at lunchtimes in a steamy "greasy spoon" cafe in Essex, England. It has a strong Welsh connection.
"Maybe one day I'll take you there, to the end of the world, to Tierra del Fuego." I told myself.
Some days it felt a long way away; some days it felt too far from my everyday life to contemplate.
But with age comes assurance — and I assured myself I would go to this place, the end of the world, one day.
That day is today.
The other heroes of my childhood were poems read so many times that their cadence became embedded like music.
These are the Malvern Hills which Charles Darwin visited many times and where his daughter Annie died, aged 10. She is buried in Great Malvern Priory's churchyard.
Charles had brought this much-loved girl to Malvern to see a hydrotherapist, but she is reported to have died of "bilious fever with typhoid characteristics".
It is suggested her death was a factor in Darwin setting aside his training as an Anglican theologian as he worked on his theory of evolution.
These are the Malvern Hills where authors CS Lewis and JRR Tolkien walked.
Lewis went to school at Malvern College, and this is the original landscape in which Lord of the Rings was set.
The playwright George Bernard Shaw seems part of the tweed fabric of the place.
Poet Dylan Thomas lived and wrote for much of his life not far away, in South Wales (another place with strong connections for me), and his home, The Boathouse in Laugharne, and its writing shed, is now a museum in tribute to his work.
The writing shed was built in the 1920s by a carpentry apprentice at Scourfields of Meidrim.
As a young writer, in my early teens, I visited The Boathouse and peered into the poet's writing shed, looking through its window and over the Taf estuary, as Thomas had done.
I bought a copy of his Collected Poems, which I still read. The Boathouse is a place I hold in my mind.
For years it has been a museum dedicated to Thomas which for many years was run by Lorraine Scourfield.
This area of South Wales is the heartland of the Scourfield surname — more specifically a village in Pembrokeshire, once the seat of the Scourfield family, members of which have lived in the area since the reign of Edward I.
Pembrokeshire and Haverfordwest had several sheriffs and mayors who were Scourfields, along with Members of Parliament who included William Henry Scourfield and Sir John Scourfield.
William Henry's name was immortalised in the naming of Scourfield Bay off the tip of Chile, and not so far from that southern point of Patagonia that novelist and travel writer Chatwin sketched in words in his travel epic In Patagonia — far from where he grew up in Birmingham.
The charts of Scourfield Bay were drawn by Captain Fitzroy on his first expedition of HMS Beagle in 1830, and revisited by the Beagle in 1834 — that voyage with Charles Darwin onboard as naturalist, wishing to see the tropics before he became a parson. The publication of Darwin's journal, which became known as The Voyage of the Beagle, brought him attention.
It was observations on this long voyage, during which, it has been estimated, he spent 18 months at sea and 39 months exploring foreign lands, that laid the foundation of his theory of evolution by natural selection.
I think about this again in Fitzroy Crossing, in the Kimberley, near where gogo fish fossils showed evidence of creatures leaving the ocean to live on the land. I think about Darwin's daughter, Annie, buried in Malvern, shaking his Anglican faith.
A place to gather
It's lunchtime outside the supermarket in Fitzroy Crossing and there's the jangle of local language and mobile phone ringtones. I sit on a bench, part of the lunchtime scrum of coming and going locals, looking down at the parade of bony ankles, thongs and work boots.
Looking up at families, old folk, babies.
A man with white hair under a black hat. Fitzroy Crossing was always this — a place where people came together. A place where the Fitzroy River was more fordable, at the old crossing, before the bridge.
This was where indigenous predecessors waited to cross, and where the drivers of the first vehicles learned to do the same.
The first bridge over the river wasn't built until 1935.
In the heart of the Kimberley, Fitzroy Crossing is home to many Aboriginal language groups.
A great confluence of river and desert language groups.
The river was explored in 1838 by Lt John Lort Stokes, during the next great voyage of the HMS Beagle, and he named it for Captain Robert Fitzroy, an earlier commander of the ship.
Aboard the Beagle
And so, here in the Beagle Channel, I look back, and think about Fitzroy, the man …
The British ship Beagle under his command first reached the channel in January, 1833 during its maiden voyage surveying Tierra del Fuego.
Fitzroy (who lived from 1805-1865) was a pioneering meteorologist who helped put in the basis of accurate weather forecasting.
In February, 1818, aged 12, he had entered the Royal Naval College, Portsmouth.
At 14, he had become a voluntary student aboard the frigate HMS Owen Glendower, which sailed to South America in the middle of 1820 and returned in January 1822.
In 1828 he was appointed flag lieutenant to Rear Admiral Sir Robert Waller Otway, commander-in-chief of the South American station, aboard HMS Ganges.
At that time the Beagle, under Capt. Pringle Stokes, was carrying out a hydrographic survey of Tierra del Fuego, under the overall command of Capt. Phillip Parker King in HMS Adventure — Capt. Parker King would, perhaps, become even better known for his exploration of the Kimberley coast.
At the bottom of a spiralling depression, Pringle Stokes took his own life, and Fitzroy was made temporary captain.
By the time he returned to England, Fitzroy had cemented his reputation as a commander and surveyor.
Voyage in writing
But Fitzroy and his crew did not travel home from the end of the world on their own.
For Fitzroy took with him Fuegians, to teach them "English, the plainer truths of Christianity and the use of common tools", and then return them as missionaries.
He called the girl Fuegia Basket, for a coracle that was made to replace a boat stolen by Yamana people.
One boy was called Jemmy Button, because that was what he paid for him with.
The other boy was called Boat Memory and he called the man York Minister, prompted by the shape of a rock near where he was caught.
In England, Boat Memory soon died after a smallpox vaccination.
The others were trained by missionary Richard Matthews and presented at court in 1831, just before Fitzroy organised a ship to return them home.
After that five-year voyage — the journey with Darwin alongside as companion — he married a young woman to whom he had been engaged for a long time.
Darwin was flabbergasted as she had never been mentioned.
Fitzroy was awarded a gold medal by the Royal Geographic Society and went on to serve as Governor of New Zealand from 1834-1845.
People are not clear-cut.
The heroes we make of them may not be the people they were, but the people we need.
I want to take that original paperback copy of In Patagonia with me on my journey, but the actual item — the book itself as an item, a treasure, a touchstone, an artifact — is too precious.
At the last minute, I download an electronic copy.
I bought the book the year I started work as a writer.
I was young, unsure, apparently talentless, nervous, completely out of my depth, and embarking on a voyage in writing for which I could see no destination, not even an opposing shore to aim for.
There was just this dark and brooding mass onto which I was setting sail, unsure even quite what this substance was.
The book, which originally had a crisp, shiny cover and firm spine is now tender with age, its pages thin as old skin.
"As I have grown stronger, it has grown frail.
I like to read favourite books many times, but haven't read In Patagonia for more than two decades.
I remember its character, its mood, its essence and Chatwin's spare style.
But not its detail.
And so now, travelling north over Patagonia from Tierra del Fuego, I start to read it again, and there is Jemmy Button, in detail. The same Jemmy, the same story, which I thought I had just unearthed myself, which I thought I had discovered during my time at the southern tip of South America, through following the link of Fitzroy.
(Top image: Lapataia Bay. Tierra del Fuego National Park, Argentina. Picture: Stephen Scourfield)