Geraldton Travel Guide: Literary connections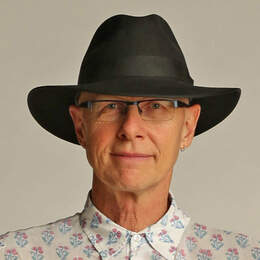 Geraldton-born writer Randolph Stow's Merry-Go-Round in the Sea, set in the Mid West town, remains one of WA's greatest novels.
"The merry-go-round had a centre post of cast iron, reddened a little by the salt air …

The planks were polished by the bottoms of children, and on every one of the stays was a small unrusted section where the hands of adults had grasped and pulled to send the merry-go-round spinning."
So begins Randolph Stow's novel Merry-Go-Round in the Sea.

I am reading my old paperback copy, for the umpteenth time, as I sit on the merry-go-round under a giant fig tree in Geraldton.
For Stow was born in Geraldton, this is where his story is set, and for me it is still WA's greatest novel.
It follows the life of Rob Coram. In 1941, he is six years old, growing up among aunties and cousins against the dramatic and then remote backdrop of Geraldton.
These are the idyllic days of a simple country childhood, set in an era past.
And then Rob's favourite older cousin, Rick, leaves for World War II. Rob is sent inland and when Rick returns, he is much changed. The old merry-go-round starts to disintegrate before his eyes.
Julian Randolph Stow was born in Geraldton in 1935, educated at Geraldton Primary School, temporarily evacuated to family properties in the Geraldton inland when Darwin and Broome were bombed in the war, graduated from University of WA in 1956, published the extraordinary novel Tourmaline in 1963, The Merry-Go-Round In the Sea in 1965 (which he wrote, snowed-in, in New Mexico), lived in England from 1965, and published three other novels including Visitants, which others acclaim as his best. He died in Essex in 2010, aged 74.

I have my own history in this, too.
Black Swan Theatre Company once turned the book into a play, and I came here with dramaturge Dickon Oxenburgh to visit many of the sites upon which Stow had drawn. Studying, researching and adapting the book to a script had been an evocative project for Dickon. A distant relative of Stow's, he also grew up in the Geraldton area.
At Sand Springs Station, against the white flutter and squawk of white cockatoos, I slept in a bed, in a room reminiscent of that in Sandalwood Station where Rob lived, in the book — Stow describing the cockatoos as flying like paper.
Koogereena Station was probably the inspiration for Stow's Andarra Station.
He wrote: "Andarra lay cut off from the world by a forest of gums ... the garden was a riot, a jungle ... a tall palm tree rattling high in the sky above the gate ... with 'Andarra' written on it in stained glass."
The scene at Koogereena was very similar.
Ellendale Station was Innisfail Station in Stow's book. Then derelict, a book read by a character in Merry-Go-Round in the Sea was found on a dusty shelf. A wall was covered with the signatures of the area's residents dating back to the 1840s and 50s. There were others — passers-by from the Forrest, Bunning and Waldeck families, and that of Stow himself.
And now I am standing at Ellendale Pool, inland from Walkaway, just south of Geraldton. Today there are caravanners pulled up, droning on, petting their dogs. But this was the scene of the poignant end of Stow's book: "The water by the reed-and-gum-fringed bank was almost black, green-tinged, and mirrored farther away the sudden pink cliff that reared inexplicably out of it ..."
At the time, I wrote a story for The West Magazine, which I was then editing. "Stow caught the colours, heat and attitudes of a rural WA town in the war years, and after. He skilfully sketched something precious ... Australian personality.
"Many Western Australians read The Merry-Go-Round in the Sea as a 'set book' at school. Perhaps strangely for a school book, most seem to remember it with great affection. It is part of the fabric of their early years, as it seems part of the very fabric of Geraldton and the inland farming areas."
That was 25 years ago. All of it is still true.
Fact File
Merry-Go-Round in the Sea by Randolph Stow is published as a Penguin Modern Classic by Penguin Books ($24.99).
Disclaimer
Stephen Scourfield was a guest of Australia's Coral Coast.
Categories