Our World

Havana ball in Cuba
The end of sanctions against Cuba means the island is much easier to visit. Great beauty, fascinating history and friendly locals await travellers.
It's not hard to immerse yourself in everything Cuba has to offer. It helps when you're forced to switch off from the rest of the world — internet access is hard to come by.
And when you finally get connected, there are so many people vying for the same bandwidth as you it's often slow and frustrating to use.
So instead of frequently glancing down at a screen, you really take in the country and its people.
My journey starts in Havana — the country's colourful capital, where it is truly like waking up in a bygone era.
Stepping out of a local taxi, which I had to share with four strangers, outside Havana's Capitol building is like stepping into a postcard.
Classic cars line the streets, with drivers ready to take people on city tours. Grand buildings, such as the Gran Teatro de La Habana, loom behind, providing picturesque photo backdrops.
It takes seconds for the first driver to approach, offering a one-hour drive around the city, and after a bit of negotiation on the price — 30 Cuban Convertible Pesos/CUC ($39.50), I step into a cherry-red 1950s Buick for a cruise.
The car takes me through the old town, where the crumbling facades of multicoloured buildings line the streets, past Chinatown, which, according to my driver Roberto, is void of any Chinese people, on to Havana's Cemetario de Colon, where you can spend hours wandering through, before heading to Revolution Square in the Vedado district.
Buildings surrounding the square are adorned with the faces of heroes of the Cuban revolution Ernesto "Che" Guevara and Camilo Cienfuegos. These are the first of many effigies to these men I see throughout the country.
Next is John Lennon Park, complete with a statue of the late Beatles member for people to pose alongside. In 1964, Fidel Castro banned the Beatles music in Cuba, aligning their music with consumerism, but Castro later changed his tune and erected the statue in Lennon's honour in 2000.
Roberto drives past the iconic Nacional Hotel, which boasts the likes of Ernest Hemingway, Frank Sinatra and Marlon Brando among its past guests, and along Havana's Malecon, the iconic 8km ocean- side boulevard, before the drive ends.
It's easy to spend hours walking through the cobblestone streets of Havana Veija, with its large plazas, cathedrals and museums, neoclassical and baroque architecture and eclectic characters.
Musicians and street performers wander by, creating some magic for anyone ready to lend an ear and spare some change, while cigar- smoking women in traditional costumes pose for eager tourists.
Cubans line the streets, sitting in doorways, watching the world go by or chatting to neighbours and passers-by through a window. This happens everywhere in Cuba — a side effect of not relying on technology to communicate.
Artists and artisans line the leafy Paseo del Prado, a promenade that separates Centro Habana and Old Havana, showing off their creations at pop-up stalls.
As the sun starts to set over the city, tables and chairs appear on the roadsides, with men sitting at them, talking, laughing and playing dominoes or chess, while drivers negotiate their way around these daily obstructions.
After a couple of days on my own, I join up with G Adventures' Cuba Colonial tour, a small group tour that takes us from Havana, east to Santiago de Cuba, Baracoa, Camaguey, Trinidad and Santa Clara, before returning to Santiago de Cuba.
We meet in Havana, then fly to Santiago de Cuba, in the country's south-east, under the watchful eye of local guide Abel. We spend two days in this hot, noisy city, once the capital of Cuba, taking in beautiful cathedrals, visiting cemeteries and heading out on a boat to Cayo Granma, a charming island inhabited by a traditional fishing community.
We visit the UNESCO world heritage site of Castillo de San Pedro de la Roca del Morro, a fort built in the 1600s that sits high above the entrance to Santiago harbour, designed to take on the real pirates of the Caribbean. Now it houses the Museo de Pirateria and every evening at sunset a cannon is fired from the fort into the ocean.
We dine at a local home, where a family prepares a banquet of seafood, lobster, chicken, meat, beans and rice, soups and other local delicacies for just 12 CUC before we return to our casas late in the night.
We stay in Casa Particulares throughout our trip — rooms in locals' homes rented out to tourists for 30-40 CUC per night. They're much better than the average hotel and, for a fraction of the cost, they're clean and air-conditioned with hosts who generally bend over backwards to make your stay as pleasant as possible.

Quirky Baracoa is the next stop. We head north-east, past the town of Guantanamo, home to the infamous US naval base and prison.
Baracoa looks like a small, sleepy town but there's plenty to offer. At night, the promenade through the town's centre becomes a stage.
Street performers are there on stilts and fire breathers heat things up. Clowns and mime artists quickly gather an audience.
At local bars, such as the iconic Casa de la Trova, music and dancing spills out on to the street, and rum-filled Cuban cocktails, like everywhere in Cuba, flow for less than the price of a Perth coffee.
On the outskirts of Baracoa, there's even more to see in the Alejandro de Humboldt National Park. We spend a day on an easy hike through here, with a local guide quick to point out flora and fauna unique to the area, including the world's smallest frog.
After working up a sweat, mainly because of the tropical heat, the hike ends with a swim in a crystal clear freshwater natural pool in the middle of the park.
At night we feast in the grounds of a local farm, an "adventure dinner" our guide has organised, surrounded by fireflies. We sip cocktails from cacao bean husks, eat from hollowed bamboo branches and scoop dessert from coconut shells. It feels like paradise.
Another day is spent on a farming island, tasting cacao and coconuts fresh from their trees, before we head back to the town centre and taste Baracoa's signature sweet treat, cucurucho, a mix of coconut, guava, honey, chocolate and other fruits, mixed down to a paste and served in a rolled palm leaf. You can also opt to hike the tabletop mountain, El Yunque, towering in the distance, or visit the turquoise waters of Playa Mangana.
After three nights in Baracoa, we head back west, via Santiago de Cuba, to Camaguey.
Camaguey's streets are so maze-like that it's easy to get lost. Now, they're filled with street art, rooftop bars and hidden plazas but they were designed to confuse invaders and pirates.
We only have one night here and make the most of our time with a rickshaw tour through the winding streets.
Camaguey is also the only place we stay in a State-run hotel. It's obvious why casas are the better option.
The tour takes us further west to Trinidad where the sound of horses and carts along cobblestone streets is as common as the sight of classic cars in Havana.
While this UNESCO World- Heritage-listed settlement is teeming with tourists from nearby resorts along Playa Ancon, the pace of life is delightfully slow.
The historical centre is thriving, with pop-up markets and shops selling beautiful artwork, jewellery and souvenirs for even the fussiest. If you can't find the perfect gift in Trinidad, you probably won't find it anywhere.
Here we take a salsa lesson and pay daily visits to Casa de la Musica — an alfresco bar set on stairs overlooking Plaza Mayor. Every evening, musicians take to the stage and locals and tourists alike take to the dance floor, while everyone else takes a seat, grabs a drink and soaks it all in.
Taking a walk through Trinidad's backstreets and away from the tourist hub gives you a glimpse into daily Cuban life, with the Escambray Mountains providing a spectacular backdrop for your meanderings.
Families spill out on to the streets and neighbours stop to talk to one another at their front doors. There's always the sound of music coming from at least one house in any street and peddlers sell their wares from door to door.
A visit to the former convent of San Francisco de Asis is well worth it for the views over Trinidad alone. You can climb to the now-museum's belltower for panoramic views from the mountains to the ocean, with a sea of terracotta rooftops and rainbow facades in-between.
It's not all museums and architecture. A drive 20 minutes out of Trinidad's centre one day, followed by a short hike, takes us to Salto del Caburni, a 62m waterfall that plunges into a natural pool where we swim. Another afternoon is spent in the sun and Caribbean Sea at Playa Ancon.
Three days barely allowed us to scratch the surface of Trinidad's charms but a history lesson in Santa Clara called us away. We visit Guevara's grand mausoleum and the museum dedicated to the man and his 1958 Battle of Santa Clara that led to the revolutionaries' win against General Fulgencio Batista's regime.
Although interesting for Guevara history, Santa Clara itself has little else to offer. Our group opts to take a detour via Cienfuegos and the Bay of Pigs on our way back to Havana.
We stroll stroll down Cienfuegos' Paseo del Prado, lined with French-inspired architecture, and down a boulevard lined with market stalls on to the serene Bay of Cienfuegos.
A drive out of town takes us to the Bay of Pigs Museum dedicated to the failed 1961 attempt by the US to invade Cuba from the south, before we head to the bay proper for a final swim.
The journey ends in Havana where, after two weeks in smaller towns and cities, we're mesmerised by the relatively fast pace of life and the beauty of peeling paintwork and dilapidated buildings. It's not hard to see the country is changing. The buildings are slowly being restored and people are starting to set up private businesses. Cubans can now sell their homes if they want to, something unheard of five years ago. According to our guide, Abel, it's finally becoming "normal".

I hope Cuba doesn't lose all of its charm in a bid to catch up with the rest of the world. It would be nice to return in the future to a place that forces you to slow down, look up and talk to people face-to-face.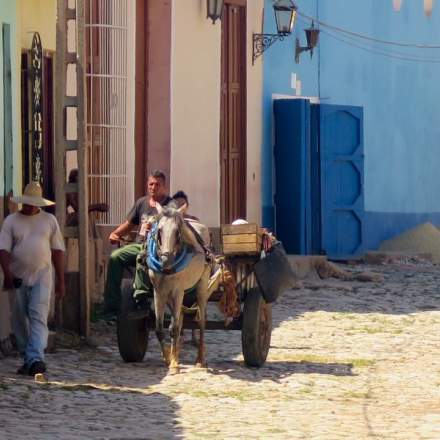 Fact File
Take euros. You can't exchange Australian dollars in Cuba and the US dollar is heavily taxed when exchanged. Australians don't need to apply for a visa. 
You can buy a 30-day Cuban travel visa (approximately $35) at the airport you're entering Cuba from. Your airline won't let you on to the plane without it.Only change money at CADECAs or banks in Cuba. You'll need to show your passport.
Double-check the amount you're given because even these authorised foreign exchange outlets can try to rip you off.
Cuba is generally warm all year. Shorts and T-shirts are the unofficial uniform of locals and tourists alike.
Tipping isn't required but it's nice to tip staff if the service has been good. Some restaurants add a 10 per cent tipping surcharge.
Learning some basic Spanish before your trip will go a long way.
Categories