High times at Vancouver's Capilano Suspension Bridge Park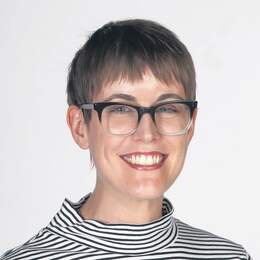 One of Vancouver's longest-running and most popular attractions, the park attracts more than a million visitors each year — none of them, presumably, with a fear of heights.
"If the Statue of Liberty was in the canyon, we'd be looking at her eye to eye," Jared Martin tells us as we stand on the gently swaying suspension bridge.
"We could put on her lipstick," someone quips, and we all laugh with the kind of nervous giggles that suggest none of us is entirely comfortable being here, 70m above the distant riverbed.
Jared is showing us around Capilano Suspension Bridge Park, one of Vancouver's longest-running and most popular attractions. Stretching nearly 140m across the Capilano River north of the city centre, it draws more than a million visitors each year — none of them, presumably, with a fear of heights.
The bridge and the waterway it spans take their name from a Squamish First Nations word, Kia'palano, meaning "beautiful river". It was also the name of an important local chief, known as Joe Capilano or Su-a-pu-luck, who in 1906 led a delegation to London to advocate on behalf on his people to King Edward VII. (For his troubles, he was later labelled a "nuisance" by the local papers.)
The bridge itself has a history reaching back more than a century. In its first incarnation it was known as the Laughing Bridge — on account of the noise it made in the wind, rather than the mild hysterics its later iterations might inspire in visitors — and was built by a Scottish settler named George Grant Mackay, who had bought the surrounding 2428ha the previous year and built a cabin at the edge of the canyon.
That first bridge was made of hemp rope and cedar planks, so it's reassuring to hear it has since been rebuilt more than once in far sturdier materials. And though it looks elegantly slender and can wobble alarmingly under heavy traffic, the bridge is sufficiently strong to have withstood the weight — all 17 tonnes — of part of a 300-year-old Douglas fir that fell on it during a storm in 2006.
But there's more to this 11ha privately owned park than the bridge. There's also an extensive collection of totem poles — said to be the largest private collection in North America — while more recent additions include the Cliffwalk, a transparent walkway extending out from the granite canyon wall.
After crossing the bridge, there's also the Treetops Adventure, a series of walkways suspended between eight big Douglas firs, taking visitors close to 34m above the ground. Inspired by the Daintree Forest Aerial Walkway in far-north Queensland, it's supported by special "collars" that leave the trees free of nails and bolts, exerting a pressure that Jared says is similar to that of pressing your thumb into your hand.
Treetop walks aren't exactly a novelty to West Australians but this section of the park is beautiful, with raised boardwalks leading visitors through the temperate rainforest, past ponds, a Swiss Family Robinson-style wooden tree house and trees as old as 1300 years. There are information panels and special activities for children, as well as an attraction known as Raptors Ridge, with birds of prey such as hawks, falcons and owls. Meanwhile, you can spot wildlife including squirrels and banana slugs, aptly named for their sickly yellow colour and large size.
I'm here in early autumn but I'm sorely tempted to return between late November and the end of January, when the park is illuminated for the Canyon Lights festival. The bridge itself is lit up, of course, alongside the Treetop Adventure and many of the trees themselves. Plus there are carols and festive activities such as decorating gingerbread cookies and wooden ornaments.
Either way, if you do brave the bridge's relatively gentle thrill, you'll receive a certificate rewarding your daring. It grants the bearer "bragging rights for the period of two years" — I for one plan to make the most of it.
Fact File
Opening times at Capilano Suspension Bridge Park vary according to the season. Admission is $CA42.95 ($43.50) for adults, with discounts for families, concessions and children under 16 years. Canyon Lights runs until January 28. capbridge.com
The park is about 15 minutes drive north of downtown Vancouver. A free shuttle leaves from Canada Place and other central locations.
Vancouver is the starting place for eastbound journeys aboard the Rocky Mountaineer train. For details on itineraries and packages, go to rockymountaineer.com.
For more on visiting Vancouver, go to tourismvancouver.com.
Disclaimer
Gemma Nisbet was a guest of Tourism Vancouver and Rocky Mountaineer.
Categories