Hot hotel: Details matter at AVANI Broadbeach, Gold Coast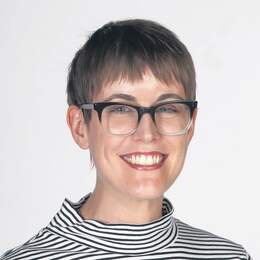 Thoughtful touches cater to travellers who "want that little bit extra" at AVANI's first Australian property.
It probably says something about me — none of it flattering — that the first thing I notice when I walk into my two-bedroom suite on the 35th floor of the AVANI Broadbeach after a late flight isn't the tastefully beachy decor or even the lights of the Gold Coast sparkling beyond my balcony, but the two small packets of biscuits waiting on the counter.
Set in a dish with coffee pods for the Nespresso machine, they're accompanied by a card that reads: "It's the details that matter."
And indeed I find there are plenty of thoughtful touches throughout my suite, from the full-size fridge and nice teas in the well-equipped kitchen to the quality Leif toiletries in the two bathrooms and the generous free wi-fi allowance of 1GB a day.
A card beside the television — a smart TV with Foxtel and DVD player, no less — informs me that I can borrow items such as a GHD hair straightener and a yoga mat from reception, where forgetful travellers can also get hold of a sewing, dental, shaving or kids' colouring kit free of charge.
No surprise, then, that the hotel's general manager, Brett Hohn, describes its typical clientele as "guests that want that little bit extra".
The AVANI Broadbeach was the first Australian property for the "young, vibrant upscale hotel brand" — as Mr Hohn describes it — when it opened in December (a second, in Melbourne, is due to open in August).
It's part of the Bangkok-based Minor Hotels group, which also owns the Anantara and Oaks brands, among others, and includes properties everywhere from Victoria Falls in Zambia to Vietnam, with six hotels in Thailand and a recently opened location in Luang Prabang, Laos, under its upscale new AVANI+ brand.
Housed in a sleek high-rise tower with a gym plus a 25m pool flanked by an outdoor area with loungers and barbecues, the Gold Coast hotel is a couple of blocks back from the waterfront in Broadbeach, a couple of minutes walk from a G:link light rail station.
The location is another point in its favour: Broadbeach is a few kilometres south of Surfers Paradise and feels both more laid-back and more grown-up than its better-known neighbour. There are good local restaurants, weekend art and craft markets at nearby Kurrawa Park, and amenities including the recently redeveloped Star Casino and the up-market Pacific Fair shopping centre.
The AVANI will have a restaurant of its own in the near future, too. Mr Hohn admits it's "probably the worst-kept secret on the Gold Coast" that popular Noosa bar and restaurant Miss Moneypenny's is set to open in the building alongside a sports bar.
In the meantime, the hotel has been running Masters in Travel, a partnership with local businesses offering workshops covering yoga, surfing, cocktail-making and more.
There's plenty to keep visitors busy, then.
Still, it's hard to beat watching the late afternoon light play across the ocean from my balcony — or, better yet, walking down to Kurrawa Beach for sunset, where I find the fluffy clouds reflected in the glassy water and slick sand.
I sit for a while, watching the tourists taking pictures, locals walking their dogs and a row of bodysurfers facing the modest swell, their backs lit golden by the setting sun.
A boy and his dad are playing in the shallows, and a little way off, a seagull perches on one leg.
Just as it's the details that matter, sometimes it's all about the simple things.
Brett Hohn's tips: Where to eat in Broadbeach
Moo Moo Wine Bar and Grill: "I love a good steak."
Gemelli Italian: "A very authentic Italian experience."
Social Eating House + Bar: "Great atmosphere and great food."
Koi Dining + Lounge Bar: "Their breakfast is amazing and they have live music on the weekends."
Iyara Thai Restaurant: "Very good, authentic Thai."
Fact File
Rates at the AVANI Broadbeach Gold Coast Residences are from $178 per night for a one-bedroom suite. A two-bedroom Premier Ocean Suite is from $357 per night. minorhotels.com/en/avani/broadbeach or (07) 5634 8600
Disclaimer
Gemma Nisbet was a guest of AVANI Hotels & Resorts. They did not review or approve this story.
Categories