Icy landscape moves at glacial pace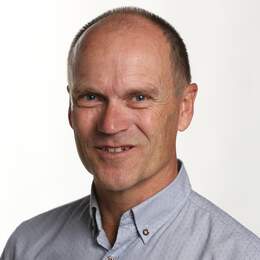 MOGENS JOHANSEN is in awe of Alaska's stunning Glacier Bay
There is a loud crack followed by a low rumble. The Marjerie glacier is calving – large pieces of glacial ice cascades into the icy water below. In that instant they become growlers bobbing up and down in the water as they slowly become accustomed to their new environment. Growlers are icebergs less than 5 meters in size so one can only try to imagine the noise if a large iceberg was to break away from the glacier.
My wife and I are standing on the observation deck on-board Holland America's Nieuw Amsterdam cruise ship in Alaska's Glacier Bay National Park. This moment is one of the highlights of our 7-day cruise from Vancouver along the scenic inside passage to Alaska.
It is indeed a special moment – what we are looking at will never be the same again, the face of the glacier changes and as the giant mass of ice slowly pushes forward into the sea, the landscape changes as well.
Glacier Bay National Park and Preserve covers 3.3 million acres of rugged mountains, temperate rainforests, wild coastlines with deep fjords and of course glaciers. These giant rivers of ice slowly leaving their mark on the landscape.
Our ship is one of only two allowed into the bay each day so there is no sense of overcrowding and there is plenty of time to take it all in. It is an overcast day, low hanging clouds bump into the mountains, the soft moody lights and the pale colours suits the landscape and adds a sense of drama as we slowly sail into glacier bay. Reid Glacier, Lamplough Glacier and John Hopkins Glacier are some we pass as we slowly approach the end of the Tarr Inlet for our turn of a close-up view of Marjerie Glacier and the Grand Pacific Glacier.
The two glaciers were joined but due to the recession of the Grand Pacific, they are now separated by a small stream that flows between them. The Grand Pacific is not as spectacular to look at as some of the others because of debris from landslides and moraines that obscures the view of the toe of the glacier. Marjerie on the other hand is stunning. The crisp blue/white hues of the ice reach right to the waters edge. The scale of the face is hard to fathom but luckily the other cruise ship is there to give the scene some sort of scale. The Ruby Princess is dwarfed by the Marjerie as she makes way for our turn to have a close-up view. It is not only grand views of the landscape that impress us, my wife squeals with delight when she spots an otter (her favourite animal) casually floating on its back in the frigid water as we sail past and I get some nice pictures of a bald eagle resting on a growler near the glacier face. There is plenty of other birdlife as well, seabirds nest on the cliffs and rocky shores next to the glaciers.
Our ports along the way are Juneau, Skagway and Ketchikan, each with its own unique charm and quirks.
Juneau, Alaska's capital was the first town established after the USA purchased Alaska from Russia in 1867. But strangely, it can only be reached by sea or air. Each of its two main highways comes to a dead end a few kilometres out of town.
We head out to check out the Mendenhall Glacier about 20km out of town. The close proximity to town and easy access means it is a popular choice. There are lots of people but we don't feel crowded, there is an excellent and informative visitor centre with enticing views of the glacier and plenty of walk trails leading to different views of the lake and glacier. We choose to take one of the walk-trails out to Nugget Falls. It is an impressive sight to see the huge waterfall cascading down the mountainside virtually next to the Glacier.
Skagway has a touch of the Wild West about it thanks its colourful history from the Klondike gold rush. The main drag, State Street, has a real historic feel to it – the colourful and immaculately maintained wooden houses, shops and restaurants makes it a pleasant place to walk around and explore. Many of the tour options here feature themes about the gold rush. You can take a Red Onion brothel tour or enjoy a train ride on the White Pass and Yukon narrow gauge railway and explore the Klondike Gold rush history at the National Historical Park Visitor Centre.
We choose a tour to a mushers camp for a dog sled adventure. The dogs are barking and eager to get going when our 4WD bus arrive at the camp and we are encouraged to get on-board our wheeled cart quickly so we can get going. As soon as we are under way the dogs go quiet and get down to business. The team of 14 supremely fit athletes take us for a thrilling ride along the forest tracks. Our musher Keith use only softly spoken commands to direct his team. "I like to keep my loud voice for when it is really needed" He goes on to explain that the athletes are on their summer strength and conditioning camp. "They only do short sessions this time of the year but in winter when they compete in races like the Iditarod and Yukon Quest they can run up to 11 hours a day"he says. After the ride we learn more about what it takes to race in the Iditarod from professional musher Ryan Redington who has been running dogs since he could reach the bars of the dog sled. The legendary 1600 km race which begins each year on the first weekend in March was founded by his grandfather Joe Redington Sr. in 1973. The tour finishes with a meet and greet get with some very cute puppies before we head back to Skagway where we spend a pleasant couple of hours before boarding the ship.
Ketchikan is our last port before heading back to Vancouver. It's a busy day with 4 cruise ships in port but The Nieuw Amsterdam pulls up right alongside the town and we get a nice view of if from our balcony. Ketchikan, Alaska's 4 biggest city, is famous for its liquid sunshine, they get more than 3600 mm of rain annually but thankfully today there is none sign of it. It is however freezing. We haven't booked a tour so we rug up and head out to explore the city. The historic and picturesque Creek street was one of the highlights of our self-guided walking tour. It was, until 1953, the place where both salmon and fishermen went to spawn. Today, there is none of that – instead the wooden houses along the picturesque creek are home to tourist shops, café's and Dolly's House Museum. Dolly Arthur was Ketchikan's most famous madam and the house and its interior looks much like it did in the 1920's.
Back on the Nieuw Amsterdam, we enjoy the picture postcard views of the inside passage as we sail back to Vancouver while we reflect on a wonderful curise.
Holland America's Nieuw Amsterdam has a capacity of 2104 passengers, it was built in 2010 and was last refurbished in 2017. We had a balcony stateroom which was spacious and comfortable. It has 4 different music venues, a casino, 2 dining rooms with fixed dining times or anytime dining options and the Lido Market, a huge buffet area. There are also 4 specialty dining restaurants but there are an extra charge to dine here. There are two pools, a well equipped gym, a spa and a range of shops.
Fact File
Holland America's seven-day Inside Passage cruise leaves Vancouver each Saturday from May to September.
Prices start from $1809 per person for an inside cabin. Ocean view cabins start at $2128 per person and veranda cabins start at $3039 per person.
hollandamerica.com