London sketches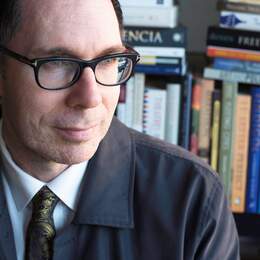 WILL YEOMAN recalls some highlights from his last visit to London in 2016...
Our hotel might be rather ordinary. Likewise the breakfast. But the walk down Connaught Street and up Oxford Street, then down New Bond and Old Bond Streets, is full of interest, with the post-Christmas sales in full swing and people everywhere. An excellent afternoon tea at St Martin-in-the-Fields' crypt proves restorative. Thus fortified, we push on to the National Gallery and to the flagship Waterstones in Piccadilly. I leave my wife Deborah on a comfortable couch while I spend a good hour amongst all the fiction, poetry and non-fiction titles on the first floor. Finally, dinner at an Indian restaurant across the road from the Harold Pinter Theatre. Then the play: Sir Mark Rylance's Nice Fish, an absurdist comedy starring Rylance himself.
In London King's Cross I meet the art critic Martin Gayford, who is as gracious and learned and engaging as one could imagine. We speak of the relationship between music and painting, and between music and writing (he writes on jazz as well as art), and the Platonic dialogue as his primary literary form (his latest comprises conversations between himself and British artist David Hockney), being more dynamic because of its ability to provide multiple perspectives, and how his current project involves more voices and is therefore more in the nature of a polyphonic work. I am quite taken with his idea that a critic must possess a certain arrogance. "I am right because I know more about this subject than you do!" He does however say this with a wry grin.
This is an edited version of the original, full-length story, which you can read here.
A message from Travel Editor Stephen Scourfield...
Thanks for reading us – we value your continuing interest and our connection with you.
But as our readers increasingly move to digital, we have to keep up with them.
As I'm sure you'll appreciate, there are costs involved in doing what we do for you.
To support Travel, reading the full story now requires a digital subscription (it's $1 a day for full access to thewest.com.au, for all your devices).
If you have the newspaper home delivered, you may already have complimentary premium access to thewest.com.au and our digital editions.
And we have other packages, including $9 a week for the weekend papers and everyday digital.
Stephen Scourfield