Lyon's rich musical history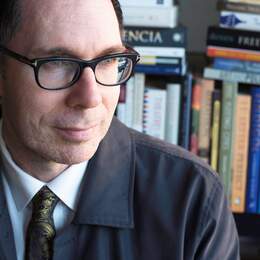 Our Arts Writer visits organist Joseph Nolan, in his element before a glorious instrument in Lyon.
Lyon is considered the gastronomic capital of France. Yet this UNESCO World Heritage Site's historic and cultural fare is equally tasty, especially in spring.

Warmed by the mild sunshine, one can, for example, roam the cobbled streets linked by traboules (narrow passages) of Vieux Lyon, inspecting the Renaissance architecture, or wander about the picturesque Roman ruins near the imposing Fourviere basilica which watches over the city.
But this year spring was late. Which wasn't as disastrous as it might have been, as I was in Lyon to sample — courtesy of a "guest chef", you might say — two very specific cultural dishes: a church organ which alone is sufficient to attract countless visitors to Lyon each year; and the music of the famous composer who played that organ as a child.
As an icy rain swept across the city I walked from the Sofitel on Quai Docteur Gailleton by the Rhone River in the Bellecour district, up Rue Sala and then right on to Rue Auguste Comte.
Joseph Nolan was already waiting for me outside Saint Francois de Sales. Built in the 19th century, the Tuscan-style church stood on a site formerly occupied, before the Revolution, by the Couvent des Filles Penitentes and the Maison des Recluses.
"Bonjour, ca va, " Nolan inquired as we shook gloved hands.
"Je suis tres bien, " I lied as my freezing body trembled. "Et toi?"
My woeful French all but exhausted, I was grateful when he replied in his native English.
"Good, apart from this weather. It's so surreal to see you here in Lyon!"
Surreal, because Nolan, organist and master of the choristers at St George's Cathedral in Perth since 2008, was more accustomed to seeing me in a sunny garden cafe in Mt Hawthorn.
Originally hailing from the UK and formerly of Her Majesty's Chapels Royal, St James's Palace, Nolan had travelled from Perth to Lyon to record the next volume in his complete survey of the music of Lyon-born organist and composer, Charles-Marie Widor. I had made the two-hour rail journey from Paris to Lyon to sit in on rehearsals.
Tantalisingly, Nolan would be performing on Saint Francois de Sales' grade-1-listed 1880 Cavaille-Coll choir organ — the very instrument on which the church's titular organist, Francois-Charles Widor, gave his gifted son his first organ lessons.
As Nolan led me into the darkened interior of the church, my eyes gradually became accustomed to the gloom and I spied the 43-stop organ's pipes rising high above the three-manual (keyboard) console.
It's here that I must be allowed the inevitable organ joke. The Saint Francois de Sales Cavaille-Coll is not a large organ. Indeed, Nolan could have found it a bit of a disappointment after the magnificent Cavaille-Coll in L'eglise de la Madeleine in Paris, where he recorded all 10 of Widor's organ symphonies in just seven nights.
But size doesn't matter: it's how it's built and what you do with it that counts. As far as Nolan was concerned, the Saint Francois de Sales organ was a masterpiece.
"I've played almost every major Cavaille-Coll organ in France and I don't think I've ever encountered one like this where every single stop is just magic, " he said as he seated himself behind the console. "There's genius in every sound."
Slipping his shoes off so as better to negotiate the organ's 30 pedal notes, Nolan then launched into a hair-raising rendition of the famously wedding-friendly Toccata from Widor's Fifth Organ Symphony.
I wasn't sure whether it was the sound — immaculate, rich, variegated yet blended — which gave me goosebumps or the knowledge that the Toccata, and indeed the entire Fifth Organ Symphony, was first performed on this organ by Widor himself.
"It's quite something, isn't it, " said Nolan after the final chord melted into the darkness. "That is how an organ should sound. It's like having the world's best choir — its different colours, its timbres — at your fingertips. Every single sound is exquisite.
"And that's why I despair, because most organs don't sound like this.
"But having played all the monsters, coming to this one at last is a wonderful thing. Because this is where, for Widor, it all started."
Charles-Marie Widor was born in Lyon in 1844. His father, an organ builder as well as organist, recognised his talents early on and by the age of 11 he was organist at the Lyon lycee. It was the legendary organ builder Aristide Cavaille-Coll — whose instruments can be found not only throughout France but around the world — who recommended Widor study in Brussels. One of his teachers there was Jacques-Nicolas Lemmens, who inculcated in Widor a lifelong love of the music of one of the greatest organists of all time — J.S. Bach.
"All Widor's students learned was Bach and Widor, " Nolan laughed.
From 1860 Widor played the organ at St Francois de Sales and in the provinces until in 1870 he became organist at St Sulpice in Paris, a position he held for 64 years. He was also professor of organ and composition at the Paris Conservatoire, and in 1910 was elected to the Academie des Beaux-Arts. He continued to play the organ until he was 90 and died in 1937.
"Widor is probably best known today for his 10 organ symphonies, " Nolan said. "But it was he and Cavaille-Coll who completely revolutionised the organ as a symphonic instrument and put it back on the map.
"After the French Revolution, organ playing in France was in a dreadful state. These two men came together and pulled it from the abyss. Without them there would be no legendary French organ school, which excites so many, even people who generally don't care for the organ."
I knew Nolan himself was a tireless advocate of the music of the French school, as well as Bach, having performed on organs in Europe, Asia, Canada, US, New Zealand and Australia. In fact, in a few days he would be performing Widor's Fifth and Sixth Organ Symphonies at the World Organ Festival in Rome.
But right here, right now, he was reflecting on what had been and what was to come as part of his complete Widor recording project.
"The final volume will be recorded on the Cavaille-Coll at St Sernin in Toulouse, " he said as we prepared to leave the church for a spot of lunch. "It's probably Cavaille-Coll's loudest. Very fearsome.
"But to have recorded all of Widor's music on France's greatest organs has been a huge privilege and a unique honour. As I've only just turned 39, it's a bit tricky wondering what to do next."
William Yeoman travelled to France as a guest of Singapore Airlines and Railbookers.
Categories