Manchester sketches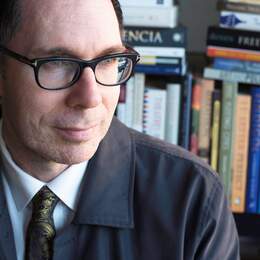 WILLIAM YEOMAN visits Manchester Cathedral as the winter rain washes the grime from the city in preparation for Christmas
Should you ever find yourself in Manchester, you really ought to visit its 13thcentury Manchester Cathedral in Victoria Street.
You might encounter a man just beyond the doors throwing a ball to his Scottish terrier.
Or a group of people drinking pints of ale outside the nearby tavern, despite the rain, as there were when I made my own pilgrimage to the cathedral one dreary winter afternoon last Christmas.
Or you might have to fight your way through hordes of tourists and shoppers and city workers going about their business, just to get there, again, as I did.
But as soon as you enter the cathedral's vast, dark interior, the bustle and din of the world melt away, become insubstantial, like unto ashes, or mist. You savour the silence and the sanctity of the place. Even then, it's still easy to miss the cathedral's greatest treasure, unless you know what to look for.
Embedded in a column to the left of the organ, the Angel Stone is not much bigger than a bible.
Dating from the early Saxon period, its rough surface bears the crude carving of an angel, its wings at strange geometric angles above its head, its hands grasping a scroll on which is written (and this is a translation) those familiar, frightening words: "Into thy hands, O Lord, I commend my spirit."
I wonder what the Saxon who carved this figure all those centuries ago would make of modern Manchester.
I wonder what he would make of the man sleeping in a cardboard box in St Anne's Square, bare feet protruding obscenely from one end.
Or the women smoking e-cigarettes and talking on their mobile phones outside clothes shops.
Or the two young policemen questioning a homeless person sitting on a sleeping bag and munching a sandwich and wearing a yellow fluorescent waterproof coat so similar to those of the bobbies that they could very well be arresting him for impersonating a police officer.
Or the lustrous paintings of Wynford Dewhurst, the Monet of Manchester, filled with the dazzling light of the south of France, in the Manchester Art Gallery.
Or the book I discover on a shelf in Waterstones by Patrick Leigh Fermor, called A Time to Keep Silences, in which that illustrious travel writer writes:
"(The ruined abbeys of England) emerge in the fields like the peaks of a vanished Atlantis drowned four centuries deep. The gutted cloisters stand uselessly among the furrows and only broken pillars mark the former symmetry of the aisles and ambulatories. Surrounded by elder-flower, with their bases entangled in bracken and blackberry and bridged at their summits with arches and broken spandrels that fly spinning over the tree tops in slender trajectories, the clustering pillars suspend the great empty circumference of a rose-window in the rook-haunted sky. It is as though some tremendous Gregorian chant had been interrupted hundreds of years ago to hang there petrified at its climax ever since."