Our World

Marfa charms with art ... and aliens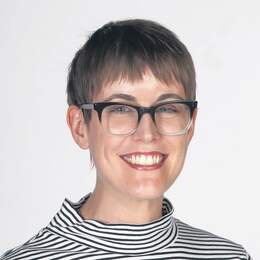 Prepare to be bewitched by a creative desert haven in remote far-west Texas. 

Driving through the high desert near Marfa, in remote western Texas, there's something odd — an unidentified object — high in the bright-blue sky.
"Can you see that," I ask my boyfriend Davey, pointing at the white shape just visible in the distance.
"See what?"
"Up there."
"Where?"
This goes on for some time — blame poor eyesight — until Davey spots it growing bigger and more distinct as we get nearer.
"It's a UFO!"
It's not, of course — we later learn it's a radar blimp, tethered to the ground by a long line. But there's something about this place — sparse, other-worldly, beautiful — that makes you want to believe it could be something more mysterious.
Indeed, among Marfa's surprisingly numerous claims to fame are the strange apparitions known as the Marfa lights, which can be seen across the Mitchell Flat east of town.
Reports of the lights date back to the 1880s and, as a plaque at the official viewing area on Highway 90 reads, they "may appear in various colours as they move about, split apart, melt together, disappear and reappear".
They've been variously attributed to ghosts, aliens, mirages caused by differences in air temperature, hydrogen plasma bubbles, electromagnetic currents, camp fires, car headlights from nearby Highway 67, and even glowing jack rabbits.
Founded in the 1880s as a railway water stop, Marfa is said to have been named by the wife of a railway executive for a character in Dostoevski's The Brothers Karamazov or Jules Verne's Michael Strogoff. It's had brushes with Hollywood as a filming location, most notably for the 1956 epic Giant, which starred Elizabeth Taylor, Rock Hudson and James Dean in his final film role.
West of town we pass Ryan Ranch, where Giant was filmed. On the main street, El Paisano, the 1930s Spanish revival-style hotel where the cast and crew stayed, is still in operation (and has a lovely courtyard for dinner and drinks).
Art, however, is the surprising reason most visitors make the long drive to Marfa, six and a half hours from Austin to the east and three from El Paso to the west. This town of about 2000 people has become an internationally recognised centre for contemporary art with a reputation that borders on the mythic — "nothing less than an arts world station of the cross", according to the US public broadcaster NPR.
In fact, when we spot the mysterious object in the sky, we're on our way to see one of the area's most famous and most photographed artworks.
A 30-minute drive west of Marfa, just past the small settlement of Valentine, is Prada Marfa (pictured at top).
This permanent installation by European artists Michael Elmgreen and Ingar Dragset is a fake but convincingly real- looking Prada store marooned by the highway amid ranch land. Inside, I spot a sparse, dusty arrangement of shoes and handbags alongside a scattering of dead insects.
But the point, of course, is the context, and the installation appears strikingly incongruous in its lonely roadside location.
The big name when it comes to art in Marfa is the late Donald Judd.
Commonly referred to as a minimalist sculptor, though he strongly rejected both labels, Judd moved to Marfa in the 1970s with his young family, drawn by its understated beauty and abundance of space. His influence on the area has been profound.
He bought up land, buildings and former military structures, including a big portion of an old army base, and installed his large-scale works alongside pieces by some of his friends and contemporaries.
Two art foundations connected with Judd continue to operate in town, alongside the various other galleries — at least a dozen by my count — that have cropped up over the years.
The result is a curious little place, at once sophisticated and ruggedly remote.
It's the sort of town where you might see a red-cheeked local rancher in an oversized cowboy hat eating burrata at a shared table in an industrial- chic restaurant serving excellent regional Italian cuisine — the kind of meeting of worlds that may well take on a new significance given the political polarisation playing out in the US.
Down the road from El Paisano, the elegantly minimalist Hotel Saint George opened last year with a chic bar and restaurant and a bookshop of a quality that would be remarkable in any decent-sized city, let alone a place with only a single set of traffic lights.
We stay just out of town at El Cosmico, a super-cool campground where our immaculately refurbished retro trailer comes complete with Alessi stovetop kettle, Chemex coffee maker and striped robes that sell in the on-site shop for $US180 ($235) a pop.
At the gourmet grocer in town, we can buy local goat's cheese, organic coffee and natural soaps alongside blood orange juice, coconut water and fancy cat food.
We've made the minor mistake of coming early in the week — most of the galleries open from Wednesday-Sunday at most.
But we're not even close to bored, so much so that we stay one more night than planned.
The landscape is gorgeous, all the more so when bathed in the golden light of sunrise and sunset. Then there's the epic, cinematic quality that has attracted so many filmmakers: straight roads stretching to the distant horizon, blue-tinged mountains hazy in the daytime heat.
We're happy to drive around, spotting the scattering of cutting-edge architectural designs among the mostly modest homes, and making excursions to McDonald Observatory near Fort Davis to the north and to Big Bend National Park — a highlight of our entire four weeks in the States — along the nearby Mexican border.
Another highlight is our tour of Judd's home and studio, known as The Block. Enclosed by an adobe brick wall, this collection of former military buildings, including two big aircraft hangars, sandwiched between the highway, railway tracks and a feed mill, sounds an unlikely place to create a tranquil live-work space, but Judd somehow pulled it off.
The complex is practically an artwork in itself. Each element is an expression of Judd's creative vision, from the rectilinear tables and bookshelves and the slightly uncomfortable-looking chairs of his own design — our guide tells us he thought a little discomfort kept you alert while working — to the precise arrangement of objects on a table in one of the two libraries. Like most things at The Block, this little collection — rocks, stacks of books, carabiners, an old broad-brim hat — remains exactly as it was when Judd died of cancer, aged 65, in 1994.
There are also some of Judd's artworks installed throughout the buildings, in oversized spaces conducive to the quiet contemplation he saw as essential to his creative process.
Judd wanted his pieces to have a long-term relationship with their setting — he once wrote "most art is fragile and some should be placed and never moved again".
In Marfa, he was able to realise this; here and at the nearby Chinati Foundation, the sprawling contemporary art museum he founded.
He went to some lengths to ensure the works at The Block would stay where he wanted them.
In one of the contemplation spaces, our guide points out a section of bricked-up wall where the sculptures were brought in through a garage door.
This was later sealed up and a new, smaller doorway installed, effectively "entombing" the artworks.
In another of the contemplation spaces, there's a set of bagpipes in a glass-topped display case.
Judd was a great fan of bagpipe music and thought it should be venerated alongside the greats of classical music.
It was, he said, the music that reminded him least of human conversation — a remark, our guide acknowledges, that makes him sound a bit of a curmudgeon. We're told he even had plans to open a bagpipe museum in town.
It seems a shame he never got around to it — surely such an oddity would be right at home in a place like Marfa.
Fact File
For a place of its size, Marfa is well supplied with good places to eat, although opening hours can be erratic. Our favourites included Stellina (open for dinner), the bar at the Hotel St George, and banh mi at Vietnamese lunch spot Marpho. 
The Marfa Visitor Centre is a useful resource. visitmarfa.com.