Meet the very modern face of an art form dating to the time of Da Vinci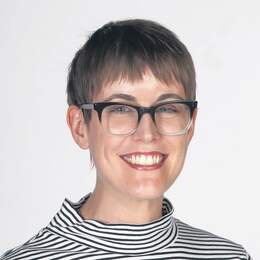 A centuries-old female artistic tradition is getting a new lease on life in Perugia. 
"Weaving for me is like a drug — once you start it's impossible to stop." So says Marta Cucchia, the very modern face of the historic art of Perugian hand-weaving. Petite and impeccably stylish with close-cropped hair and towering lace-up boots, Marta is one of the very few people still practising the centuries-old art of frame hand-weaving in Italy.
Tucked up a narrow street on the outskirts of the university town of Perugia, Marta's studio Laboratorio Giuditta Brozzetti is named for her great-grandmother, who worked to preserve and promote this typically female oral tradition after coming across women weaving textiles in the countryside during World War I. It's housed in a former church dating from the 1200s, with a "new part", as Marta puts it, dating from the 14th century.
It was around this time that Perugia was known as the European capital of hand-weaving. Perugian tablecloths were widely used as altar cloths and depicted in artworks by Renaissance painters such as Leonardo da Vinci, Giotto and Ghirlandaio. In the 16th century, Perugian textiles were listed in the dowry of Catherine de Medici, the future Queen of France. However, the tradition later declined, surviving only in convents and private homes.
The fourth generation of women in her family to run the workshop, Marta studied interior design and fine art in Milan before moving the workshop here in the mid-1990s.
The work is time-consuming and physically intensive. Marta tells us it can take 12 days to set up her largest loom, and three days to make a small table runner — "now you can understand why it's impossible to make a profitable business," she says. Clearly, this is far more a labour of love than a commercial enterprise.
Helping Marta continue her work — and spread the word about her passion — is her relationship with tour operator Trafalgar's parent company The Travel Corporation. Visits to artisans such as Marta come under the banner of Trafalgar's Cultural Insights itinerary programs and both Trafalgar and sibling brand Insight Vacations bring groups to visit her.
Marta is also supported by the TreadRight foundation, a not-for-profit organisation established by The Travel Corporation to provide broader assistance to sustainable tourism projects. Since it was founded in 2008, TreadRight has been involved in such moves as the preservation of ancient rock art in South Africa and animal conservation and anti-poaching programs. A TreadRight grant enabled Marta to set up an e-commerce website.
As TreadRight's ambassador, the conservationist and filmmaker Celine Cousteau tells us, "because the travel industry is such a massive industry, there's a big opportunity to create change". The granddaughter of the late Jacques Cousteau, Celine is visiting Marta with us today and has worked on sustainability initiatives with Travel Corporation brand Contiki. "For travel and tourism to thrive, the places we go need to be healthy," she says.
Given the scale of Trafalgar's business and the regular contact with communities inherent in the touring model, there's an opportunity to have the kind of positive impact not commonly associated with mainstream tourism.
For now, however, the attention's on Marta — the bearer of a tradition dating back to the Middle Ages, and a person doing precisely the thing she loves. "This is my passion, this is my life," she tells us. "I'm so happy."
Fact File
A visit to Laboratorio Giuditta Brozzetti is included on Trafalgar's 11-day Italy Bellissimo itinerary, which costs from $3595 per person. Departing round-trip from Rome, it includes stays in Capri, Assisi, Venice and Tuscany, and also visits Pompeii, Sorrento, Naples, Pisa, Florence, Siena and more. trafalgar.com or 1800 002 007.
For more on TreadRight, go to treadright.org.
Disclaimer
Gemma Nisbet visited Italy as a guest of Trafalgar.
Categories