Canada: Mountain high in Jasper National Park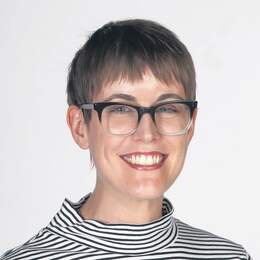 Planning a trip on the Jasper SkyTram aerial tramway in the Canadian Rockies? Here's what not to do...

Here's a lesson in how not to approach a ride aboard the Jasper SkyTram.
Firstly, don't stay up until nearly 3am the night before — that's a given. Secondly, bring something warm — the altitude is such that it'll probably be chilly. And thirdly, if like me you're visiting at a time of year when there'll be snow on the ground, for the love of common sense, please don't wear sneakers.
Obviously I'm talking from hard-won experience here. Here's the scene: a warm and sunny late September morning, and I'm boarding the SkyTram at its lower station, a 10-minute drive from the Jasper township. Outfit-wise, I've been lulled into a false sense of security by the unseasonably warm weather. On top of this, I'm experiencing the after-effects of having stayed up uncharacteristically late the previous evening to watch the northern lights. After the seven-minute journey up Whistlers Mountain, accompanied by one of the chatty staff members quaintly known as "flight attendants", we exit at the upper station, elevation nearly 2300m.
There's plenty of snow on the ground up here and the air is distinctly fresh — initially a welcome wake-up, given my ill-rested state.
Most of the rest of my group set off vigorously up the mountain, determined to make the most of their time here by hiking the 2.8km return trail to the summit. Theirs is an admirable sentiment: SkyTram tickets are not cheap at $CA46.95 ($47.90) for adults, but you can stay up here for much of the day if you wish, with opening hours stretching to 9pm at the height of summer. In addition to the summit trail, there's a longer walk that takes two or three hours and, at certain times of year, you can hire snowshoes, join in stargazing and spot wildlife such as big-horned sheep, marmots and cute little critters called pikas.
Sadly I don't see any of the latter, and I'm not quite up to hiking, but there's plenty to amuse me between the snow and the view, which on this clear, blue-sky day well and truly lives up to its billing as the best in Jasper.
Landmarks to look out for include Mt Robson, the highest peak in the Canadian Rockies, and the town of Jasper itself, nestled in the valley beside the snaking Athabasca and Miette rivers. It's enough to make me forget about my cold fingers and soggy socks, at least temporarily.
Some more advice, though: I'd caution against emulating some of the more daring visitors, who are posing on rocks perilously close to the steep drop-off. Not only does it look risky, but by staying on the path, you'll help to preserve the delicate alpine ecosystem.
Fact File
The Jasper SkyTram operates from late March to late October. jasperskytram.com
In Jasper, I stayed at the very charming Fairmont Jasper Park Lodge, which is set beside Lac Beauvert in picturesque 280ha grounds. Room rates are from $CA239 per night. fairmont.com/jasper
My visit to Jasper was part of a Rocky Mountaineer package incorporating hotel accommodation, a luxury train journey and more. rockymountaineer.com or 1800 821 531
Disclaimer
Gemma Nisbet visited Jasper as a guest of Fairmont and Rocky Mountaineer.
Categories