Arrivals & Departures

Music, spaghetti and artistic optical illusions set for Freo Festival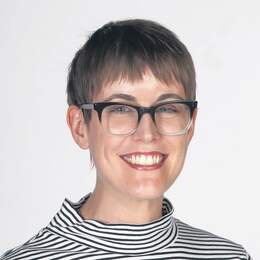 There'll be spectacular art installations, music from international and local favourites, comedy, children's events and more at this year's 10-day celebration of all things Fremantle.
A large-scale optical illusion artwork by Swiss artist Felice Varini is among the attractions at this year's Fremantle Festival, which kicks off on October 27 and runs until November 5.
Known for transforming buildings and other spaces with graphic shapes that appear superimposed on top, Varini is creating what's billed as his biggest commission in the Southern Hemisphere, spanning 800m of High Street including 25 heritage-listed buildings.
Upon its completion, the work — titled Arcs d'Ellipses — will only be visible as a whole from the steps of the Round House.
It's part of the inaugural High Tide arts biennale, which also includes works such as Ships in the Night, by WA's Jo Darbyshire, that'll project a choreographed poem onto the facade of the Port Authority building, and RAFT, a "floating shelter" at Bathers Beach that will act as a meeting place and exhibition space.
This year's line-up of music includes a sold-out show by Midnight Oil at Fremantle Arts Centre to raise funds for reef protection and climate change charities, along with performances from acts including Justin Townes Earle, Koi Child, the Stems, Ecca Vandal and the Jezabels.
Local favourite Abbe May will return with her Tonight Show, teaming up with co-host Caitlin Nienaber and special guests including Odette Mercy, Joni in the Moon and Lucy Peach. And special event A Single Day will stage four one-hour concerts over one day at midnight, dawn, daytime and dusk in venues including the Fremantle Prison and the WA Maritime Museum.

The program also includes comedy from Sam Simmons and Frank Woodley, along with some of Australia's best Indigenous comedians as part of the Deadly Funny competition. There'll also be Wardarnji, a celebration of Indigenous culture on the South Lawn at Fremantle Arts Centre, to open the festival, and Fremantle's Italian heritage will come to the fore at Little Italy by the Sea, a two-day event including tarnatella dancing, wine tastings and a spaghetti eating competition.
Also among the more than 60 free and ticketed events are the traditional Blessing of the Fleet, a pirate-themed Children's Fiesta, a fashion parade featuring local designers and talks from speakers including Scott Ludlam and Gillian Triggs.
Throughout, there will also be at festival hub at Kings Square with a pop-up bar run by South Fremantle's Local Hotel.
At top: Felice Varini, A Ciel Ouvert (2016). Picture: Olivier Amsellem