New Orleans, beyond Bourbon Street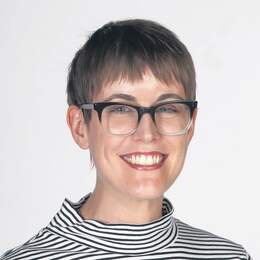 Look past the party atmosphere of the French Quarter to find a city that's diverse, beautiful and full of local life, with something new and unexpected on each block.
It always seems to me a very good sign when, walking through an unfamiliar neighbourhood in a foreign city in the late afternoon, you see locals out walking their dogs.
So it is this evening as we stroll down leafy Magazine Street in New Orleans' Garden District, past cafes and shops closing for the day, bars and restaurant opening for the evening. There are heaps of dogs: tiny ones, big ones, fluffy ones and sleek ones; bulldogs with squished faces and whippets with long noses; some of them trotting at their owner's heels, others dawdling in pursuit of an intriguing smell, some pulling ahead in excitement.
Think of New Orleans and happy-looking dogs going for their evening walk aren't necessarily the first thing that comes to mind: the image seems too domestic, too everyday for the Big Easy. But this city is nothing if not surprising.
A case in point: another day, a little further along Magazine Street, we arrive at the corner of Washington Avenue just as motorcycle-riding policemen in aviator sunglasses pull up and stop the traffic. We barely have time to wonder what's going on — or move back out of the way — when a tumult of people and music and noise washes through the intersection like a river: floats with people dressed in sparkly costumes followed by more people walking, dancing and singing, music blaring from speakers and from a brass band in the middle of the crowd. Revellers spill off the footpaths into the neatly tended verge gardens. In the midst of it all, a man with a wheeled cooler is selling drinks.
"It's a second-line parade," a bystander tells us. A descendant of New Orleans' famous jazz funerals, second lines these days might accompany funerals, weddings, Mardi Gras, festivals and other occasions. The floats, which belong to community-based benevolent societies and have photos of the recently deceased affixed to the sides, are known as the first, or main, line of the parade. The followers on foot are the second line.
Later, we'll see a small second line parade staged for tourists in the French Quarter but this is the real deal.
The Garden District must be New Orleans' most beautiful neighbourhood, with street after street of grand old timber homes with immaculate, shady gardens. The up-market area's reputation for elegant historic houses is well known but I hadn't realised how lively and interesting and varied Magazine Street, one of its major thoroughfares, would be.
Curving nearly 9km from Canal Street in the downtown, through a series of neighbourhoods to the sprawling Audubon Park, Magazine is a microcosm of all the things that make New Orleans great: diverse, beautiful and full of local life, with something new and unexpected on each block.
We begin our exploration near the intersection with Felicity Street. Our walk west over a few hours takes us past everything from a little community market in a park where locals are selling vintage clothing and artworks and brisket sandwiches to restaurants ranging from the multicultural (Vietnamese, Ethiopian, Korean barbecue) to New Orleans classics such as Casamento's, a nearly 100- year-old cash-only seafood spot where we have fried catfish and gumbo for dinner. There are elegant boutiques and antiques shops that feel like the best kind of museums. There's a cafe named Ignatius, for the protagonist of John Kennedy Toole's classic New Orleans novel A Confederacy of Dunces, and there's Peaches, a venerable independent record store that feels like a portal to the pre-digital age.
Another evening, we head into the French Quarter for the obligatory stroll down Bourbon Street, filled with hens' parties and groups of young men in football jerseys, not to mention some truly terrible smells. Music spills from bars — Beyonce, Lynyrd Skynyrd.
But we're headed for the jazz clubs and restaurants of Frenchman Street on the edge of the Marigny neighbourhood — a strip that's no longer a locals-only enclave but retains some kind of authenticity. We have fried chicken for dinner at Snug Harbour, a local musical landmark, and browse the night arts market. Later, we walk half a dozen blocks west to squeeze into a table at the thronged Cafe du Monde for cafe au lait and deep-fried beignets, leaving with greasy lips and clothes lightly dusted with icing sugar. Another night, we join the long line for a late show at Preservation Hall, the home of traditional New Orleans jazz in the heart of the French Quarter.
The next day, we take a tour of St Louis Cemetery No. 1, the oldest and most famous in the city, filled with the above-ground tombs distinctive to New Orleans, some dating back to the late 1700s.
Our entertainingly cynical guide is equally dismissive of both sometime-local resident Nicholas Cage, who has controversially built a stark-white pyramid- shaped tomb for his future use near the centre of the cemetery, and of the 1969 road movie Easy Rider, part of which was infamously filmed here without official permission. ("It's awful," she says of the film.)
She has unkind words, too, for the visitors who have graffitied the tomb thought to belong to Marie Laveau, a legendary local figure remembered by history as the voodoo queen of New Orleans. The tomb, said to be one of the most visited in the country, is adorned by crosses left by people hoping to invoke Laveau's powers.
In 2013, someone went one better, or worse, coating the tomb in pink paint. It's been restored but it was one of the acts of vandalism that prompted authorities to close the cemetery to visitors except those on licensed tours or with a relative interred inside.
Another day, we drive out of town for a kayaking tour of the bayou. Our sunny guide is temperamentally the polar opposite of the cemetery cynic, cheerfully pointing out the birds, tadpoles and insects, and making note of the plants that are, as she puts it, "super edible".
The sun is hot and the air still as we paddle beneath cypress trees draped in lacy blankets of the ubiquitous Spanish moss — not a moss at all but, our guide tells us, a relative of the pineapple.
There are a few historic relics of the logging camps once found here, too: stumps from long- vanished timber buildings, a century-old leather strap that was part of a pulley system. Later, we hear about the rougarou, the mythical Louisiana swamp monster, and spot a distinctly un-monstrous baby alligator, sunning itself on a log.
In the end, we like New Orleans so much that we decide to stay an extra night. And on our final evening, we get a ride out to Chickie Wah Wah, a bar on the far reaches of Canal Street, to watch the renowned New Orleans piano player and singer Jon Cleary.
Born in Kent, Cleary has lived in New Orleans for decades and has become a fixture of the city's music scene. He plays two sets seated at an upright piano — both predictably brilliant, his hands rolling over the keys with such mastery it's not hard to see why Bonnie Raitt called Cleary, her former long-time keyboardist, the ninth wonder of the world.
We share a table with an American businessman in town for work who is as pleased to be here as he is surprised to find two Australians in a bar. "It amazes me," he tells us, "how someone from Australia could get to a little, bitty hole in the wall like this." Our new friend has to leave after the first set — he's got a meeting tomorrow — but as he walks out he has a smile on his face.
"It doesn't get much better than this," he says, and, honestly, you'd be hard pressed not to agree.
(Picture at top by Getty Images)
Fact File
Various companies offer tours of St Louis Cemetery No 1 but we chose non-profit Save Our Cemeteries, which puts part of the ticket price towards its education and restoration programs. saveourcemeteries.org
Options for swamp kayaking tours are also numerous — we went on Wild Lousiana Tours' Manchac Magic tour. wildlouisianatours.com
Categories