New Zealand's eclectic "capital of cool"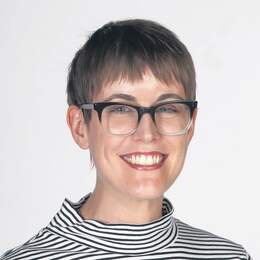 Nature is never too far away from Wellington's bustling streets. 
It's a Friday afternoon on Cuba Street and something's going on.
Across the road, there's a stand dispensing homemade lemonade (it's free, but you have to assemble your own origami paper cup). Next to that, a multicoloured sculpture made of string is taking shape. Near where we're drinking coffee outside a cafe, a couple of guys in high-vis vests are sitting on upturned buckets. They look like tradies having a smoko but they're actually doing some kind of performance art, in between chatting with passing friends.
It's a Friday afternoon on Cuba Street and it's PARK(ing) Day, the local iteration of a global event whereby parking spots are turned into temporary public spaces. People have signed up to take over a spot with everything from art projects to a Japanese garden to a "community fridge".
It all feels very fitting on eclectic Cuba Street, long renowned as the arty end of town, with its concentration of vintage clothing and homewares shops, bars, restaurants, galleries and boutiques, mostly along its southern half.
In fact, Cuba Street has become an essential stop in Wellington, a city well known for its creative energy and frequently cited as New Zealand's "capital of cool".
It's the kind of buzz easily dismissed as marketing bluster until you stumble across something like PARK(ing) Day, or take an evening stroll down the nearby entertainment precinct of Courtenay Place to find dozens of bars ranging from bustling to boutique, all seemingly packed to capacity.
Just as noteworthy, though, is Wellington's idyllic setting by the large natural harbour that shares its name.
We've already had a stroll along the city's waterfront, host to a scattering of public art including most of the works comprising the Wellington Writers Walk, a series of 23 "sculptural quotations" from some of New Zealand's most notable poets, novelists and playwrights.
The area's also home to pop-up shops in shipping containers and food trucks over the summer months and year-round to the national museum of New Zealand, commonly known by its Maori name, Te Papa Tongarewa.
From Cuba Street we head a 10-minute drive out of town to a place that makes a striking contrast to the busy streets of the inner-city: Zealandia, a 225-hectare eco-sanctuary that aims to recreate an ecosystem representative of what existed a thousand years ago, before humans arrived in New Zealand.
It's an ambitious goal: the team behind Zealandia predict it'll take 500 years for the sanctuary valley to be returned to its original state, before it was a Maori hunting ground and later used as farmland, a water catchment and briefly for mining following European settlement.
Since the 1990s, 18 native species have been reintroduced to Zealandia, six of which hadn't been found on the mainland for a century.
Key to all of this has been a 2.2m-high, 8.6km-long fence, completed in 1999, which keeps out introduced mammals such as possums, cats, stoats and rats. Creatures such as these pose a threat to native species, which evolved in isolation from almost all mammals and so have struggled to survive since the introduction of these predators.
Zealandia has some 32km of walking trails, and we set off on an easy loop called the Round the Lake track, which should take no more than two hours, depending on how much we dawdle. Walking through the sanctuary, the sense of being near the centre of a good-sized city is almost immediately erased: there are many spots where all we can see is bush, and all we can hear are insects and birds, with no signs of the surrounding suburbs. It's glorious.
At Birdsong Gully, we press buttons on the displays to hear the calls of the various birds living in the sanctuary (my favourite is the tui, which sounds a little like R2-D2).
By the lake, we spot a critically endangered takahe — a large, flightless bird once thought to be extinct — resting in the long tufts of grass, its nonchalance at our presence providing a vivid illustration of the need for the protective fence. Our walk takes us past a wetland and into the forest, which is being rehabilitated through the removal of introduced species and the planting of native ones. It's lush and enticingly primeval, thick with ferns and foliage and moss-covered tree trunks, the verdant multi-textured tapestry punctuated by the occasional flash of colour from a small flower or some berries or a native bird — maybe the yellow plumage of a tiny endangered hihi, or the vivid green of a kakariki, a local parakeet.
Zealandia is also home to New Zealand's most famous critter, the kiwi — but, being nocturnal, they're most commonly sighted after dark (night-time tours are available).
Among the other residents are the tuatara, an ancient lizard-like species often described as a "living fossil", which is the last survivor of an order of reptiles that lived during the time of the dinosaurs. There are also three types of weta, an endemic insect that looks like a large and rather alarming brown grasshopper. The rare Cook Strait giant weta, which lives at the sanctuary, can grow up to 7cm long.
I have to remind myself we're only a few kilometres from Cuba Street, because it feels many miles removed. That's the beauty of Wellington, I suppose: you can be in the centre of a busy city and know that nature is never far away.
(Pictured at top: Public art on the Wellington waterfront: Albatross, by Tanya Ashken. Picture by Gemma Nisbet.)
Fact File
Zealandia is open seven days a week from 9am-5pm. Daytime admission is $NZ18.50 ($17.20) for adults, $10 for children and free for under fives, and is valid for two days. After hours tours are also available. visitzealandia.com
There's more on the Wellington Writers Walk at wellingtonwriterswalk.co.nz.
Azamara Club Cruises' Azamara Journey will return to New Zealand early next year and has voyages including port calls at Wellington, such as the 13-night Australia and New Zealand Voyage from Auckland to Sydney, which also visits the Bay of Islands, Tauranga, Napier, Picton, Akaroa, Dunedin and Milford Sound. It costs from about $7159 per person including taxes, fees and port expenses. Travel agents, azamaraclubcruises.com or 1800 754 500.
Disclaimer
Gemma Nisbet visited New Zealand as a guest of Azamara Club Cruises.
Categories