Our World

Now THIS is what you call a rock band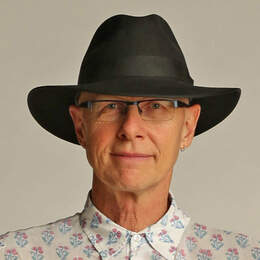 Pilbara, Blues at the Bar. It started as a joke. 
A few years ago, we were heading into the Great Victoria Desert, and would be passing Neale Junction — the crossroads of the Anne Beadell and Connie Sue highways.
"Let's play Blues at the Junction."
And so it was that, every evening around the camp fire, we practised on our ukuleles ready for the big gig.
There would be no one there, of course — just the four of us and a video camera on a tripod — but "the band" started taking it seriously.
And, indeed, we played Blues at the Junction (and thank goodness no one else was there).
And now the four of us are in the East Pilbara, heading for Marble Bar, the hottest town in Australia.
"Let's play Blues at the Bar. It'll be like ABBA getting back together!" Well, not quite.
But here the four of us are, travelling the Pilbara, with three Scott Wise handmade ukuleles getting strummed and plucked every night.
I like travel with a purpose. I like sub-themes. I like something going on. I like other little projects coming into journeys, giving them a twist, theming them.
Scott is a luthier working in Margaret River. His stringed instruments are bespoke and sought after. His ukes are highly thought of in Hawaii (yes, that's like exporting ice to Inuits). His 500th instrument, a tenor ukulele, was commissioned by the Musical Instrument Museum in Phoenix, Arizona.
Scott made Grady Brand, senior curator of Kings Park and Botanic Garden, a ukulele using mainly eucalyptus salubris — more commonly known as gimlet. It's that tough, fluted gum tree found in the Goldfields and Wheatbelt — places that inspire and inform Grady in his work producing the gardens and displays for Kings Park and Botanic Garden.
Scott set a little tree into the headstock, especially for Grady.
I have one of Scott's soprano ukes with a body made from Acacia melanoxylon (the same as my Wise tenor uke) and a fingerboard of wandoo (the same as my Wise mandolin). The head veneer is jarrah.
My wife, Virginia Ward's, is of peppermint. Scott set a little heart into the fingerboard. I've never questioned him about this.
Grady's partner, Lesley Hammersley, Kings Park director of horticulture and conservation, picks out tunes easily and has a sweet voice.
The water in the pool at Marble Bar is cold but we swim anyway. It is framed by the stratas of red and white of a jasper reef on one side, and paperbarks with egrets fishing in their shade the other. Pelicans fly in overhead like wartime bombers.
A group of other visitors stumble in, pour a small bottle of water on the rock to see its colours brighter and then leave again. But we are better armed. Or, at least, Grady is. His dad Bob has been calling him to remind him to take something to wet the rock, remembering his own visits to Marble Bar. But Grady and I were first here together 20 years ago. He knows the routine. He's come armed with a washing-up bowl which he loads before casting the water in an arc over the rock.
The jasper glistens and glows brighter colours. Bowl full by bowl full, it comes alive.
And then we spot the natural amphitheatre. Yes, this will be the venue for Blues at the Bar.
We play around the fire in the evening, and return the next day loaded with instruments, tripod and camera. We set up. Grady wets the rock.
Grady the bandmaster counts us in ... "And now, Blues at the Bar ... one, two, three."
The band's back.
Yay. It's a huge reunion. The crowd goes wild. It's a big gig. It's like a Beatles reunion would have been. "Quick!"
We pack up and leave, like naughty schoolchildren, before someone comes and sees us.
Image (top): Blues at the Bar at Marble Bar pool. Stephen Scourfield, left, Grady Brand, Virginia Ward and Lesley Hammersley. Picture: Stephen Scourfield
Categories