Oasis in the Murchison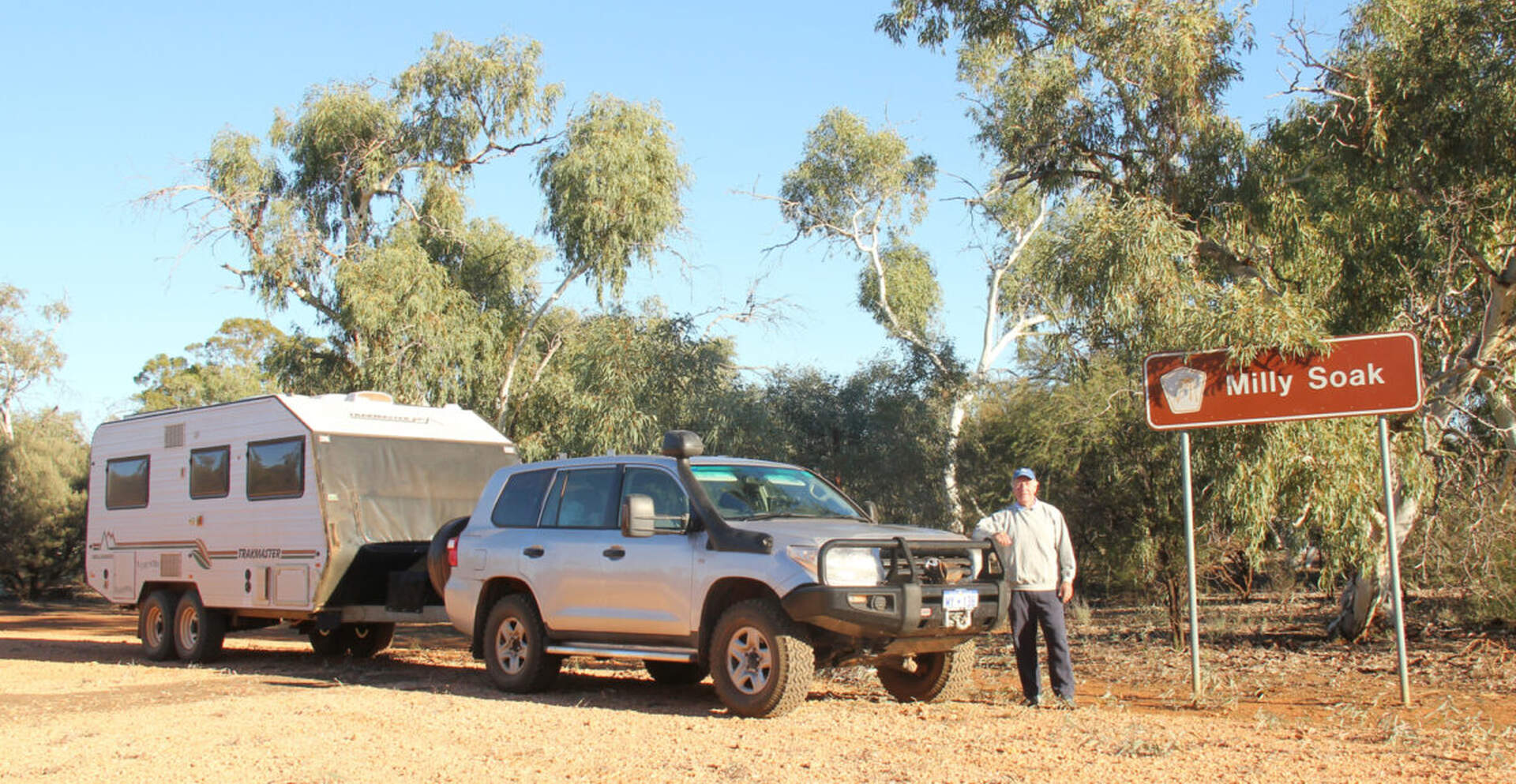 Milly Soak provided water — liquid gold — for parched and filthy early prospectors, and is now a living memorial to those days.

Turn back the clock more than 100 years and out here in the WA Goldfields there was one commodity worth more than the elusive gold that the old prospectors worked and died for… it was water!

The year was 1892 when gold was first discovered at Cue by prospecting partners Mick Fitzgerald and Tom Cue. It was Tom Cue who registered the claim and the town of Cue, named after him, went on to become lovingly known as Queen of the Murchison.
Those were rough, tough days here in the Murchison Goldfields and, with a lack of water in the area (including for washing), it was said that you could smell Cue well before you reached the town.
In those early days the nearest fresh water to Cue was 10 miles (16km) away at Milly Soak, and a regular stream of prospectors could be seen trudging to and from the soak for their vital water supplies.
Some would come with wheelbarrows carrying their water drums; others would ride their old push bikes along the well-used track through the bush with their containers strapped on to their backs or balanced on their bikes.
For those prospectors who could afford it, they paid a water carter the exorbitant price (for those times) of 2 shillings a gallon! It doesn't sound much today (20c for 4½ litres), but in those days it was more than a week's wages just for a few litres of water. At that price it was not surprising that very little of the water was actually used for washing — making for a town with plenty of very smelly bodies indeed!
Understandably, living in such conditions with poor basic hygiene and sanitation it did not take long for "the fever" (these days known as typhoid) to become a serious problem. Many died during this disastrous outbreak. During those quite desperate times out here, a tent hospital was set up at Milly Soak where the sick, with access to fresh water, could be treated in comparatively hygienic conditions.
In addition, Milly Soak also became a popular recreation area for the locals to take a break from the hot, dusty rigours of prospecting. People would regularly walk, cycle or take a horse and buggy ride out to the soak for a picnic or just to relax. On special occasions they would dress up in their finest attire, including suits for the men who had them and the women in their long dresses and fancy hats — a scene hard to imagine today in this lonely part of the WA outback.
These days, in fact, there is little evidence to be seen of the goings on more than 100 years ago out here at Milly Soak. Access to the site is, however, a lot easier than it used to be — visitors can drive north from Cue some 16km where a signpost on the Great Northern Highway points west to Milly Soak another 6km away. The soak these days is contained within the boundaries of Nallan Cattle Station where visitors are asked to close the property gate just a few metres off the highway (to stop cattle wandering on to the main road), to take all rubbish away with them and to respect their requests of no fires, no shooting, no camping. Yes, this is a day-use site only, but if you are travelling through the area, there is a lovely free camping spot just a few kilometres away at Nallan Lake or there is accommodation and camping available at the nearby Nallan Station Homestead.
The single-lane, earth-formed access track off the highway to Milly Soak is suitable to all vehicles (including high clearance caravans driven with care — big rigs are not recommended) with room at the end — right at the soak to park and turn around. The track, now part of the Murchison Miner's Tourist Pathway, should not be used by any vehicles until it has dried out after rain.
The drive in along the track traverses a mixture of sparse open country, as well as a few quite heavily timbered sections and a grove of beautiful white gums at the trail's end. About 1.6km off the highway the track passes a windmill and cattle trough where you may see some of the station's cattle herd. Station tracks lead off the main trail, but the soak is well sign-posted and is reached at the end of the track.
These days all that can be seen of Milly Soak is a well with a fence around it and some tourist information signs telling of its history and one-time importance to the area.
Following a series of arrows on the ground made from rocks, a walk trail leads approximately 200m from the soak to a small cemetery where there are five lonely graves. Three of the deceased here were prospectors who did not survive "the fever" back in 1893 and 1894 while the other two are more recent graves of locals who are now at rest in an area very dear to them. The original wooden headstones for the old prospectors, George Hamersley, George Hardy and Mr Hammond, were eaten away by termites long ago and plaques have subsequently been erected. This is indeed a lonely resting place, and if it hadn't been for the access now allowed into Milly Soak, these early graves would by now have been long forgotten.
The soak provides moisture to the surrounding areas. It makes for a tranquil and very agreeable scene - just the spot for a picnic. With an array of wildflowers and green grass in spring and with its grove of tall white gums and plenty of birdlife all year round, Milly Soak is a fine place to enjoy nature and the peace and quiet.
Fact File
Milly Soak — turn off Great Northern highway approximately 16 km north of Cue — a 6 km single lane track leads west to the soak. No camping is allowed.
Accommodation and camping facilities are available on Nallan Station — phone/fax (08)9963.1054 or email nallan.stn@bigpond.com. 
The nearest town is Cue where supplies, fuel, water and a general store, post office, police station, tourist centre, nursing post, hotel accommodation and caravan park are available.
In case of emergency in the Milly Soak area, use UHF channel 15.
Cue Township has quite a few old historic buildings. Mud maps and historic trail information are available from the tourist centre.
The book Lonely Graves of WA by Y. & K. Coate, Hesperian Press, provides some details on the three prospector graves found at Milly Soak.
Further information, contact the Cue Tourist Centre in the Cue Community Resource Centre building, 33 Robinson Street, Cue, phone (08)9963.1198, email: cue@crc.net.au.
Categories