On the march for a spot of shopping
Hong Kong is filled with lively markets selling everything from souvenirs to fresh produce. 
Here's a list of a few favourites:
CAT STREET MARKET
It seems fitting that I spot the tabby with amber eyes on Upper Lascar Row. For this street in Sheung Wan — west of Hong Kong's central business district — is better known as Cat Street, and is home to an antiques market of the same name.
The cat in question poses in the doorway of a shop as its owner looks on, bemused, while I snap photos. It's still relatively early — before lunchtime — and so the stalls along the pedestrian lane are only just beginning to open for the day.
Cat Street's nickname derives from its historic notoriety for selling stolen goods, known — so I'm told — as "rat goods" in Cantonese, while their purchasers are christened "cats". It later became a hub for authentic antiques but these days has a reputation more for fakes and reproductions than the real thing.
Still, its stalls make for enjoyable browsing, filled with old postcards and odd curios mixed in with the cheap jewellery and mass-produced ceramics. Bruce Lee posters are a mainstay, as is communist memorabilia. You could pick up a tea set embellished with a uniformed young Mao Tse Tung, for example, or a Spanish translation of the chairman's Little Red Book.
My favourites are the stalls that play up the market's jumble-sale feel. One in particular — identified by a vivid pink-and-green sign as "James ntiques Co", the "A" having fallen away — is a rummager's dream, its anarchic piles of goods offering up everything from vintage cameras to gemstones, brass figurines and old documents. It's hard to imagine any of it being worth much but the possibility of finding treasure is enticing.
From Cat Street, it's less than 10 minutes on foot to the stretch of Des Voeux Road West known by the matter-of-fact moniker of Dried Seafood Street. As the name suggests, this and surrounding thoroughfares are filled with shops specialising in dried marine creatures such as abalone and sea cucumbers (including some — particularly shark fin and fish maw, or swim bladders — which environmental groups have warned may come from vulnerable or endangered species).
In addition, there's an assortment of dried mushrooms and spices for sale, alongside "tonic" foods such as gingko and ginseng.
Truthfully, though, I can no sooner identify most of the items on sale — their pungent aromas drifting across the footpath — than I can attest to the authenticity of the merchandise on Cat Street. But again, it only adds to the appeal of the place.
TEMPLE STREET NIGHT MARKET
"From far distance you look like a rainbow. From near you look like a big potato." So reads one of the less-profane novelty fridge magnets on display at Hong Kong's Temple Street Night Market.
One of the city's most popular markets, Temple Street — sometimes known as Men's Street — doesn't really sell much that's really special.
Sure, it's the place to come if you want to haggle for a cheap pair of sunglasses, a cheongsam-style dog coat or some Hello Kitty underpants — I spot a pair of the latter printed with the mournful phrase "I was so happy".
But you'll find an almost identical mix of I (heart) HK T-shirts, knock-off designer handbags and bangles, necklaces and Buddha figurines in what is probably not quality jade at the similarly tourist-oriented Ladies Market a couple of kilometres to the north.
But the atmosphere's lively, surrounded by shopfronts filled with cheap eateries displaying still-twitching crustaceans. The area is also known for its Cantonese opera singers and the fortune tellers who congregate around the Tin Hau Temple. They'll predict your future using traditional techniques such as numerology, palm reading and even trained birds.
And, frankly, the magnets are a minor entertainment in themselves. Many aren't, quite frankly, fit to print, but other surreal examples I see include "World's No. 1 Stupid Guy" and "Stop snoring! Your snoring sound like thunderstorm".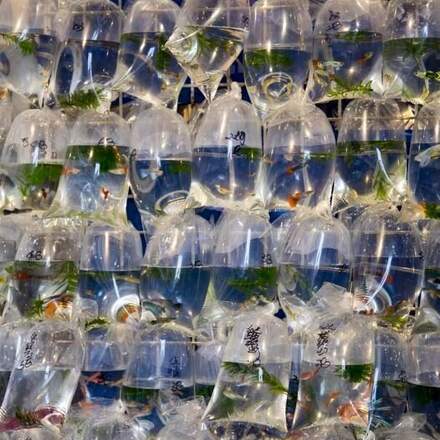 MARKETS OF MONG KOK
I'm walking down Tung Choi Street North, in the densely populated district of Mong Kok, when I come eye to eye with a live yabby. If a crustacean could appear forlorn, then this one would, gazing at me with what I'm tempted to characterise as a mixture of sorrow and hope.
Happily, it's destined not for the cooking pot but for a home fish tank. Aquaria are said to provide beneficial feng shui, and Hong Kongers seeking to stock theirs can head here to the Goldfish Market, where fish and other critters are sold in water-filled plastic bags, hung in displays outside the shops that line the footpaths. Then there are the tubs filled with little tortoises and teeming with frogs ...
This heavily populated district of Kowloon, called Mong Kok, is ideal territory for market lovers and thrifty shoppers — though its reputation, particularly in its southern reaches, is more for crowds, neon lights and seedy hotels offering a "special price for whole day". (Mong Kok was also one of the main sites of 2014's pro-democracy Umbrella Revolution protests.)
Indeed, you'll find markets and shopping strips here that specialise in selling everything from discount electronics to kitchenware.
Fa Yuen Street, for example, is known for its concentration of sneaker stores and its bustling street market, which is busy on this Saturday afternoon with a multicultural cast of locals browsing stalls, each offering a remarkably specific selection of goods.
One only sells pyjamas, while another is piled high with a multicoloured assortment of bras. Other stalls stock only bath towels, or printed bodysuits for babies, or children's formal attire.
A few fruit and vegetable sellers are mixed in but there's more produce at the nearby Fa Yuen Wet Market, a three-storey complex where vendors offer everything from live seafood to fresh eggs.
Further north is the Yuen Po Street Bird Garden — less a garden and more a gathering place for local songbird enthusiasts and a market selling live birds in small cages. It's a real assault on the senses, the air filled with avian screeches and unpleasant aromas, and I leave feeling unsettled — and not just on account of the live crickets and cockroaches being sold as bird feed.
More soothing is the Flower Market just around the corner. With its displays of succulents, blooms swathed in tissue paper and dimly lit shops specialising in orchids, it's among the city's more restful — and fragrant — markets.
Fact File
There's more about these and other markets in Hong Kong at discoverhongkong.com. 
Categories