Perth to Uluru: a great Aussie road trip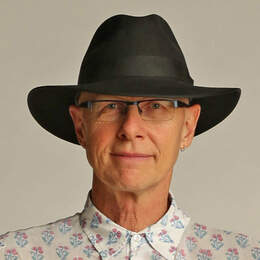 Driving to the heart of Australia can be as simple as packing the four-wheel-drive and heading through WA's Goldfields and along the Great Central Road.
I walk up to Uluru and touch it. I put my hands, fingers spread wide, on the big, red, warm skin of it. I am here. I have driven to the heart of Australia.
Towering above me, what some still think of as Ayers Rock is like a heart — as much like a great, livid, pulsing body part as a piece of geology, left rising nearly 350m from the flat central desert as the land around it eroded away over hundreds of millions of years.
Driving to the heart of Australia has been as simple as packing the 4WD and heading north-east from Perth, through Kalgoorlie, Kookynie, Laverton, Warburton, Warakurna, Docker River and finishing at Yulara. It has been as easy as camping along the way, warming myself by mulga fires, navigating the gravel road, seeing the country pass and change.
As simple as stopping in at roadhouses for diesel and a chat. At Laverton's Great Beyond Visitor Centre for excellent cappuccino and maps galore. At Tjukayirla Roadhouse for more great coffee and to buy authentic Aboriginal woomeras and spears made by Mr West in Warburton. At Warakurna Roadhouse, a shop that has raspberry cordial opposite a row of vehicle tyres, and a gallery where we buy local Aboriginal art for $100 a piece, the money going straight into this community.
Rather unexpectedly, the drive turns into an authentic indigenous experience. I say "unexpected" because there is no string of indigenous tourism operators along the road — just Warburton Art Centre and, more importantly, people living at communities, in their country.
Outside Warakurna Roadhouse, before visiting nearby Giles Weather Station, I end up leaning against a windowless vehicle, chatting with the four locals inside, who've just been helping their elders prepare for a walk along a traditional line through the Rawlinson Range, and have come down to the roadhouse for an ice-cream.
"You just wandering round, " the bloke in the back asks.
"Yeah."
"Good on ya. I reckon it's a better pace here than in the city."
"Me too."
"Yeah. Well, see ya, bro."
There have been the simple wonders of seeing budgerigars flying like a madly fluttering flag (green, yellow, green, yellow . . .) and having a dingo run out and canter alongside the vehicle, his two ochre-haired fellow dogs lurking back in the bush.
There has been a string of gnammas — holes in the rock full of fresh water — and the broad lunar landscape of Lake Throssell, a significant salt lake.
It has been as easy as setting out from Perth at 6.30am on a Saturday morning, taking it easy every day, and rolling into the Voyages Ayers Rock Resort early on the Friday afternoon, for four nights of comfort before driving home. A two-week mix of outback travel — with one night at Kookynie Grand Hotel and five nights camping; four nights of luxury resort holiday; then more outback travel and four nights camping, and a last night back at Kookynie.
I also decided to drive "there and back" along the Great Central Road — giving a chance to spend time on the return trip at places sighted on the way there, and for a two-night camp and explore at a particularly interesting spot. "There and back" works — I like it. Everywhere looks different travelling in the opposite direction, in different light.
You feel like you've totally absorbed a place. A route.
It all ends up feeling like I've been away a month.
Those are the practicalities.
And yet driving to the heart of Australia has been as complex as working over many decades to really learn and understand this land — its geology and geography, fauna and flora, its birds, its ancient and modern cultures, the humour, the clothes, the vehicles.
To finishing up feeling at home here. It has been as complex, intellectually and emotionally, as coming to the point where I want to make this pilgrimage, if you want to call it that . . . to drive from the rim of the continent to its hub. To its core. To what literally is its red centre. Of wanting to drive to the heart of Australia, in every sense.
And in all that, I have been alone. Some journeys have to be undertaken that way — from the practicalities of research to the peculiarities of emotion, they have to be a singular business.
We all undertake our own journeys, in that sense. But on the Great Central Road itself, between Perth and Uluru, I am not alone.
In the passenger seat of my old LandCruiser is artist and wife Virginia Ward. Alongside in his HiLux is Grady Brand, senior curator of Kings Park and Botanic Garden (you might have seen him in the pages of The West and heard him on the ABC Radio's gardening show), and partner Lesley Hammersley, who is director of horticulture and conservation at Kings Park and Botanic Garden.
Great botanical specialists, naturalists, interpreters of the environment; friends-for-life.
Grady and Lesley are on two weeks' leave — on holiday — but don't mind this intrusion into their privacy. They are happy for you to share this journey with us all.
They believe in West Australians developing our sense of place.
It's important to travel with people who have the same rhythm, and we have travelled WA's landscape and remote places together many times before. We are compatible travellers.
There are Grady and Lesley appreciating and interpreting the landscape through its plants — stopping regularly as they see the flora change. We climb a red dune, dig around for beetle carapaces, lick the nectar from flowering honey grevillea [Grevillea eriostachya]. At one place Grady excitedly collects the botanical samples and seed of the bastard coolibah [Eucalyptus intertexta], which has never before been collected for Kings Park. At another, Finke River mallee [Eucalyptus sessilis], which nudges into WA from the Northern Territory in only a tiny patch near Docker River. (That night, we sit around the campfire, discussing how fortunate we are to live lives where passion rubs out the line between "work" and "holiday".)
There is Virginia appreciating and interpreting the landscape through the book she draws in as we drive the land — the red road's corrugations vibrating the tip of her pencil, adding to the darkness of her shading. (The land itself intervening in the artwork).
The road, the desert oaks, and then the beautiful Schwerin Mural Crescent Range are all there, in the notebook. And she sits in late afternoon in the Petermann Ranges, close to the NT border, and paints wonderful strips of landscape in watercolours that merge and spread like the softening, rosy light itself.
Throughout the journey, somewhere about 4pm, sensing the day dying and chill night coming, we edge off the road to find remote camping spots, and make ourselves comfortable. The others cook wonderful food. None of us believes in car fridges, so the camp oven works overtime with sweet potatoes, white potatoes, carrots and garlic. Lettuce rolled in damp tea towels lasts nearly a week. Avocados seem to last forever. There's a dish made from fresh mushrooms. Virginia brings her spices and makes kedgeree.
And we all interact with the country in, perhaps, rather less harmonious fashion, when we all get out our ukuleles after dinner. (Five Foot Two Eyes of Blue, Country Roads …)
And so the days pass in this easy-paced, stop-and-go, fashion.
For we are not just motoring flat-out to Uluru; we are driving to the heart of Australia.
Artery to the Outback
We had all decided to set off early on the first Saturday morning and drive up Great Eastern Highway, through Kalgoorlie and to the Grand Hotel Kookynie, and stay the night there.
We stop for a breakfast pie at Bakers Hill, a picnic lunch at Coolgardie and my odometer says we cover 830km during this easy day out. It actually puts us nearly 40 per cent of the way - almost to Uluru, all on the bitumen. For when we roll into Voyages Ayers Rock Resort, the LandCruiser has covered 2150km, which makes Uluru closer than Broome.
From Kookynie, we follow the Great Central Road, most of which is extremely good - gravel, all-weather, well built and maintained.
I am surprised at having such an easy, safe artery through such remote and interesting country. For me, it feels rather like driving the Kimberley's Gibb River Road in the 1980s, before it got so busy, but with a 2019 road. It is estimated that only about 27 vehicles travel the Great Central Road each day and this includes locals.
It's a road trip that doesn't even demand a heavy-duty 4WD. If you have, for example, a Nissan X-Trail or Subaru Forester in the driveway, all you need is to pack it and add an extra spare wheel (a secondhand one will do), as you need two, and a repair plug kit for tubeless tyres.
I even saw a few 2WD saloon cars on the road. But there are dozens of car bodies, from an old EK Holden to plenty of 70s cars.
There is fuel at well-spaced stops, generally about 250km to 300km apart, at Laverton, Cosmo Newberry, Tjukayirla Roadhouse, Warburton, Warakurna Roadhouse and Docker River.
So even a small vehicle would have no particular need for extra fuel. It's easy to find camping spots, or there is some accommodation along the way.
And it is easy to navigate. The Great Central Road is also promoted as the Outback Way, the idea being to drive from Laverton to Uluru and on to Winton in Queensland.
HEMA Maps has a good guide, The Outback Way Atlas and Guide, with detailed maps, notes and planning tips, which we used. It's really all you need - though HEMA has other more detailed maps of the areas we passed through - and we took botanical and bird identification books and enjoyed The Night Sky app on the iPad.
Permits are needed from the WA Department of Indigenous Affairs to pass through the Aboriginal lands along the Great Central Road, and from the Central Land Council, for the section from the NT border to Uluru. They are free and easily obtained online.
The best time to travel is between July and October.