Plymouth is nautical but nice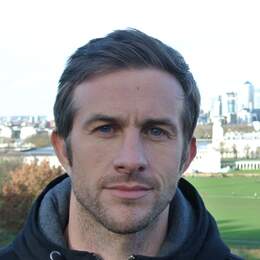 Despite its beauty and maritime history, Britain's Ocean City is often overlooked by visitors to the South West of England.
Devon is one of England's most charming counties, a photogenic jumble of rolling green hills, rugged moorland, dramatic beaches and quaint seaside villages, blessed with a relatively mild maritime climate.
When holidaymakers rave about Devon — and rave they do, especially domestic tourists, who make up the bulk of the annual visitor numbers — they rarely mention the county's largest city, Plymouth.
And I find this quite puzzling, as I don't think I've been to an English city with a more naturally beautiful waterfront setting.
Nudging the Sound (a large bay on the Channel, which blends into the Atlantic) and fringed by the Tamar, a river that divides Devon from neighbouring Cornwall, Plymouth is billed as "Britain's Ocean City".
I'm appreciating it, under mostly sunny blue skies, on the open deck of a ferry that I boarded at the Mayflower Steps. Our captain, in his broad Devonian burr, confirms what we already suspected: it was from this bustling little harbour, beside a memorial arch where an American flag flutters beside a Union Jack, that the Pilgrim Fathers set sail for the New World. That 1620 voyage — to the new colony of Plymouth, Massachusetts — took 65 days.
Our tour of the Sound and Tamar lasts not much more than 65 minutes. But it's enough for a taster of Plymouth's fascinating history, gorgeous location and eye-catching landmarks.
Zipping past kayakers and yachties, we can see, to our right, the Royal Citadel, a hilltop fort built in the mid 17th century, on the orders of King Charles II, to defend Plymouth from the Dutch. English Heritage run guided tours of the Citadel between May and September, but they can be cancelled at any moment because it's still an operational military site, occupied by a specialist unit that operates in support of Plymouth- based Royal Marine commandos.
The Citadel mushroomed over an older fortification constructed for Sir Francis Drake, one of the most iconic figures of Elizabethan England. Our captain tells us an intriguing story about this intrepid Devon-born seafarer as we pass The Hoe, a grassy elevated headland that is Plymouth's most photographed location, thanks, in part, to Smeaton's Tower, a red-and-white striped lighthouse that resembles a giant stick of candy.
In July 1588, with the Spanish Armada edging towards southern England, intent on overthrowing Queen Elizabeth, Drake, then vice-admiral of the English fleet, refused to panic. Playing lawn bowls with his officers on The Hoe, he apparently said: "Time enough to play the game and thrash the Spaniards afterwards."
Regarded as a pirate overseas because of his penchant for sacking Caribbean ports held by European powers, Drake was feted as a national hero after helping thwart the Armada and a statue of him graces The Hoe alongside a string of other war memorials, including one for Commonwealth World War I and II sailors buried at sea.
With our backs to The Hoe, we skirt Tinside Lido, a restored, enticingly swimmable Art Deco- designed pool. Then we buzz past Drake's Island, a rocky outcrop where Drake is said to have sailed from in 1577, and returned to in 1580, having circumnavigated the globe. It's not much to look at — its military barracks and buildings, updated during the Napoleonic Wars, lie derelict — but there's long been talk of a luxury hotel and spa sprouting on the island.
After pausing to drop a few passengers off on the Rame peninsula, over the county border, we head up the Tamar. While the Cornish side appears rather idyllic, with verdant woodland, pretty cottages and a cosy-looking pub (called the Edgcumbe Arms), the Devonian side is dominated by Devonport, the largest naval base in western Europe. Devonport's Naval Heritage Centre offers tours of its maritime galleries, which reveal the role played by the navy in defending Plymouth and the British Isles.

Our ferry tour finishes where it started, at the Mayflower Steps. Rather handily, it's next to the Barbican, an atmospheric, half-cobbled waterfront district jammed with cafes, fish and chip shops, nautical-themed pubs and other alluring visitor attractions.
If you're partial to a G&T, don't miss a tour of the Plymouth Gin Distillery. Founded in 1793, it's said to be world's oldest producer of the spirit, housed in a 15th century hall with a hull-shaped timber roof.
It's thought those Puritan pilgrims spent their last night here before setting off on their epic transatlantic trip.
Picture at top: Smeaton's Tower at Plymouth Hoe. Picture: Steve McKenna
Disclaimer
Steve McKenna was a guest of Visit Britain
Categories