Relax and take in the view on rails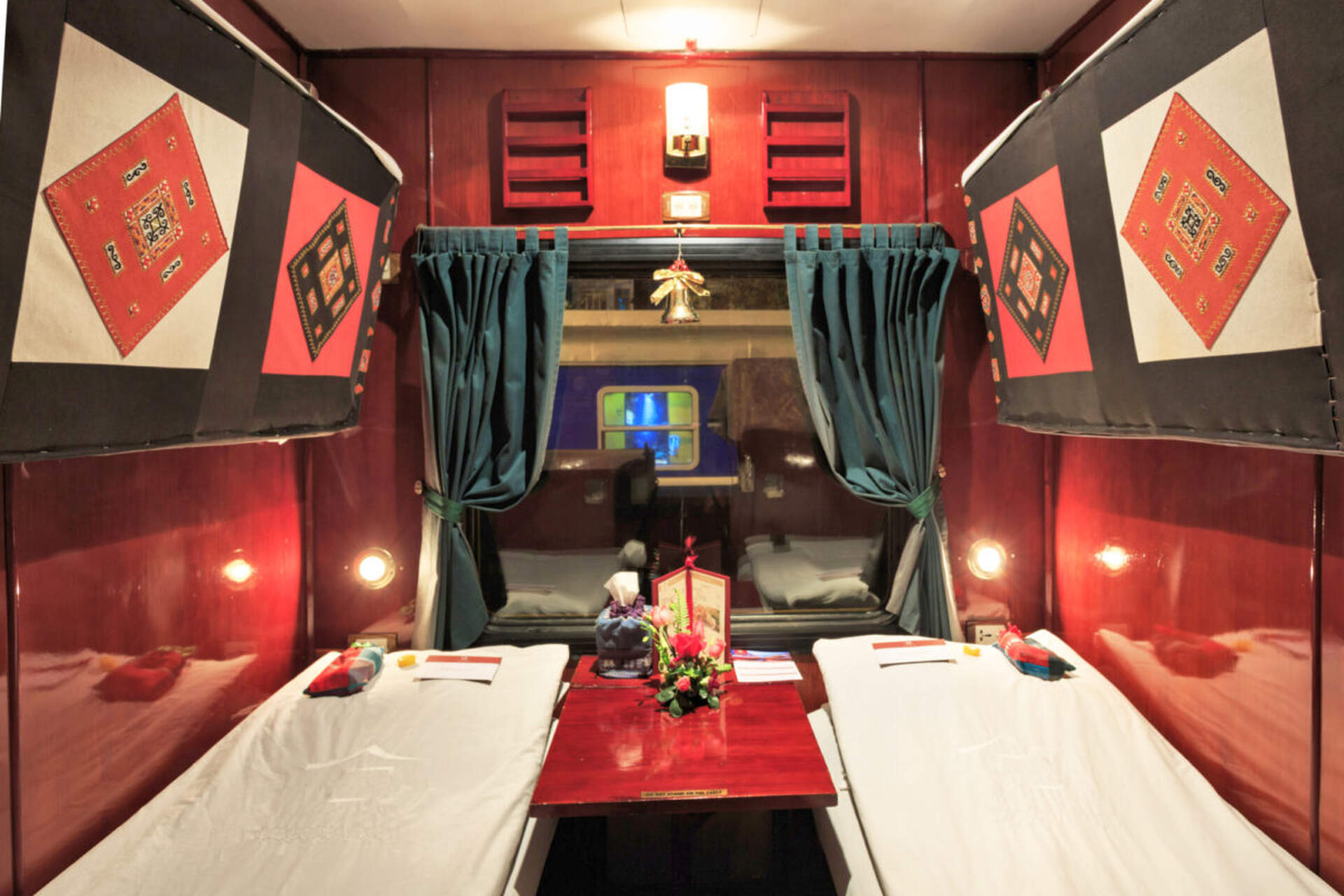 Take in a gentle view of South-East Asia.
South-East Asia is not renowned for its train travel like destinations such as Europe or northern Asia. Yet this region hosts several remarkable rail voyages. From the glitz of the Eastern and Oriental Express, to the old-world feel of the Victoria Express.
Victoria Express
For a perfect blend of luxury and affordability, you can't look past the Victoria Express in northern Vietnam. This eight-hour overnight voyage from Vietnam's charming ancient city Hanoi to the spectacular mountain town of Lao Cai starts from just $110 one-way for a very comfortable sleeper berth in a luxurious cabin. This train, which is run by the Victoria Hotels chain, has a lovely vintage feel thanks to its wood panelling and the cozy Victoria Lounge, where guests can kick back in an armchair while sipping a beer or whisky.
Its cabins are spacious, with soft beds, free wi-fi, nice linen, air-conditioning, and big windows to soak up the early morning scenery just before the end of your trip. The train also moves nice and smoothly to allow you to get a good night's sleep. Once passengers arrive at Lao Cai they are met by a plush bus and ferried to Sapa, where they get a complementary breakfast at the Victoria Sapa Resort and Spa.
Eastern and Oriental Express
This is train travel as it once was — slow and drenched in luxury. The Eastern and Oriental Express is in no hurry as it shunts along through the lush tropical landscape between Bangkok and Singapore. Contrary to instinct, this leisurely pace is a very good thing, because if this train was moving swiftly guests would have less time to enjoy not only the scenery but the opulence of its interior. The Eastern and Oriental Express has three dining cars which look like Michelin-starred Parisian restaurants, where guests can enjoy the daily breakfast, three-course lunch and four-course dinner included in the trip. Also complementary are the wines, beers and spirits they can sip at venues like the train's sumptuous piano bar. If that's not enough to wet their whistle and sate their appetite there is also a daily afternoon tea on board.
Fully satisfied, guests can retire to their private cabins which are decked out with the lavishness of the highest standard five-star hotels. By day the room is configured like a lounge, with a sofa and chairs, which can be converted into two single beds at night.
Depending on which trip you choose, the voyage from Bangkok to Singapore can take almost three days. Built into this journey are side-trips like a guided river cruise on Thailand's River Kwai, a guide tour of the Royal Malaysian town of Kuala Kangsar, and a visit to a local Malaysian village. Yet this train is so plush that guests must be reticent to step off board.
Vietnam top to bottom
This is the most gloriously lazy way to see a huge chunk of Vietnam in just a few days. Hop on a train at Hanoi in the far north and don't get off until you reach Ho Chi Minh City in the deep south. Over the course of this 1800km rail journey you'll not only pass through those two extraordinary cities — the biggest in Vietnam — but also pierce dozens of cute towns and fascinating metropolises, and pass by some of the most beguiling natural scenery in the region.
The Reunification Express has four daily services which ply this path.
Depending on the service, the trip ranges from 32 to 36 hours, so it's definitely worth paying for a soft sleeper berth for $130. The highlight of this trip include is the magnificent Hai Van Pass, where the Reunification Express hugs a hillside offering views of the ocean just north of Danang city.