Big Bend National Park: Welcome to the middle of nowhere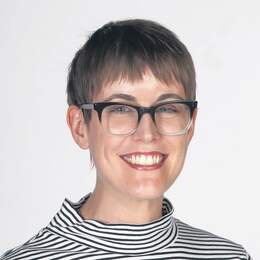 Isolated and relatively little-visited, this national park in a remote corner of Texas offers ample rewards for travellers who make the effort to come. 
The first thing to know about Big Bend National Park is that it's in the middle of nowhere. We've come for the day from Marfa, which is relatively close but still nearly a two-hour drive away — and even then, it's just a small town in far-west Texas that's hours from a major city.
A wilderness of more than 320,000ha tucked into a curve in the Rio Grande, Big Bend is mostly surrounded by more wilderness. Next door, Big Bend Ranch State Park is the largest State park in the second-largest State in the country. Across the Mexican border, there's another national park and a nature reserve. They're all part of a conservation corridor of more than 1.2 million hectares.
Few people, relatively speaking, come to Big Bend: a little over 380,000 in 2015. In the same year, the Grand Canyon received 5.5 million visitors and Great Smoky Mountains — the most popular park in the US — saw 10.7 million. Such is its isolation that at night Big Bend is considered one of the darkest places in the lower 48 States.
However, the second thing to know about Big Bend National Park is that your efforts to visit will be richly rewarded. It has an almost mythic reputation and an epic quality born of its size, wildness and isolation — of being in the borderlands, under those big Texas skies.
The landscapes are something special, too. Altitudes within the park range from 550m near the Rio Grande to more than 2300m in the mountains. As a result, the ecosystems we traverse even in a day are strikingly diverse. There's the Chihuahuan desert that covers 98 per cent of the park, its plains and hills tufted with shrubs and grasses bleached golden by sunlight. There are the canyons and a plumage of green along the meandering Rio Grande. There are hot springs and 60 species of cacti — more than any other US national park — and rocky crags and even forest in the park's Chisos Mountains.
There are also plenty of animals, as we discover not long after winding up a twisting road into the cooler air of the Chisos Basin, 1646m above sea level. "We've seen a mother bear and her cub in the area," the volunteer at the visitor centre tells us. She says it more as a point of interest than a cause of alarm, but a sign at the nearby start of the Window View Trail makes the point more forcefully. "Bear country," it announces. "If a bear approaches, scare it away — shout, wave arms, throw stones."
The notice sends my partner scrambling in search of a sharp rock — "just in case" — but my attention is captured by another sign posted above it. "Lion warning," it reads. "A lion has been frequenting this area, and could be aggressive towards humans." If we see a mountain lion, it advises, we should be careful not to "show fear, crouch down, (or) run away".

Such a reaction would be contrary to both my better and baser instincts, but luckily we get through our short walk undisturbed by apex predators of any kind. Indeed, we're unlikely to see any of the park's 75 species of mammals — which include deer, coyotes, bats and javelinas (a kind of wild pig) — during the day. However, as the volunteer promised, the views from the trail are lovely, and it's tempting to linger, perhaps at the restaurant with the inviting patio at the lodge up the hill. We settle for stocking up at the general store before heading deeper into the park.
Our next stop is at Sam Nail Ranch, where a trail loops down through the remains of a ranch dating from the early 1900s. The eponymous Sam and his brother Jim — and later Sam's wife Nena and daughter Julia — settled here, raising cattle, sheep and goats. A sign informs us that the Nails dug a well, planted a garden and built pens for their chickens, horses and dairy cow. Today all that remains is a weathered adobe wall from their house, some fig and pecan trees they planted and two old windmills. One of the latter is still pumping water after all of these years, drawing birds and insects in the intense midday heat. As the sign puts it, life here continues to thrive.
Harsh though this landscape can be, humans have lived in the Big Bend area more or less continuously for 10,000 years — the park's archaeological sites, including pictographs found in its south-east, are a reminder of this. The Spanish explored here from about the 1530s and established forts, which were later abandoned. There were Mexican settlements in the area when farming, military outposts and the discovery of valuable minerals attracted American settlers from the late 1800s. Today, the towns in the park's immediate vicinity — Study Butte, Terlingua and Lajitas — are home to maybe 500 people.

We continue south towards the Rio Grande, stopping to admire from a distance the better-preserved remains of the Homer Wilson Ranch, which has been abandoned since Big Bend became a national park in the mid-1940s. The heat is fierce and the landscape, with dramatic outcrops and a sparse scattering of scrubby bushes and spindly ocotillos, becomes ever drier as the road descends. When we get out at Tuff Canyon, the glare off its cliffs is so bright it feels a few notches below looking directly at the sun.

It's even hotter down by the river, but here there's a sense of life — birds and lushness and, across the water, a grazing horse. We're headed for Santa Elena Canyon, one of the park's best-known attractions. We'd first spotted it from back near Homer Wilson Ranch, where it had appeared as a modest notch in the wall of rock along the river, but up close its cliffs tower above the waterline.

It might seem banal to observe how, standing here, all that separates us from Mexico is a few metres of muddy water — and how arbitrary and even ephemeral national borders can seem in a place like this, where the outside world seems distant. But when the political conversation is one of border walls — or transparent solar fences, or whatever — the sense of being at a threshold is heightened. And getting stopped at an immigration checkpoint on the drive back to Marfa is a reminder that the border is taken seriously.
It is possible to cross legally into Mexico from the national park — there's a port of entry in its south-east, from where you can visit the village of Boquillas del Carmen.
But that's at least another 1.5 hours from the canyon, and the afternoon is getting on. So, along with the trails and mountains and springs that have caught my eye on the map, Mexico will have to wait for another day.
Fact File
If you plan on visiting Big Bend National Park, nps.gov/bibe is a useful resource.
Categories