Road trip back to rock'n'roll days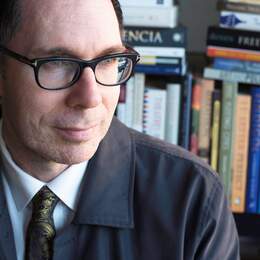 Editor's note
Before you read on … let me set the scene. Will Yeoman is one of Australia's most respected writers on classical music. He reviews and comments on classical performance and does pre-concert talks for the WA Symphony Orchestra. He's, well, rather serious. So, what follows comes as a surprise …
You might find this hard to believe but I was once an ardent AC/DC fan. I owned every one of their albums released up to a certain point. They formed the soundtrack to my wayward youth.
1981's For Those About to Rock marked the parting of our ways. I forsook the Highway to Hell for Herbert Howells. Back in Black for Benjamin Britten. Whole Lotta Rosie for a Whole Lotta Rachmaninov.
Yes: I had become a classical nerd. Go figure
But nostalgia is a powerful thing. In 2017, I duly mourned the passing of the band's rhythm guitarist and songwriter Malcolm Young. That same year, street artist Lushsux painted a commemorative mural of Young in Melbourne's AC/DC Lane.
Recently I had cause to visit Melbourne. A pilgrimage to this now sacred site was inevitable.
It seems appropriate to visit late at night, when the shades of the dead are said to mingle with the shadows of Melbourne's laneway demimonde.
I am not disappointed. Lushsux's diptych reveals, indeed revels in, the vulnerable and the cheeky, the human and the demonic sides of Young, whose brother, lead guitarist and AC/DC co-founder Angus is still very much with us (I even owned one of his trademark schoolboy caps).
Reading the mural's speech bubble — "C'mon Saint Peter, how many times you gonna make me play Hell's Bells before you let me through the gates mate?!?" — it's comforting to think both he and AC/DC's legendary frontman Bon Scott might be jamming together in the Good Place rather than the Other Place.
Though which they might prefer is a moot point.
This is an edited version of the original, full-length story, which you can read here.
A message from Travel Editor Stephen Scourfield...
Thanks for reading us – we value your continuing interest and our connection with you.
But as our readers increasingly move to digital, we have to keep up with them.
As I'm sure you'll appreciate, there are costs involved in doing what we do for you.
To support Travel, reading the full story now requires a digital subscription (it's $1 a day for full access to thewest.com.au, for all your devices).
If you have the newspaper home delivered, you may already have complimentary premium access to thewest.com.au and our digital editions.
And we have other packages, including $9 a week for the weekend papers and everyday digital.
Stephen Scourfield

Disclaimer
William Yeoman was a guest of the National Gallery of Victoria. They have not seen or reviewed this story.