Roaming on foot in Rome: "It's like magic"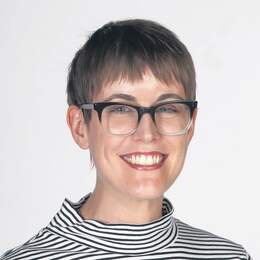 Here's the one thing you really can't miss in the Italian capital: an early morning walk. And best of all, it's free. 
The next time someone asks me what they should do in Rome, this is what I'll tell them. You should go to the Vatican and the Colosseum and all of that, if you haven't been before, but the really unmissable thing is to wake up early and go for a walk. That's what I'm doing this morning. And that's why, after numerous visits from childhood through my teens to early adulthood, I finally "get" Rome.
I've started at my hotel behind the Vatican and I'm headed into the Centro Storico, walking with only a vague sense of purpose and little urgency. It's a beautiful spring morning — blue skies, sunny but still crisp at this hour — as I pass the already-long queue at the Vatican Museums and inelegantly fend off the faux- helpful touts flogging tours and the chance to skip that lengthy line. At St Peter's, there's another smiling, shuffling column of people, and more offers of tours, and stalls selling religious paraphernalia and fridge magnets. A schoolboy is telling his classmates about the history of the Vatican — to their credit, they almost seem interested.
In theory, I'm headed towards the Spanish Steps, but in practice I'm headed nowhere in a hurry. Having crossed the River Tiber, I avoid the main thoroughfares and stay away from the big sights, with their promise of crowds. Instead, there are grandmothers with headscarves and trolley carts, elegant older gents in navy blazers and loafers without socks, and a woman walking a dog so old it can move no faster than a shuffle. Narrow cobblestoned backstreets open unexpectedly to squares with a historic church, maybe, or a restaurant draped in wisteria blooming purple and fragrant. Carabinieri — members of the military police — are smartly aloof in their Valentino uniforms. An elderly panhandler approaches wielding a polystyrene cup and cheerful greetings of "amore" and "bella".
It's like magic, this morning.
Previously I've always done the mental equivalent of an exasperated eye roll when people raved about Rome's great beauty and charm, but this morning I can't deny its allure. This morning, Rome is a place where the quality of light is such that everything looks like a movie. A place of intricate shrines on obscure street corners, and of empty tables outside cafes. Of nuns wearing puffer jackets, and bakery windows filled with pine nut-studded biscuits, and wooden window shutters slightly ajar. Of sunny courtyards glimpsed through open doors, and of buildings in dusty yellows and reds, and of brass doorknobs slightly tarnished. It's a place where the streets are lined with trees dusted with springtime blossom, and where graffiti on a wall reads, all in capitals, OH DARLING STAY WITH ME — the name of a 70s Italo-disco song, I later learn.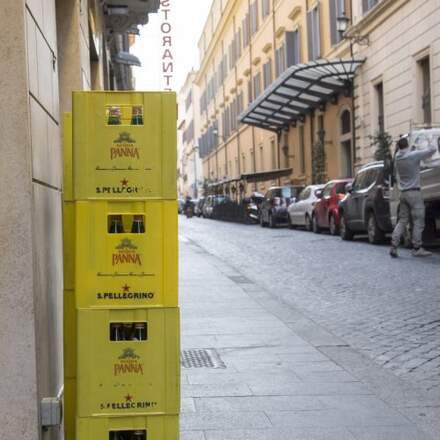 Revisiting a place you've been before is perhaps a little under-appreciated these days, when talk tends to be about ticking items off your bucket list and declaring you've "done" Venice or Hong Kong or New York after one brief visit. But going somewhere for a second or third or fourth time has its rewards. For one, the shift in your reaction to it can reveal the ways you've changed over that time, too.

Walking around Rome, I'm tempted to say I've become a better traveller — whatever that might mean, and however pompous that might sound — in the close to 10 years since I was last here. I've gained confidence — in my Italian language skills, for starters, although my vocabulary used to be far sharper. I no longer feel the need to revisit major sights solely out of a misguided sense of obligation, as I would have in the past, and where I once would have attempted to cram the city in like a gluttonous meal, I now know not to be overly wedded to plans. I've learnt to try to embrace spontaneity, to walk without heading anywhere in particular, to find interest in whatever I find. These are things that, for me, have made travel richer and more enjoyable, and have made this city come to life.
It's later the same spring day — my second in Rome — and I've met up with my Trafalgar tour group for the first time at the start of a week-long trip. We're heading out for another walk, this time a walking tour with Illaria, a Roman native and local guide. And though our route through the Centro Storico is more greatest-hits than backstreets, the whole endeavour still retains a distinctive local flavour, thanks in large part to Ilaria's ready supply of good-humoured quips and her evident passion for her city. This is another thing I've learnt: a solo wander might be unmissable but the context and personality provided by a local perspective can be invaluable.
"The beauty of Rome is not just the monuments, but the whole charm," Ilaria tells us. She's full of such pithy observations regarding her home city. Double parking, for example, is "a way of surviving in Rome", so bad is the parking — "If you don't do that, you are dead, you lock yourself in your home" — while crossing the street is best approached with a similarly devil-may-care attitude. "You just cross without looking," Ilaria says. "It's the only way to cross Roman roads."
It's from Ilaria that we learn how the Villa Borghese — the 80ha landscaped park in the centre of Rome — is "dear to the hearts of Romans", being the place local kids come to learn to ride a bike and visit as teenagers with their first sweetheart. It's from her we learn that the River Tiber used to frequently flood the city, in the days before it was enclosed in stone embankments. "Rome is built in layers," she says — layers resulting from silt built up from the flooding, but also the facts of a human habitation stretching back thousands of years, in which successive generations have rebuilt their city over the remains of the old.
So it is at the Temple of Hadrian, constructed in AD145. The remains of the temple, primarily 11 thick columns standing 15m high, have been incorporated into a more modern structure, but the original street level is also visible, maybe 6m down from the pavement, where part of the original wall has been exposed and restored. Then there's the range of uses the site has had over the years — a customs house, the Roman stock exchange. More layers. "That's Rome," Ilaria says.

More enduring is the Pantheon, one of the best-preserved Ancient Roman buildings in the city. It's been a favourite since I first visited it as a child, so I'm pleased to hear it's one of Ilaria's too. Something about it feels quite mystical — a pagan temple converted to a Catholic church that houses the tomb of Victor Emmanuel II, the first king of the unified Italy, and the remains of the painter Raphael. It's monumental in scale — huge columns made from granite quarried in Egypt, ancient bronze doors — but somehow surprisingly intimate, its cool interior dimly lit by the oculus, the circular opening in the middle of the elegant dome, which remains the world's largest unreinforced concrete dome 2000 years after it was built. It's not hard to understand why Michelangelo declared it to be of "angelic and not human design" in the early 1500s.
Another thing we learn from Ilaria: people still did laundry in the Trevi Fountain in the 1940s, when running water was not yet a standard amenity in local homes. Presumably such things are frowned upon today — certainly bathing in the fountain attracts a hefty fine — and the scene very different when we arrive there today. A dense, rippling crowd surrounds the baroque statuary and turquoise water on all sides. Those pushy or patient enough to have made their way to the front stand, their backs to the fountain, a coin in their right hand, ready to throw it over their left shoulder to satisfy the old superstition that doing so guarantees your return to Rome. It's a ritual so popular an estimated $US1.5 million was fished out of the fountain last year and donated to charity.
It's only at Ilaria's urging that I take part, feeling a little silly as I toss a coin over my shoulder. But I'm glad that I do. It's a reminder that something as undeniably touristy as this can put a smile on your face — and besides which, I want to make sure I come back to Rome once again.
Fact File
Trafalgar's 10-day Flavours of Italy tour visits a host of Italian cities with ample time included for travellers to explore. Priced from $3525 per person, it visits Rome, Pisa, Parma, Bologna and Venice. trafalgar.com or 1800 002 007
Disclaimer
Gemma Nisbet travelled to Italy as a guest of Trafalgar.
Categories