Sedona: Mystical energy and rosy views in Arizona's Red Rock Country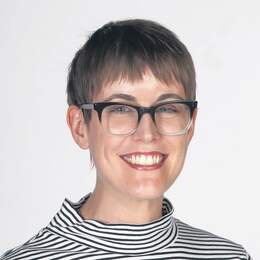 Dramatic landscapes and new-age spirituality abound in this nature lover's paradise a short drive from the Grand Canyon. 
Two women sit, spellbound, gazing at the dramatic reddish-orange sandstone formations in the distance. "Oh, the energy," one of them breathes. The other smiles and nods sagely in reply.
This kind of exchange isn't uncommon in Sedona, a town nestled among the distinctive and dramatic red rocks of arid central Arizona. Popular with travellers, retirees and new-age types alike, it's a place where it seems as easy to get your aura read as your hair cut.
Indeed, Sedona has long been known as much for its "energy centres", known locally as vortexes (rather than the more grammatically proper "vortices"), as for its more readily evident natural beauty.
The latter means that Sedona's extraordinary landscapes have starred in dozens of Hollywood productions, many of them westerns — along with the 1936 nazi propaganda film, Der Kaiser von Kalifornien. The former, meanwhile, accounts for the local ubiquity of vortex tours and spiritual offerings ranging from psychics and shamans to crystal shops and yoga retreats.
Whether or not you're inclined to believe the tales of mystic insights and swirling energy, many of Sedona's best-known vortex sites are conveniently aligned with its most spectacular natural landmarks.
Take Cathedral Rock. A jagged assemblage of red rocks that's widely considered the most photographed landmark in Arizona (after a certain Grand Canyon, of course), it's a quintessential Sedona site, combining geologic glories with purported spiritual qualities. And it taps into another major attraction for locals and visitors alike: the extensive network of trails that crisscross the landscape around Sedona.
Indeed, it's possible to climb into the saddle points, or gaps, in Cathedral Rock itself, but we opt to ease into things with an easy walk from Red Rock Crossing along Oak Creek to an open area near its base known as Buddha Creek. Scattered with river stones piled into cairns left by spiritual seekers, it's said to be one of Sedona's most powerful vortexes and is occupied today by an elderly gent in a cowboy hat who is immersed in his early morning tai chi.
Later, we tackle a longer trail around Bell Rock and Courthouse Butte, a prominent pair of rock formations just south of town. This is another popular spot, but we find the 6.5km Courthouse Trail only lightly trafficked — just us and a couple with a pair of little kids, two guys on mountain bikes and one noisy group of three apparently more interested in the affairs of a mutual acquaintance than any type of metaphysical quest.
Sedona's spirituality is not exclusively new age, however. Its dramatic Chapel of the Holy Cross is as striking as the red rock buttes from which it rises, commissioned in the 1950s by sculptor Marguerite Brunswig Staude.
Rather fittingly, the chapel is said to sit on a vortex. And like the aforementioned scenically spectacular "energy centres", it's easily appreciated by non-believers, both for its elegant concrete-and-glass design and its exceptional views. As Brunswig Staude put it "Though Catholic in faith, as a work of art the chapel has a universal appeal".
Indeed, whether it's the landscape or some intangible energy or both, there's undeniably a certain magic to Sedona.
A case in point: a few days later, heading north towards the Grand Canyon, we stop just out of town at a viewpoint to take pictures.
Snapping away, I get to talking with another visitor, an older man with long hair and a disposable camera who tells me he's an artist from Santa Fe arriving in town for the first time. We chat a little about photography, and travelling, and the landscape.
Then there are a few moments of companionable silence before my new friend delivers his verdict. "You know," he tells me, "I'm from New Mexico, the State of Enchantment, but I think Arizona's got us whooped."
Fact File
WHERE
Roughly equidistant between the Grand Canyon and Arizona's capital, Phoenix.
WHY
A two-hour drive south of the Grand Canyon's South Rim, Sedona is a nice complement to Arizona's headline attraction. 
WHO 
If you're keen on outdoor activities such as hiking, mountain biking and horseriding, you'll be in your element — and you can do it in style if you fancy, as the town is renowned for its luxury resort and spa retreats. 
WHAT 
Accommodation in Sedona can be expensive and booking well in advance is advisable. I stayed at the Sedona Motel, which is well located, decently priced and has a patio area with fantastic views. thesedonamotel.com
WHEN
Sedona's weather is more temperate than many other parts of Arizona but July and August are hot. Springtime means pleasant temperatures and desert flowers in bloom; I visited in autumn, also a popular time for visitors. 
Categories