Singapore's first robot masseuse gets hands-on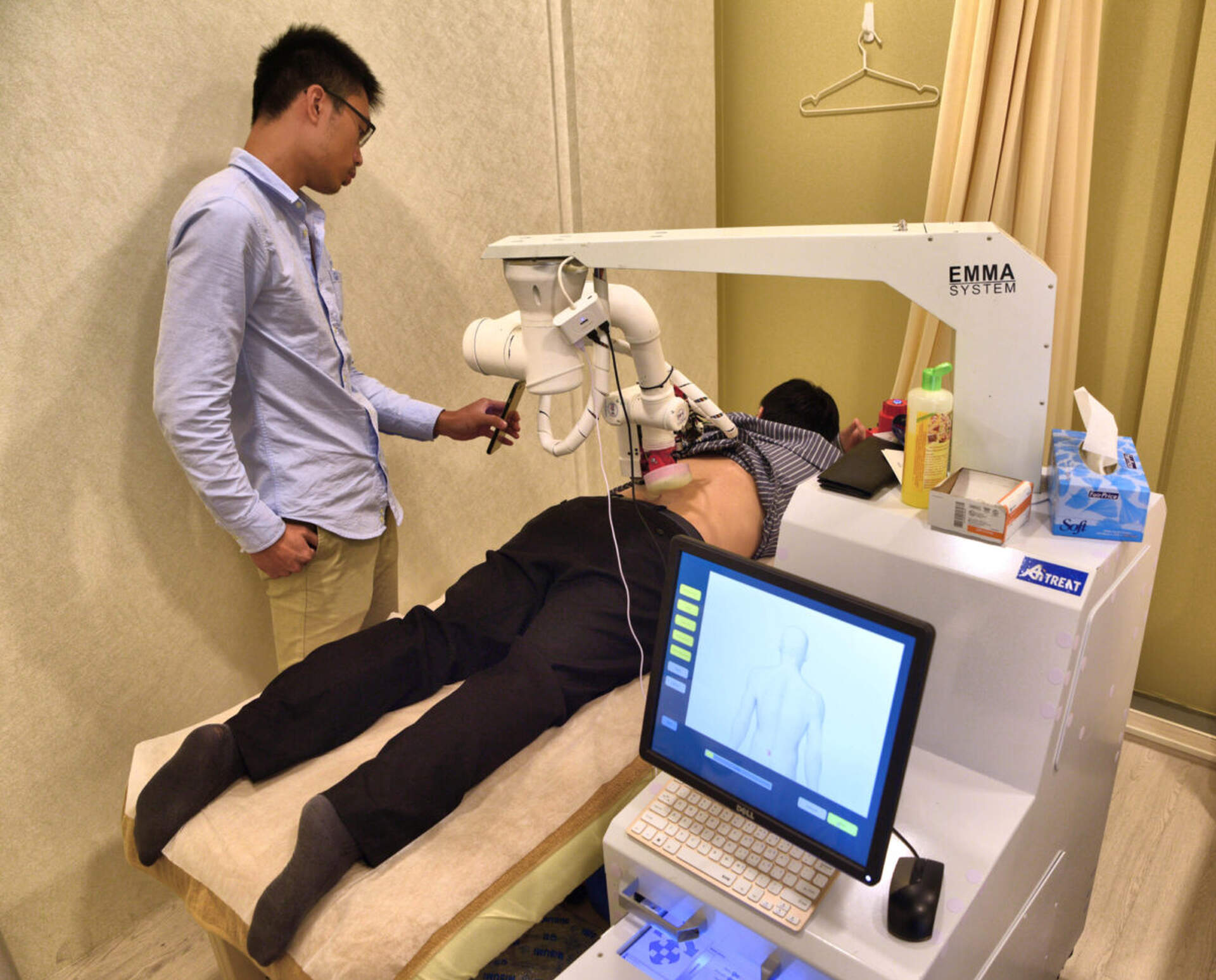 Knead a post-flight massage? In Singapore, you can get just that from a most unusual therapist.
If I could talk to Emma, I'd thank her for kneading my muscles for they're aching after the long flight from London to Singapore. Although relaxed, I'm slightly flustered by the experience of being tended to by Singapore's first robot masseuse.
I meet Emma, which stands for Expert Manipulative Massage Automation, at Novahealth Traditional Chinese Medicine Clinic, the first business to put her to work.
Emma was invented by AiTreat, whose chief executive Yizhong Zhang greets me at the clinic. He says Emma has definite potential in tourism. "I think once you meet her you will want to come back to Singapore again soon to spend more time with her," he jokes in a deadpan fashion, catching me off guard. My wife is nearby, but not close enough to hear, so I tell Mr Zhang that, "since childhood I've always wanted a robot masseuse named Emma".
Now he's confused so I decide to shelve the humour and learn more about Emma. She practises Tui Na, a form of therapeutic massage originating from traditional Chinese medicine, which aims to address "disharmony" in the body and is often combined with acupuncture.
At Novahealth, patients pay about $65 per session, which includes 30 minutes of massage by Emma, five minutes of massage from one of her human colleagues, and 20 minutes of acupuncture.
A trained therapist, Mr Zhang says there aren't enough practitioners in Singapore but that Emma can fix this problem because she can be programmed to treat the specific needs of a patient.
I'm not sure what I expected Emma to look like, but I'm mildly disappointed when the door to her treatment room opens. She's a white box with a single metal arm. At the end of this arm is a silicone tip heated to about 38C to make it feel like a human finger. A camera inside Emma helps to calibrate the arm and direct it towards the body parts which were programmed into her computer.
I'm lying down on a bed, shirtless, waiting for Emma to start. There's a generous delay. I'm familiar with this moment — many of my massages start with a pause and a sigh from the human therapist as they survey the acreage that is my enormous back. In this case Emma isn't put off by my size, instead she's suffered a technical malfunction.
Mr Zhang spends a few minutes on the phone with a computer engineer who talks him through fixing the problem. Gitches abound at the forefront of emerging technology but soon I'm in a relaxed state, being purged of physical stress by Emma.
Categories