Sky diving without a plane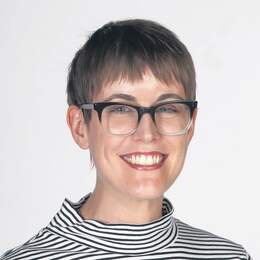 Even if you've a fear of flying you can still experience all the thrills of sky diving.
Standing at the front of the class, Oliver instructs us to raise our arms above our heads and tilt our chins upwards.
"Be zen," he says. "Don't think too much."
I might be in my Wednesday night yoga class — and indeed Oliver has something of the immutable calmness of a yogi — but there will be no sun salutations or warrior poses here today.
We've come to iFly, in Queensland's Surfers Paradise, for something considerably more adrenaline-fuelled.
Promising to deliver the sensation of flight without having to venture more than a few metres off the ground, iFly offers indoor skydiving in its vertical wind tunnel.
Oliver describes the experience as "a relative of skydiving", and it's pretty much the closest I'm going to get to the real thing without jumping out of a plane from a considerable height.
We see indoor skydiving in action a few minutes after arriving at iFly: a woman in an orange jumpsuit, helmet and goggles floats stomach-down in the wind tunnel, her clothing and face buffeted by the blasting air that suspends her a couple of metres above the mesh floor as her instructor moves around her, making small adjustments to the position of her arms and legs.
It all lasts less than a minute — a standard "flight" is 50 seconds — before the jump-suited figure manoeuvres out of the tunnel, a broad, elated smile on her face.
She's followed by a succession of "flyers" before the instructor gets a chance to demonstrate his skills in the tunnel, swooping and dipping up and down its transparent sides, flipping and tumbling in mid-air.
Indoor skydiving originally began as a way for skydivers to train out of the weather, but these days some people feel it's developed into a sport worthy of inclusion in the Olympics.
The kind of acrobatics performed by the instructor are clearly very skilful, but indoor skydiving is surprisingly accessible, despite its extreme-sports associations.
Children as young as three can give it a go — and so, despite my feet feeling distinctly chilly by the time we sit down in the small screening room to watch an introductory DVD, I'm determined not to chicken out.
After some instructions from Oliver, we're kitted out in orange jumpsuits of our own, topped off with the goggles, earplugs and the helmet. And then it's the moment of truth.
As it turns out, I'm a natural. It doesn't feel that way when I'm wobbling around the wind tunnel during my two double-length flights, trying not to bump into the sides, to keep my head up and my body stable, but I'm assured afterwards by both my fellow flyers and Oliver that it's the truth.
"You have natural stability," he confirms. And it's a lot of fun, not least when, during my second flight, Oliver and I "go up", as he puts it — basically, he whizzes me up and down the length of the wind tunnel.
It's all over in seconds, but I emerge feeling giddy and giggling.
Not far from iFly Gold Coast there is another opportunity to gain some altitude: the SkyPoint Observation Deck, on level 77 of the QI Building, which lays claim to being one of the world's tallest residential towers at 322.5m tall.

The observation deck itself is 230m above sea level and I'm told that if you decided to walk up, you'd have to negotiate some 1331 steps. However, we whizz up in less than 43 seconds in the super-fast lift, which is so speedy, my ears pop on the way up.
We seek solace in lunch and a glass of wine in the private function room on level 78. And, it turns out, more time to enjoy those spectacular views is a pretty good consolation prize.
Disclaimer
Gemma Nisbet was a guest of iFly, QT Hotels and Airtrain.
Categories