South West open studios: Meet the artists of Margaret River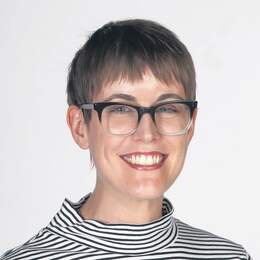 Now in its fifth year, Margaret River Region Open Studios will see more than 130 artists from Busselton to Augusta open their doors to the public. We meet some of the creatives taking part.
Tanya Cole
In many ways, Tanya Cole's studio is the quintessential artist's workroom, a creative canvas of paint, brushes and works in various states of completion, with reference photos pinned to its paint-splattered walls and a carpet liberally splashed with colour.
It's just the kind of space you'd expect to see as part of an event such as Margaret River Region Open Studios, and it seems fitting for an artist who describes her work as "an excuse to play and be a kid again" and who admits to regularly staying up to "two or three in the morning" to paint.
"I just have to paint," says Tanya. "As soon as the kids go off to school, I think, 'I should go for a walk', but it just doesn't happen: I'm in here. It's a bit of that obsession, having that passion — I can see how some of those masters of old went insane."
An occupational therapist by training, Tanya combines that knowledge with her creative abilities in her art and wellness coaching business. "I use art as a modality for healing and to help people gain self-insight through art generally and painting," she explains.
In terms of her own paintings, the focus is on portraiture. When I visit, Tanya's working on a portrait of WA Australian of the Year Dr Tracy Westerman to enter in the Archibald Prize.
"I love faces," she says. "I love the eyes and communing with the person's essence and trying to bring that out on the canvas."
Voytek Koslowski
"Every day I wake up and I look in the world and try to get inspired," says Voytek Kozlowski.
And for the Quedjinup sculptor, inspiration is everywhere: in the natural environment, in the sailing boats he can see from his studio window, in logos on clothing and cartoons on TV. He's even made a sculpture inspired by Cousin Itt, of the Addams Family.
For Warsaw-born Voytek, making a career as an artist was a long-held dream. After working as an aircraft mechanic in his native Poland, he moved to Australia in 1981 and came to the South West with his family 15 years ago.
These days, his predominantly metal sculptures can be found everywhere from local schools and private homes to Busselton's main street.
Voytek has participated in every Margaret River Region Open Studios and welcomes visitors to his workspace — a big, well-organised shed with small gallery space on his two-hectare bush block — year-round.
"The way I see it, every person has something to offer and rubbing shoulders with so many people not only gives you exposure but also you get positive energy from people, which tells you you're on the right track," he explains.
And though he can't work on welding or grinding when people visit ("it's too dangerous"), he always takes the time to explain what he's doing — and share his infectious enthusiasm for his art and his adopted country.
"I just can't get enough of it — of this place and what I'm doing," he says. "I'm in my 50s and I'm planning to do this until I drop."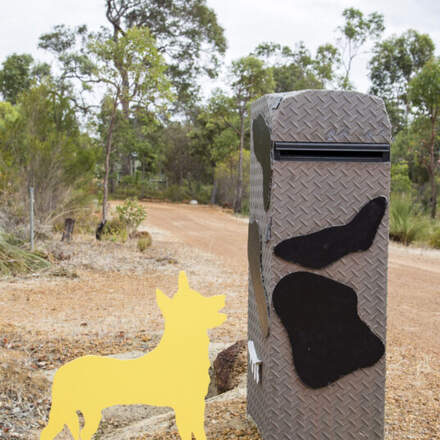 Jo Taylor, Dawn Prus & Alana Chesterfield-Evans
A driveway filled with boats and a studio packed with colour provide strong clues as to painter and textile artist Jo Taylor's creative preoccupations.
"I'm always working with colour because I just love strong colour — there's nothing subtle about me," she says. "The marine theme tends to come out, too."
"It's about colour for me as well," says fellow artist, painter and printmaker Dawn Prus. "The brighter the better."
For Open Studios, the pair (pictured at top) will team up with painter Alana Chesterfield-Evans to welcome visitors to Jo's West Busselton home studio.
Both originally from the UK, Dawn and Jo coincidentally arrived in Australia in the same year — 1978 — for a working holiday. Jo started in Port Hedland and later lived in Exmouth for a decade before moving south around 20 years ago, while Dawn came to Busselton six years ago to focus on creative pursuits.
"The reason I wanted to come down here was for art," she says. "I wanted to stop working and go back into it, to do what I loved."
It's Dawn's first Open Studios, while Jo has returned to painting relatively recently following a decade focussed on family commitments. Joining forces provides a confidence boost — "you're exposing yourself when you open up your studio," says Jo — and gives members of the public a chance to see diverse works in one place.
"We're three totally different artists; our styles are totally different," Jo says. "But we're good friends."
Molly Coy
Fifteen years as a restoration book binder informs Cowaramup artist Molly Coy's work, which spans printmaking and painting as well as textiles and artists' books.
"I'm very multi-disciplinary; I get taken off in directions," she says.
"My many years restoring beautiful old books really did give me a love of books that I haven't been able to — or want to — shed. So those skills and that knowledge I've channelled into artist books."
The latter are perhaps a lesser-known art form and encompass, essentially, works of art in book form.
In the case of Molly's 2016 City of Busselton Art Prize-winning project Handscapes, for example, this translates to 12 individual books combining mixed media art works and printmaking with letterpress and hand-done type, produced in collaboration with letterpress printer Claire Bolton.
"I will start just painting and texturing pieces of paper with no particular direction," Molly explains. "All my work starts like that — diving in, really, putting down colour, putting down texture, and then being led by what happens on the page."
Working from one of two large "his and hers sheds" outside the Cowaramup home she shares with husband Alan and friendly studio dog Jessie, Molly has taken part in every Open Studios, the beginning of which coincided with her move to the South West from Perth.
"It's been a lovely way into the art community down here," she says. "The environment, too, has influenced me greatly.
"I love nature, I love texture, I'm very much driven by the layers of place and nature and change."
Silvia Busetto
"I'm really very bad at dancing, so I think that I try to express those feeling with a canvas or a piece of paper."
So says Margaret River artist Silvia Busetto, whose watercolours and oil paintings focus largely on dancers and musicians.
"There is a poetry in the way that they move if they are dancing or hold their instrument in their hands, so what I want to express with my art are the same feelings but with another technique — I use the brush, they use the instrument," she explains.
Having moved here from her native Italy in 2013, Silvia ran a comics shop in her hometown of Pieve di Soligo, north of Venice, and began painting when she arrived in WA.
"In Italy, we had a completely different kind of life — crazy — and it was not really possible to relax and sit down and paint because your mind was always full," she says.
"When I arrived here, I realised that my life was totally different so I could organise my time in a different way. Here I started to sit down and sketch and pick up a brush."
These days, Silvia works from her living room — "my messy corner" — and will take part in Open Studios as an artist for the first time.
"I was a visitor to the last four editions and I met some good friends," she says. "They are always inspiring me and I love what they are doing."
Fact File
Margaret River Region Open Studios is on from April 28 to May 13. Event guides are available from South West visitor centres and Jacksons stores. See mrropenstudios.com.au for more. 
Disclaimer
Gemma Nisbet visited the South West as a guest of Margaret River Region Open Studios.
Categories