Suite dreams: Why you should consider taking a staycation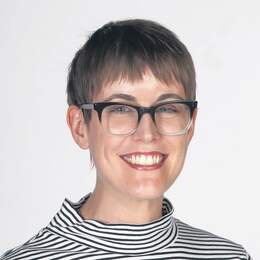 You don't need to go far to get a break, and it seems there's never been a better time to get away in your own city.
"I should've brought my laundry," my boyfriend Davey says as we contemplate the washer and dryer tucked into a cupboard in our room at Fraser Suites Perth. "We don't even have a dryer at home," I observe. We've only been here 10 minutes, but it seems we're already making plans to move in.
We didn't bring our dirty washing, of course. We're here for our very first staycation — and ugly though that portmanteau might be, doing chores would be quite beside the point.
Still, dropping the dog off to stay with friends and then driving into the city and checking into a hotel for the night felt odd at first.
"This is weird," Davey said as we rode Fraser Suites' lift up to the 15th floor.
It doesn't take him long to adjust, though, and soon he's kicking back on the couch with a beer from the minibar. I take my time to explore our one- bedroom Premier Suite: the generous living room complete with a kitchen and a dining area, with doors opening to a big bedroom with a king bed, and a bathroom equipped with L'Occitane toiletries and — unlike our place — a big rain shower and separate deep bathtub. It all has that lovely five-star hotel feeling — both fresh and refreshing — that immediately makes you feel you're on holiday.
There's a decked balcony and, beyond that, the real star: a panoramic view over the river to South Perth and Kings Park, and up Adelaide Terrace to the city. Another window behind the four-person dining table looks over Princess Gardens, with a glimpse of the river beyond.
If you want to make dinner, you'll find a selection of utensils including a Victorinox chef's knife, an induction cooktop, microwave, kettle, toaster and even a dishwasher drawer. (Don't have that at home, either.) But this is a staycation, so we're headed downstairs — via a quick look at the indoor pool and gym — to the in-house restaurant, Heirloom.
Offering seasonal, organic and local produce, Heirloom's menu, designed by celebrity chef Pete Evans, promises "food that is crafted from quality ingredients, sourced by sustainable methods".
Given Evans' reputation as a wellness warrior with some rather controversial opinions on nutrition and healthy living, I'll admit I harboured reservations about the place.
But we're pleasantly surprised. The dinner menu is not short on cashew cheese and paleo pizza, if you like that sort of thing, but there are lots of more traditional options that achieve the kind of holiday indulgence we're chasing.
Most importantly, everything we order is very tasty: a banana flower salad with chicken and cashews followed by steak with bone marrow and parsley salad for me, and delicious chargrilled Fremantle octopus with chorizo and harissa followed by confit free-range pork belly for Davey.
The sparkling wine that accompanies it all doesn't hurt, either.
After dinner, we get a ride into Northbridge for a film at Rooftop Movies, the retro-tropical open-air cinema on top of the Roe Street Car Park. But equally we could've headed to a show or a concert, or to a couple of small bars, or to one of the other many and varied evening entertainment options that have cropped up in and around the city over the past few years.
In fact, this is a big reason why a staycation such as this is an appealing prospect these days. Especially if you don't come into central Perth that often, there's likely to be something new to see or do.
And there are some good deals on accommodation, given Perth is entering something of a hotel boom, with more than 20 new properties set to open in Perth and Fremantle over the coming three years, according to a recent report in The West Australian.
We sleep well in our enormous, comfortable bed and I wake early, as the early morning light spills across the river.
Davey sleeps in a little — it's a staycation after all — before we head back down to Heirloom for a buffet breakfast that runs the gamut from eggs and bacon to chia pudding and fruit.
Then it's time to check out and pick up the dog and head home, where the laundry awaits. But we'll be taking some of that refreshed holiday feeling home with us, too.
Fact File
The 236-room Fraser Suites Perth opened in May 2013. 
Get 15 per cent off when you book 30 days in advance, with rates from $148. Book direct for a free room upgrade. 
Other options include the Gourmet Package for two, with an overnight stay, two-course set dinner, a glass of sparkling wine, buffet breakfast and wi-fi, from $285. 
Phone 9261 0000 or go to perth.frasershospitality.com.
Disclaimer
Gemma Nisbet was a guest of Fraser Suites Perth.
Categories